Shawn Mendes
Jump to navigation
Jump to search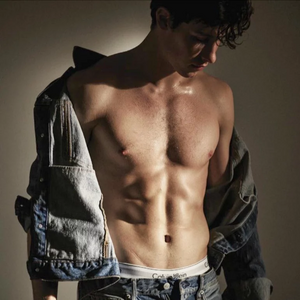 "Hey Shawn, I'm really happy for you and I will let you finish, no offense to you, but...I'm the BEST male artist of all time. OF ALL TIME."
Shawn Peter Raul Mendes (born August 8, 1998) is a Canadian singer-songwriter. He gained a cult following in 2013 after being part of a group called Magcon and posting random 6-second song clips on Vine. He is also known for being a thirst trap, as seen in the photo on the right. Additionally, he has so many topless photos on the Internet that a lot of people have saved on their phones. People thought that he was American due to his looks, but apparently he's Canadian. His breakout single released in 2015, "Stitches", was on the Billboard 200, making him one of the few artists who had a single debut at #1 on the charts before turning 18.
His infamous relationship with Camila Cabello has sparked a controversy, as both of them were racist due to their social media posts before they were famous. While they did thankfully break up, he got into another controversy after dating his 50-year old psychiatrist because of the very large age gap between them. Every single one of his albums debuted at #1 on the Billboard 200. After the Wonder Tour was cancelled, he said that his career was going to be dying, so, as a result, he wanted to consider himself "semi-retired". It is unknown if he will ever be in this state forever.
Mendes' rival is (unsurprisingly) Ed, as both of them have written songs about the same topics and have the same musical style.[1]
Shawn Mendes was born on Pickering, Ontario on August 8, 1998. His mother is English and his father is Portuguese. He has a younger sister named Aaliyah. He was mostly religious and played soccer with Pickering FC. Then, Mendes graduated from his high school in 2016 (and was surrounded by paparazzi during his graduation ceremony due to his fame), however, he didn't go to college. At one point he nearly became a Disney star because he auditioned for Disney Channel.[2]
In 2012, at the age of 14, Mendes learned how to play the guitar through YouTube videos. Less than a year later, he posted cover songs. He downloaded Vine on his phone and covered Justin Bieber's "As Long As You Love Me". Overnight, that got him a lot of fans and 10,000 likes. He would then cover a lot of popular songs, and sees Bieber as a role model for him at the time. His manager then found his videos and signed him to Island Records. At one point he became the most followed musician of all time on Vine.
He released his first single, "Life of the Party" on June 26, 2014. He became the youngest artist to debut on the top 25, before Billie Eilish took that record away from him. Prior to his signing, he was in Cameron Dallas' gang called Magcon, a Vine group whose members but Mendes became irrelevant after its disbanding. Then, he released another single, "Something Really Big" on November 6, 2014. In 2015, his first album, Handwritten was released. People thought that he was an Ed clone due to the similar subject matters and similar musical styles. However, none of them sound the same.
The third single from said album, "Stitches" became his first number one on the Billboard 200. Also, he opened for Austin Mahone and Taylor Swift, both of them were influences on his music. Mendes would then collaborate with his then-girlfriend, Camila Cabello in 2015, called "I Know What You Did Last Summer".
Mendes made his nonexistent acting career debut in 2016 on the third season of The 100. Then, he decided to go on tour and sold out 38 shows within a minute of announcing it. He then released "Treat You Better" in 2016, which became another #1 hit for him. "Mercy" was released 10 days after he turned 18, and it also appeared on the Billboard 200. Illuminate was released on September 23, 2016, and again, he had another #1 album in his hands. He appeared as a musical guest on SNL in December 2016. In 2017, he went on tour again. At one point his rival actually joined him on stage to perform "Mercy". It wasn't a physical fight as one thought that it would happen, but otherwise people thought it was wholesome to see them perform together. However, things wouldn't go well for both of them next year.[3]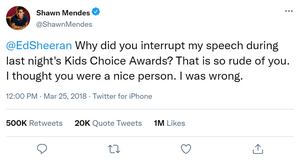 On March 22 and 23 respectively, Mendes released two singles for his upcoming third album: "In My Blood" and "Lost In Japan". The Kids Choice Awards happened after "Lost In Japan" was released. During the ceremony, he won Best Male Artist, however, while making his speech, his rival, Ed, went on stage and interrupts Mendes, claiming that he was the best male artist of all time and that no one could beat him. That pissed Mendes off, so both of them decided to have a showdown on Twitter. During the showdown, the hashtag "#IStandWithShawn" began trending. It ended up with Ed being banned from attending the Kids Choice Awards ever again.[4] After this, "Youth" was released on May 2018. His self-titled album would then be released on May 25, 2018, which included a diss track against Ed. It was considered to be his best album, and debuted on the Billboard 200 at #1 yet again. To promote the album, he decided to perform whenever he feels like[5] and went on tour in 2019.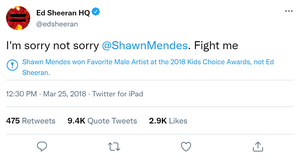 During his tour, he released "If I Can't Have You" on May 3, 2019 and infamously, "Señorita" with Camila Cabello in June. The latter single ended up as his most streamed song on all time on Spotify and have billions of views on YouTube.
2020-present: Wonder and semi-retirement from music

[

edit

|

edit source

]
On September 30, 2020, Mendes announced that he would release Wonder, his fourth studio album. In every single promo photo of the album, most people have compared him to Timothee Chalamet. He released the title track to the album on October 2 and collaborate with Justin Bieber on a song called "Monster" in November 20. As the album released on December 4, it was on top. This marked his 4th album to go #1 on the charts. He would then go on tour the following year, unfortunately, things have gone wrong after he broke down during a show. After this incident, he announced that he has cancelled every single tour date because he was depressed. Mendes would then sporadically release new singles and would only release 1-2 songs during a single calendar year.
During an interview in 2022, Mendes said that he is semi-retiring and wants to spend time privately, although he wants to consider reviving his career.
Mendes' songs have been compared to his rival and archenemy, as both of them have done acoustic pop songs. Later, he would do songs that are similar to those of Justin Bieber and One Direction. Ironically, Mendes has considered his rival one of his influences, along with Bruno Mars, Justin Timberlake, Kanye West and Chris Stapleton. He has experimented with electropop, R&B, and power pop in some of his songs.
Things have taken a turn for the worse after Mendes' relationship with Cabello became public in 2019, as they were cancelled for their racist social media posts before they were even famous in the first place. Despite this controversy, people can't get over their relationship, as they became jealous over people cancelling them. After they broke up, the same people who couldn't get over them started melting down over their breakup. Currently, Mendes is dating his 50-year old psychiatrist at the moment.
It has also been noted that Mendes was gay. He denied these rumors, claiming that he was straight, but nevertheless, he could be gay.
Currently, Mendes lives in Toronto. However, due to his publicity going down, we don't know what's happening behind the scenes.[6] Other than that, he did provide his phone number on his social media bio like every other celebrity nowadays.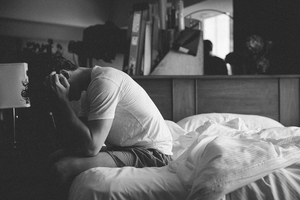 Also. people thought he was dead after going missing for several days after not posting on social media, or even being replaced by a lookalike, similar to the "Paul is dead" hoax. Heck, even people thought that he isn't real and was instead a clone of Ed. He's not dead. Don't believe them.
Handwritten (2015)
Illuminate (2016)
Shawn Mendes (2018)
Wonder (2020)