Lester B. Pearson
Jump to navigation
Jump to search
Mike Pearson
Lester Bowles "Mike" Pearson (23 April 1897 – 27 December 1972) ruled Canada from 1963 to 1968. His infamous legacy was marked by his abandonment of the beautiful Red Ensign replacing it with a truly ridiculous flag, the Maple Leaf.
As a young boy, Mike grew up in a suburb of the burgeoning metropolis of Newtonbrook (which in fact was later annexed by Toronto). Mike would later use this to his political advantage; he would tell Torontonians that he was from Toronto, while he would tell the rest of Canada that he was "le petit gars de Newtonbrook" or that he was from small town Canada.
At the start of World War I, he immediately enlisted in the Canadian Royal Air Farce.
Being Canadian was what Pearson was all about, so much so that he felt that the best way to be Canadian was to go abroad and show it to the rest of the world. He studied at Oxford University and also had a diplomatic career with Canada's foreign service, so that foreigners could see first hand what a Canadian looked like.
With the onset of World War II, Pearson enlisted in the armed forces again, this time to be a secret courier overseas. This was not as much fun as being in the foreign service as he could not flamboyantly show his Canadianness.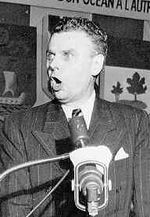 Prime Minister Louis St. Laurent plucked Pearson from a secure civil service job, and plunked him into a soul-sucking, low-paying job with a 97 hour work week known as Minister of External Affairs (later renamed Foreign Affairs when it was realized that foreigners were a freaky bunch). He became internationally known for explaining to the British and French that talking to people is more effective than bombing the crap out of them, and was
After the Liberals got their ass handed to them in the 1957 federal election, St. Laurent traded the leadership of the Liberal Party for a good book and some Ovaltine. Pearson took over and, in his wisest political moment ever, told Prime Minister John Diefenbaker to hand the government back to the Liberals so that everything could resume its super awesomeness. Dief kindly smiled, called an election and incinerated the Liberal Party, leaving Pearson, Paul Martin Sr.'s torso and one of Jack Pickersgill's shoes as its only members in Parliament.
In the 1963 election, Pearson finally obtained the majority of House of Commons seats that he needed to become Prime Minister. Technically speaking, it was a minority government because the Liberals did not have an absolute majority of the seats, and required the support of CCF leader Tommy Douglas and that party's MPs to stay in power. However, having a minority did not displease Pearson as he had always secretly (at least until this article appeared) wanted to be a CCF Canadian prime minister; therefore, he gladly prime ministered as though he led a majority CCF government. Pearson was so successful as prime minister that, in the 1965 election, he was rewarded with a minority government again.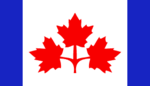 As prime minister, he quickly initiated a series of mind bending reforms, such as a complete transition from the Stars and Stripes flag, to a new, creative, intuitive design featuring a leaf, in fact, three of them. This flag was widely loved, as it celebrated the historic Canadian love of leafs.
He introduced universal health care throughout all of Canada, improved from Tommy Douglas.
As well, universal health care resulted in a significant increase in immigration to Canada during Pearson's tenure as prime minister Universal health care ensured that Canada's veterinarians were trained to provide medical services for everyone.
One of Mike's earliest accomplishments during his time as prime minister was the signing in 1965 of the Auto Pact between the U.S. and Canada for the creation of an integrated motor vehicle manufacturing industry in the two countries. This resulted in a new type of motor vehicle called the North American automobile; Henry Ford would have been proud. From another perspective, it allowed a car that was 90 percent built in Canada to be called a U.S. car. In Canada, Pearson earned the affectionate nickname "Pac Man" for this accomplishment.
Canada Student Loans Program
[
edit
|
edit source
]
Mike started the Canada Student Loans Program so that students could learn about going into debt. "The sooner, the better", Mike thought, as it was an integral part of the Canadian identity.
During his time in office, Pearson standardized Bilingualism, so that all sentences had include at least one word of foreign origin. While extremely unpopular, the difficulty of speech that this caused led to an inability to speak out against it.
Pearson was instrumental in having Canada's Official Languages Act enacted in 1969 to make U.S. English and Parisian French the two official languages of Canada. He made sure it was not enacted until after he retired from office, as he did not want to be the first prime minister who could not speak both official languages. He was secretly hoping that his political nemesis John Diefenbaker would somehow be re-elected and have the honour of that distinction.
Lester B. Pearson College of the Pacific
[
edit
|
edit source
]
Pearson also has the legacy of being the Father of Higher Learning in Western Canada.
After his retirement, Pearson got involved in the United World Colleges movement so that Canada could get one of the movement's junior colleges. Pearson was concerned about Western Canada and really, really wanted that part of the country to have an institution of higher learning. Thus, the Lester B. Pearson College of the Pacific, on Vancouver Island, is Western Canada's first post-secondary institution.
His father was Methodist.
He got an NHL trophy named after him. Try doing that, Trudeau!