Uterus
Jump to navigation
Jump to search
The Uterus is a species of agnathan fish of the class pteraspidomorphi. It is a parasite of women that feed on semen and flowers. It resides in the fluid of the coelom, near the vagina.
They have 2 life stages
The larvae are tiny, thin, pale-green, worm-like creatures. There isn't much more to say.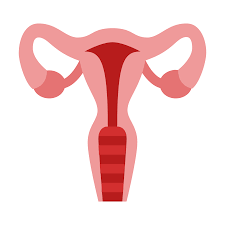 The adults are relatively large. They are pink in colour, with a dark purple shield. The mouth is round and sucker-like. The head is short, with large eyes on the sides of it. The shield extends from the head to the base of the tail, but with the sides and belly exposed. They have 4 arm-like fins without rays or fingers, a long, tall anal fin, no dorsal fin, and a wide, pointed paddle-shaped caudal fin. The males are thinner have smaller shields, and possess a long horn
The lifecycle begins when the newly hatched larvae crawl onto cakes, biscuits, and other sweet treats. When they are eaten by a pregnant woman, they make their way to the stomach, and chew into the baby through the crotch. They then form white, scaly cocoons for 12-13 years, while they mature. They then emerge, and start thrashing about and causing random health issues. They also tend to get parasites in abundance at some time of the month. They often bite themselve trying to remove them. This causes bleeding and lots of thrashing, causing stress and cramps. Once the women dies, the uterus swim away, into the rivers, and become male or female. At the end of the year, all adult uterii that have left their home engage in a vorgy, where the males are eaten, and the females crawl onto land, and lay their eggs on plants and other stuff. The females that miss the vorgy become uterus tentacles
Feathery • Chicken • Chicken 2 • Homing pigeon • Kingfisher • Peacock
Furry • African giraffe • American (species) • Baby Seal • Bear • Polar bear • Bipolar bear • Daemonic kitties • Elephant • Feral Child • Gazelle • Human • New Hampshire Merchant Cat • Otter • Sheep • Skunk • Slender Loris • Moose
 

...in history • Lycopardus Parthenophagus (French monster) • Bucephalus (horse) • Great Elephant Revolt (2011) • Jaws did WTC • St. Peter's Basilica (reptile)
...in science • Antbortion • An infinite number of monkeys with typewriters • Crypto-Zoology • Kinsey Report No. 3: Sexual Behavior in Hamsters • Tapheselachophobia • Whale bones

Slimey • Blue-ringed octopus • Corn snake • Frog • Goldfish • Pond Whales • Salamander • Sturgeon • Uterus
Creepy crawly • Ant • Cockroach • Lobster • Spider • Sun Bee • Wallet moth
Imaginary • Balloon Animals • Gazebo • Grue • Toaster • Womp Rat • Snipes
 

...in sports • Cow tipping • Kitten hurling battle • Rough Gay Wolf Sex • Seal Clubbing • Water Polo... With Sharks!
...in media • 001 (guinea pig) • Bi-curious George (monkey) • Donner (reindeer) • Flying Purple People Eater (something) • Garfield (cat) • G Rated Talking Animal Movie (film) • Steve Irwin (animal grabber)

Gay whales in Darfur • Delicious New Zealand bird set for extinction by 2023 • Man wakes up! • Overly political spider becoming annoying • Political extremism on the rise in animal world • Refugee Pandas safe in Scotland • Wolverine hits the big screen

 

...as food • Easter Bunny • Firesheep • Frog Semen • Kittens (cuisine)
...in literature • Did you ever lock horns with a goat? • The journey of the ugly kitten • The Life and Times of a Cute Little Puppy • The Life and Times of Kraft Dinner