Halloween (1978 film)
Jump to navigation
Jump to search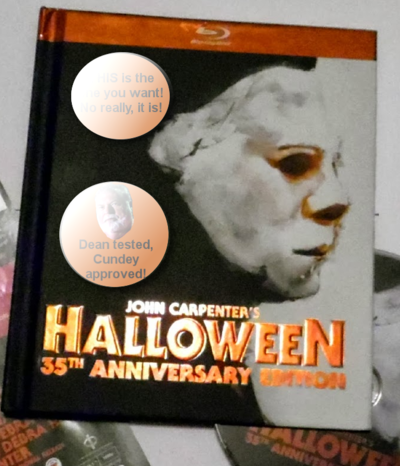 Halloween is a 1978 independent slasher horror film directed by John Carpenter, and the first in a long line of increasingly profitable and laughable sequels. The film's plot centers around the small town of Haddonfield, Illinois, and a serial killer named Michael Myers who sets out to wreak havoc on the unsuspecting citizens of the suburban street which he once called home. One of the film's selling points was the characterization of Myers, or rather lack thereof, which instead of being interpreted as a rush job on Carpenter's part was taken as a bold and largely successful depiction of Myers as an unstoppable force of hell, much like hurricanes or bad disco music.
Thusly, critics applauded the film, citing its "really scary scenes," suspense, and tension as its strong points. Surprisingly, it contained little blood or gore in its scenes of violence, relying on mood, atmosphere, music and acting instead to provide such impact. Such a choice meant that the film was suitable to be shown in nurseries, as is the case in most of America. Upon release, the film grossed $47 million at the US box office - enough to provide Carpenter with a new house, which he quickly bought - and over $60 million worldwide, an amazing figure in comparison to its $320,000 budget, which legally classifies it as an "independent and/or B" film.
On Halloween Night 1963, six-year-old Michael Myers (Debra Hill's hands and Will Sandin) was being babysat by his 15-year-old sister, Judith (1974 Playboy Bunny Sandy Johnson). However, her boyfriend (David Kyle) came over, so she sent Michael outside. Michael watched as the two teenagers had 10-second sex. In a fury, young Michael went inside and got a kitchen knife. After the boyfriend left, Michael walked up the stairs and stabbed Judith to death while she was combing her hair topless. He rushed down the stairs after the deed, and exited the house, leaving the door open. Suddenly, a car pulled up and Mr. and Mrs. Myers ripped off the mask.
He was later sent to Smith's Grove-Warren County Sanitarium under the care of Dr. Loomis (Donald Pleasence in a career-defining role) who purposely kept him locked up for fifteen years to make him even more violently insane, and that way he would fulfill the mentally-insane requirement for the part of Michael Myers within the script. This fifteen-year gap caused a problem for the film-makers as they became restless and impatient waiting for Michael to finally become the ideal age and lose his marbles so that the movie production could continue. This almost led to the cancellation of the entire project, but instead led to Nick Castle's casting as adult Myers. "Obviously, we weren't gonna take 15 years to make a movie," Carpenter said. "It was bad enough waiting for a sequel to Tron."
In 1978, Michael Myers (played by Nick Castle, etc.) escapes from the mental ward and stalks three sexy teenage girls who are babysitting -- Laurie Strode (Jamie Lee Curtis), Annie Brackett (Nancy Loomis), and Lynda Van Der Klok (P.J. Soles). Meanwhile, Dr. Loomis pursues his patient and persuades Sheriff Brackett (Paul Lynde's identical cousin, Charles Cyphers) to join him in his crusade.
After the victims are offed, Laurie, being the final girl, walks over to the Wallace house across the street, and makes her way to the upstairs bedroom. She expects Lynda, Annie, and Lynda's boyfriend, Bob (John Michael Graham), to jump out and surprise her.
Instead, she finds Annie lying dead on the bed next to Judith's headstone, Bob hanging from the ceiling, and Lynda lying in the closet. Michael Myers sneaks up behind Laurie and stabs her shoulder and arm, leading to her fall down the stairs. Laurie makes a run for it while Michael slowly follows in a slow and horribly scary fashion. She makes it back to the Doyle house where Michael attempts to strangle her. Laurie manages to remove his mask (Tony Moran). Loomis shoots Myers six times, leading to Michael's fall off the balcony. Michael lies on the grass, takes a short nap, gets up and walks off, leaving room for a sequel.
Dr. Loomis... Donald Pleasence
Laurie... Jamie Lee Curtis
Annie... Nancy Loomis
Lynda... P.J. Soles
Brackett... Charles Cyphers
Michael Myers... Nick Castle, etc.
Young Michael Myers... Debra Hill's hands, Will Sandin
Bob... John Michael Graham
Tommy Doyle... Brian Andrews
Lindsey Wallace... Kyle Richards
Who all played Michael Myers?
[
edit
|
edit source
]
The following people are confirmed to have played Michael Myers (age 21 or 23 depending on whom you ask) throughout the course of the film:
Nick Castle (primary)
John Carpenter
Jim Winburn (stuntman)
Production designer/editor/Myers mask creator Tommy Lee Wallace (closet scene)
Producer Moustapha Akkad
Charles Cyphers
Donald Pleasence
Jamie Lee Curtis
Producer/co-writer Debra Hill
Cinematographer Dean Cundey
Gravekeeper Arthur Mallet
Dennis Quaid (Bob and Annie's death scenes; as a consolation for not landing the role of Bob)
Lester the Dog
Halloween is often seen as the "godfather" of all modern slasher movies. Despite its extremely low budget, it still serves as the perfect archetype for what a good slasher movie should be. Numerous directors have taken on the difficult task of creating sequels to this classic film, but majority of them have failed miserably in doing so. The worst sequel of all, as determined by a U.S. 2001 survey, was Halloween III: Season of the Witch which had nothing to do with the Michael Myers story. A 2008 survey voted Halloween: Resurrection as the worst one with Michael Myers in it; this was later changed in a 2009 poll in which Rob Zombie's Halloween II won the title.
Some directors have even attempted to emulate Halloween's style with their own slasher series, such as Sean S. Cunningham (Friday the 13th), and Wes Craven (A Nightmare on Elm Street, Scream).
The original Halloween has been re-released annually in select theaters across the United States every October since 2012.
A sequel ignoring all previous sequels and picking up directly after the original, will be released by Blumhouse/Universal on October 19, 2018. John Carpenter, Jamie Lee Curtis and Nick Castle return.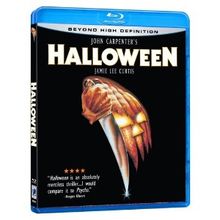 Halloween has been on home video in an array of formats since the advent of home video. There are several VHS versions (including the 1981 TV edit and a widescreen version), a 1994 Criterion Laserdisc a terrible non-anamorphic 1997 DVD, a (supposedly) Dean Cundey-approved THX anamorphic DVD in 1999, and a 25th Anniversary DiviMax DVD.
In October 2007, Halloween made its Blu-ray debut, no doubt to cash in on the then-recent Rob Zombie remake. Unfortunately, fans were not pleased that the Blu-ray was mastered from the 25th Anniversary DVD, and therefore it was littered with digital noise reduction, edge enhancement, noisy night scenes, and -- even worse -- the wrong color timing. The day scenes were overly warm and vivid; while in the night scenes, the blue tones had been drained from the image, leaving a bleach white overcast.
In 2013, it was announced that Anchor Bay was working on a new 35th Anniversary Blu-ray, featuring a brand new interview with John Carpenter and Jamie Lee Curtis. Unlike their Criterion commentary with the late Debra Hill, Carpenter and Curtis were actually in the same room together this time. Also announced was a new featurette starring Curtis called The Night She Came Home, chronicling her first, last, and only convention appearance.
But the real selling point was when Anchor Bay announced that Cundey would be supervising a brand new 4K transfer. And to prove it this time, HalloweenMovies.com reported it and posted an image of the man himself color-timing the scene in which Michael Myers rises from the ground behind Laurie as she cries.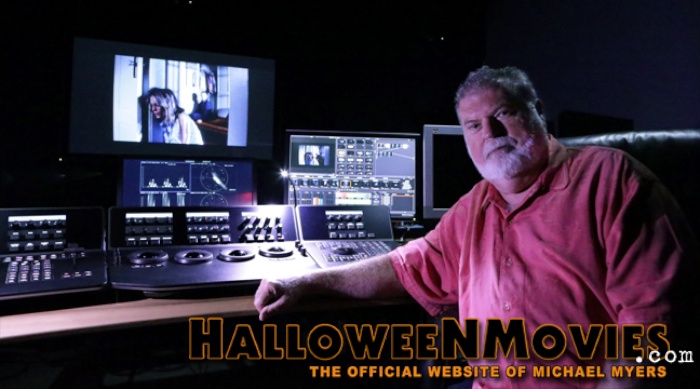 The Halloween 35th Anniversary Edition Blu-ray was released September 13, 2013 (in DigiBook, Amaray, or UK Steelbook packaging) to rave reviews and huge sales. Fans were relieved that the day scenes had a cooler, bleaker look with muted colors, and night scenes were once again blue. Film grain reigns supreme, and we even get more information on the right side of the frame. Silly film scanners.
On June 27, 2014, The Halloween 35th Anniversary Edition won the Saturn Award for Best Excuse to Re-Buy Some Old Movie on Blu-ray. Dean Cundey and Malek Akkad (son of the late Moustapha Akkad and heir to the Halloween franchise) accepted the honor.
The only problems with the 35th Anniversary release are the trailer for Rob Zombie's limited-release flop, The Lords of Salem, and the fact that the mono track on Halloween is not the original mono, but rather a downmix from an unknown source. Strangely enough, the original mono was on the 2007 disc, and Anchor Bay put in enough effort to upgrade the audio to 7.1 Dolby TrueHD for the 35th Edition.
Which gave them an excuse to release the film yet again, which they did in 2014. Anchor Bay and Scream Factory teamed up to wrangle the rights to all of the Halloween movies and release them in an epic box set. Halloween: The Complete Collection includes both Blu-ray editions of the original Halloween. And get this -- the 35th Edition has the original mono added back in. Not only that, but in lossless Dolby TrueHD! There is also a brand new commentary with Dean Cundey, Nick Castle, and Tommy Lee Wallace. The set came in 10- and 15-disc configurations. It is now out of print.
Halloween was released as a 40th anniversary 4K UHD Blu-ray in October 2018. However, it does not include the original mono. And, strangely, the bundled 1080p Blu-ray uses the 2007 video transfer, even though Carpenter and Cundey worked on the 4K transfer for its UHD counterpart (which perfectly matches the 2013 transfer, with the addition of 4K's High Dynamic Range technology to make the picture so bright your eyes bleed).
See also: Halloween (film series)
Halloween spawned innumerable sequels, as well as a remake and its own sequel (see below).
Scott Teems is reportedly writing a sequel to the 2018 film.
In 2007, Rob Zombie directed Halloween; it was not a sequel, but rather a remake of the original. Zombie helmed the divisive project, which was released in United States theaters August 31, 2007 and released on DVD on December 18, 2007. The film was re-released on DVD and debuted on Blu-ray a year later, with an all-new 4-hour "making of" documentary. The film was half-baked at best. The documentary is actually quite good, though. The sequel was even worse.
Things were running smoothly with Zombie's Halloween II (2009), until March 2, 2009 when Daeg Faerch was replaced as Young Michael Myers. Chase Wright Vanek sucked epicly in the role. Everything went downhill starting with the recast, and the film failed in every aspect -- critically, commercially, and with fans.
Zombie now denies any involvement with Halloween II whatsoever.