Bela Lugosi
Jump to navigation
Jump to search
"Bela Lugosi's dead?"
"Bela Lugosi was alive?"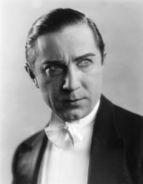 Bela Lugosi was a man who made a living spitting on children, eating raw oompa loompas, vonting to suck your bluud! being rubbish at communism, acting as a monster and pretending to be dead. Now he is dead. No amount of fame can change that.
Born Count Bela Ringa in a castle somewhere in a misty part of the Carpathians in 1415. By the age of sixteen, Bela had invaded Asia Minor where he developed his addiction to heroin, cursing God for his ill fortune. He later developed vampirism and found he had to suck blood as well. He didn't have a good time in Asia Minor.
He sadly lost power during the Reformation and was burned a number of times. By the 19th century, though, killing vampires was out of fashion and so he was able to feast regularly on blood. There was only so much in the local area and so he decided to travel to Whitby on a ship. His wives threatened to have him prosecuted for bigamy, though, so he gave up and went back to his castle.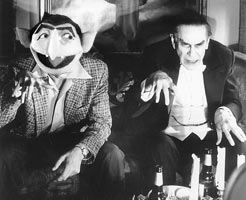 In the early 20th century, he found that going to Hollywood was a good way to get lots of money, blood and heroin and no one really cared. After several incidents, which lead to a fearsome argument with the chief executive of Universal Pictures, it was determined that Lugosi wasn't allowed to obtain or drink real blood during filming so he stuck to heroin and cognac instead.
Despite scurrilous rumors in the tabloid press, Lugosi never drank vine.
Dracula (1931)
Broadminded Black Camel with 50 Million Frenchmen do it with Women of all the Nations (1931)
Is It Dracula Again? (1932)
The Murders In The Rue Murder (1934)
The Black Kitten (1934)
The John Craven (1935)
Sod Off, Frankenstein (1935)
Shite Zombie (1937)
The Invisible Gay (1939)
You'll Never Know (1940)
Roast of Frankenstein (1942)
The Corpse Vanishes in the Copse (1942)
Frankenstein Eats the Wolfman (1943)
Return of the Grape Man (1944)
One Penis Too Many (1944)
Voodoo Child (1944)
Bela, Boris and A Lot of Double Cream (1945)
Cask of Amaretto (1949)
Mother Riley Fucks a Vampire (1952)
Bela Lugosi, Che Guevara and the Brooklyn Guerrillas (1952)
I Changed My Socks! (aka Still Glen) (1953)
Riding the Monster (1955)
Beethoven's 10th from Outer Space (1957)
Plan 9 from Outer Space (1959) (For about 5 minutes)
Undead Penis Rises From the Grave (1961)
Attack of the Killer Goths (1987)
Haven't you? (1988)
Attack of the Killer Goth Zombies (aka Attack of the Killer Gombies) (1988)
Killer Goth Zombies 2: Electric Boogaloo (1992) (appears in archive footage)
Dracula the Musical (1920-31)
An Unsettling Evening With The Late Bela Lugosi (1979)
Something of the Night (2006)
Death, return to undeath and more death
[
edit
|
edit source
]
Finally, in 1940, he was famously staked to death by Edward Van Sloan. This didn't keep him down, his wives returned and brought him back to life by a blood sacrifice. After meeting Abbott and Costello, he decided to go into retirement for a few years before coming back as a zombie for Plan 9 from Outer Space, finally got his own coffin and was allowed to retire with his cape which previously he had been unable to afford.
Bored with undeath and wanting one last thrill, in 1999 he persuaded Buffy Summers to straddle him and stake him through the heart, thus being the only actual vampire she ever killed, the others all being merely deluded. But will he come back? In the past, as with Boris Karloff, he always came back.
He still vonts to suck your blud.