UnNews:Michael Myers escapes from sanitarium, kills Christopher Walken
Jump to navigation
Jump to search

The information contained in this article is dangerous.
3 September 2007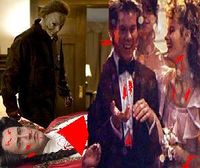 HADDONFIELD, Illinois -- A psychotic murderer named Michael Myers escaped from Smith's Grove-Warren County Sanitarium late Thursday night around Midnight, according to Myers's psychiatrist, Dr. Sam Loomis. The doctor described his patient's escape in vivid detail to UnNews: "I watched him being escorted to a court date. I saw his eyes... The Devil's Eyes!! I saw in his eyes what he was going to do next! He's alive! He isn't human! The evil is gone from here! Stay away from it!!!"
Sheriff Leigh Brackett of the Haddonfield Police Department, added: "This Loomis guy is a nutcase. All I've seen this weekend is kids getting high, trick or treating (even though it's Labor Day weekend), playing pranks, doing stuff that teenagers do."
Myers, who brutally murdered his sister 17 years ago on Halloween Night, is 27 years old, has long hair, is 6 foot 7, and is extremely dangerous. He was last spotted wearing a mechanic's uniform and a white mask resembling William Shatner, and carrying a large butcher knife.
He was seen at the premiere of Rob Zombie's latest movie, Labor Day, a remake of the classic 1978 John Carpenter thriller of the same name. Also seated in the audience was Christopher Walken, who kept shouting at the screen, "More cowbell!" every time the song "Don't Fear the Reaper" played in the film, to the point of being overly annoying. Also seated were Kevin Bacon and the cast of Superbad, who wanted to see if this movie would pose a threat to their respective movies, Death Sentence and Superbad. (It did. It has earned about $26.5 million since opening on Friday.)
After walking out of the theater, Myers went on a Labor Day killing spree, claiming the lives of Walken and Bacon, among other, less notable, people. Walken's death was the bloodiest and most brutal, despite Walken's self-proclaimed balls of fury. "A man wouldn't do that," Brackett said. Loomis replied, "This isn't a man."
Dr. Loomis finally tracked down Myers and "shot him six times! Six times, Sheriff! You've got to believe me! Six times!! He's still alive!!" Myers was then sent back to Smith's Grove under maximum security. The movie, Labor Day, topped the box office this week, followed by Superbad, then Balls of Fury.