Halloween (2007 film)
Jump to navigation
Jump to search

Halloween is a 2007 remake of the 1978 John Carpenter movie, Halloween. On June 5, 2006, after much speculation, Bob and Harvey Weinstein of the Weinstein Company, formerly of Dimension Films, announced that Rob Zombie would helm the next Halloween movie, which would be a cheap remake instead of another cheap sequel.
"We called Carpenter first, but he didn't want to do it," said Einstein. "Then we just decided to call Rob. He said, yeah, so whatever."
Auditions began quickly and the film was slated for October 2007.
Rob Zombie's divisive film opened in theaters across America on August 31, 2007. Fans were encouraged to dress as Michael Myers for the big event. The film was released on DVD December 18, 2007, followed by a re-release (with a brand new 4 1/2-hour making-of documentary) a year later, which was also its Blu-ray debut. Fans were encouraged to dress as Michael for the DVD releases, though no one bothered due to the film's poor critical and fan reception. Strangely enough, it was a huge hit at the box office.
The plot was essentially the same as the original, except white trash. Michael Myers goes loony, kills his sister, Judith, gets committed, escapes seventeen years later, and continues his bloody rampage. Rob Zombie decided to make this film equally similar to, and different from, the John Carpenter original.
Michael Myers (portrayed by newcomer Daeg Faerch, one of the few good performances in this half-baked film) was always mentally unstable, and just looking at the kid sends shivers down your spine! His favorite band is KISS and at the age of ten, he commits the most unspeakable act in horror movie history and spawns countless imitators and knock-offs.
Young Michael was portrayed in this film as almost effeminate in his "innocence" and masculine in his viciousness, at least according to Michael's redneck stepfather Ronnie White. When he kills four people on Halloween, 1978, he is committed to Smith's Grove-Warren County Sanitarium under the care of Dr. Sam Loomis (Played by Malcolm McDowell, in the iconic Donald Pleasence role; McDowell wasn't too bad in his first go-round). The two share a strange bond, and Deborah Myers (Sherri Moon Zombie, whose performance is a bit spotty) tries to form a bond with her son, but all is hopeless.
Fifteen years or so pass, and it's time for Michael (now played by Tyler Mane, not too bad, but too tall) to escape. He returns to Haddonfield to find his long-lost sister Laurie (Scout-Taylor Compton, a C-list actress at best; her best acting performance was as Lita Ford in The Runaways.).
Unlike previous Halloween installments, this one explored Michael Myers' childhood and the events leading up to "the night HE came home." New characters were added, played by Rob Zombie's regular performers: Wife Sherri Moon Zombie as a stripper (go figure), Ken Foree as a jive talking truck driver (a character much better than the movie he's in), Sid Haig as a groundskeeper, and Bill Moseley as a redneck. Hell, they're all rednecks.
Workprint vs. Theatrical
[
edit
]

There are some differences between the "workprint" version of Halloween and the version we saw in theaters. Michael's escape scene was different. In the workprint, the security guards at Smith's Grove fall asleep after watching the Leif Garrett episode of Behind the Music on VH1. They had forgotten to lock the door so that Michael could not get out. Two redneck idiots barge into Michael's cell with some chick and proceed to rape her. During this graphic (and comoletely unnecessary) scene, the silent but deadly Michael Myers escapes, killing everybody inside and walking toward his destination of Haddonfield. This version of the scene is the one used in the Director's Cut.
Rob Zombie then decided to shoot a different escape scene in which Michael Myers is transferred to a court date after Dr. Loomis released him from his care. Michael was chained, long-haired, and wearing a robe. He broke the handcuffs and chains, killing everybody in his path, before slowly exiting. This latter version was ultimately included in the theatrical cut.
The workprint even included a different ending than the theatrical version. In the workprint, Michael Myers is shot by firing squad by the Haddonfield Police. In the theatrical version, Michael Myers kills Dr. Loomis and pursues Laurie. He charges at her and the two fall off the balcony as a gunshot is heard. Michael (supposedly) dies, Laurie lying on top of him. Michael then awakens,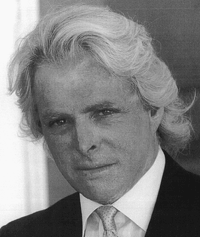 Official cast
[
edit
]
Dr. Loomis... Malcolm McDowell
Laurie Strode... Scout-Taylor Compton
Annie Brackett... Danielle Harris
Lynda... Kristina Klebe
Sheriff Brackett... Brad Dourif
Nurse Wynn... Sybil Danning
Principal Chambers... Richard Lynch
Deborah Myers... Sherri Moon Zombie
Ronnie White... Ron White
Cynthia Strode... Dee Wallace
Mason Strode... Pat Skipper
Judith Myers... Hannah Hall
Young Michael Myers... Daeg Faerch
Michael Myers... Tyler Mane
Rating controversy
[
edit
]
Many fans of the Halloween franchise were outraged when Rob Zombie announced the film's official rating—G. This means that 95% of what was originally intended to be in the film had to be cut in order for the film to receive this rating. Rob had to quickly rewrite the script and re-shoot a majority of the film from scratch. "I hated it," Zombie says. "Hopefully, the Weinsteins [Bob and Harvery Weinstein] will come to their senses and go with the R rated version."
Malcolm McDowell, Tyler Mane, Scout Taylor-Compton, and Rob Zombie have told Dimension that they will not sign on to any sequels unless the film is R rated and lives up to Zombie's original vision. "You're not owned by Disney anymore; it's time to make Michael Myers scary again."
After much bickering and legal woes, it was revealed that the MPAA rated the wrong movie, The SpongeBob SquarePants Sequel. This caused a minor controversy with the latter film when parents decided to boycott Nickelodeon over the film's alleged Violence, language, and likeness of Michael Myers. Once the error was resolved, SpongeBob was rated G and Halloween was rated R.
Trailers
[
edit
]
The first trailer premiered in January 2007 and was untitled. It gave a release date of 1-18-08. It was attached to Quentin Tarantino and Robert Rodriguez's Grindhouse, which flopped miserably at the box office, but has since become a cult classic. The trailer become a huge internet sensation for months afterward.
The first ever TV spot for the film premiered during some show with Corey Haim and Corey Feldman on A&E. Subsequent TV spots have aired on MTV, VH1, BET, Spike TV, the Discovery Channel, Nickelodeon, Cartoon Network, Sci-Fi Channel, Food Network, Disney Channel, Toon Disney, USA, and the Halloween TV Spot Network.
On August 1, 2007, Rob Zombie and Yahoo! Movies unveiled a brand new theatrical trailer that was never attached to a movie. It became a huge internet smash hit.
Both trailers are much better than the actual movie.
Reception
[
edit
]
Despite mixed-to-negative reviews, Halloween opened at Number 1 at the box office, making a killing for a Labor Day Weekend opening. It easily beat out Balls of Fury, Hoops of Vengeance, Halloween III 2, Superbad, Death Sentence, and Rob Zombie's remake of Toy Story.
The movie broke Labor Day box office records by taking in $31 million in its first week. It has since grossed $58 million at the box office.
Reception among Halloween fans is mixed, mostly negative.
DVD information
[
edit
]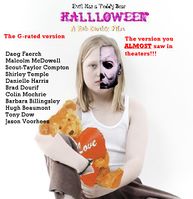 Halloween was released on DVD on December 18, 2007. Three versions where released, all of which sucked worse than Rob Zombie's 2009 album, "Hellbelly Deluxe II". The first DVD released was Halloween: The crappy 1st edition. It featured half of the original movie, and a trailer. Next up was the special edition, released a few weeks after Blockbuster Video had had a chance to scam those interested in the movie into renting their 1st edition/shitty copy of the movie. The special edition included a self addressed vomit bag for viewers to send in the results to Rob Zombie containing their review... and finally the unrated edition because Rob figured people might take more interest in a movie that says "Unrated" instead of "R."
Rob has told the entire horror community that the DVDs will include every piece of Halloween-remake-related footage known to man... and several known to monkeys.
Each version comes in a 2-disc set, and each has the same bonus features:
Commentary by Rob Zombie apologizing for making this film.
Cast commentary commentating on Rob Zombies apology and how this movie fucked up their careers.
Two-second commentary by John Carpenter, stating that he's only in it for the money.
"Meet the Cast" featurette: We can't tell you what's on this, cause like everyone else, we just didn't care to watch it.
Seventy-seven "making of" featurettes including Rob Zombie scratching his butt while ordering a hot dog on his lunch break.
Deleted scenes: including never before seen (because it was CUT from the damn movie) scenes. Some of them are actually better than the shit that made it into the movie. And even then...
Bloopers: take good note that this says "bloopers" and not "Funny bloopers".
The entire second act of Good Burger
Rob Zombie auditions archive footage of Donald Pleasence to play Dr. Loomis, mistakenly thinking that the footage is actually Malcolm McDowell in the flesh. Who writes this crap, the writers of the Halloween remake?
Cast, crew, and Rob Zombie alike have all stated that the Unrated Director Cut is the definitive cut of the film, if there is such a thing, "but you are more than welcome to buy any or all versions of the film. It makes more money for me," says John Carpenter.
Because the 2007 film was somehow so successful, a sequel, confusingly titled Halloween II was released August 28, 2009. It essentially flopped in every way imaginable. The reviews (from critics and fans alike) were atrocious and the film made almost no money.
The franchise lay dormant for almost a decade, resulting in the Weinsteins losing the rights.
Direct sequel to original Halloween
[
edit
]
In 2016, Blumhouse picked up the rights to Halloween and is producing a course-correction direct sequel to the original. It will ignore every film after the original, Easter eggs aside. It will basically be an alternate Halloween II (1981).
Related UnNews
[
edit
]
External links
[
edit
]