Halloween (2018 film)
Jump to navigation
Jump to search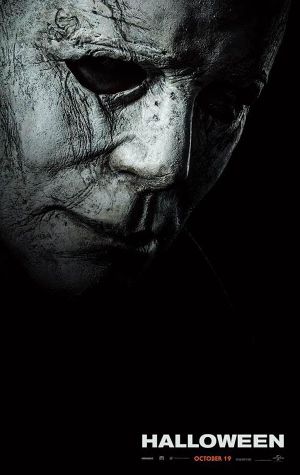 Halloween is an upcoming American slasher film directed by Pineapple Express auteur David Gordon Green and written by Green, Jeff Fradley, and frequent Green collaborator and stoner comedy maestro Danny McBride. It is the eleventh installment in the Halloween franchise, picking up forty years after the events of the original film while disregarding the continuity of the previous sequels... sequels that featured such you-can't-make-this-shit-up nonsense as:
John Carpenter returns as executive producer, creative consultant and composer. Jason Blum and Ryan Turek produce under Blumhouse, the hottest name in horror right now. Jamie Lee Curtis returns as Laurie Strode, while original Michael Myers Nick Castle tag-teams with stuntman James Jude Courtney. Lesser-known actors also star. In fact, Curtis is the biggest name you'll see in this movie.
Development hell and false starts
[
edit
]
Immediately after the release of Rob Zombie's ill-advised and ill-fated Halloween II (2009), The Weinsteins fast-tracked a 3D sequel without Zombie's involvement. It was to be written by Todd Farmer, best known for such masterpieces as Jason X, My Bloody Valentine 3D, Drive Angry 3D, and Shlock Horror Movie VII: Gimme Your Money; and directed by Patrick Lussier, whose credits (as director, writer, and/or editor) include such award-winning fare as Dracula 2000, Apollo 18, My Boss's Daughter, My Bloody Valentine 3D, Drive Angry 3D, and Piece of Crap II. Ultimately, plans fell through and the project entered development hell for roughly five years.
In February 2015, The Weinsteins decided to retool the idea of a sequel. It was announced that Patrick Melton and Marcus Dunstan, best known for several Saw sequels, would be writing a new Halloween film, described as a "recalibration," a word they made up when they got drunk one night. The film, Halloween Returns, was to take place in the present day, inexplicably "ten years" after the 1978 original. Melton and Dunstan admitted to being terrible at simple math. Texas Chainsaw 3D screenwriter Adam Marcus suffers from the same affliction, which caused a similar mishap with his Chainsaw sequel. The plot had something to do with Michael Myers on death row, even though in real life, Illinois had long abolished the death penalty. Luckily, the film was canceled yet again, this time because the Weinsteins had taken so long to make another Halloween that they lost the rights to the franchise. Said rights reverted to Miramax and Malek Akkad's Trancas International Films.
Production
[
edit
]
On May 24, 2016, it was announced that Blumhouse and Miramax were co-financing a new film. Blumhouse CEO Jason Blum called the original Halloween a milestone that had influenced the company to begin making horror films such as The Purge and Get Out.
In an moment that had long been thought impossible, John Carpenter, who famously hates the sequels (not to mention the Rob Zombie films), was announced as returning to the franchise for the first time since the non-Myers Halloween III: Season of the Witch, in order to steer the creative team in the right direction.
David Gordon Green and Danny McBride were named as director and co-writers, respectively, on February 9, 2017. The choice was rather peculiar, as the duo are far better known for their comedy films, particularly of the stoner variety. The filmmakers shot down their reputation by saying, "If you even so much as snicker during Halloween, we'll kill you."
Realizing that the franchise's history and multiple timelines had become convoluted, the duo decided to strip it back to the original film and ignore every subsequent film. So, the film is essentially an alternate Halloween II (1981) that picks up from the original 40 years later.
Knowing that Rob Zombie's take on Shatner-masked killer was a disgrace, Carpenter, Green, and McBride wanted to bring back the Michael Myers that scared the shit out of us when we were kids.
Casting
[
edit
]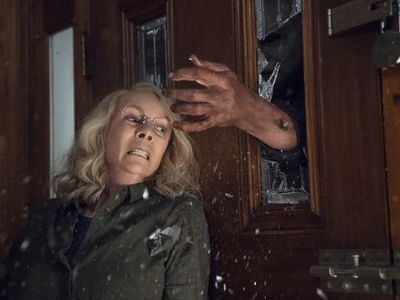 In September 2017, Jamie Lee Curtis confirmed that she would reprise her role as Laurie Strode. In contrast to the character's final girl role in the original film, Laurie has armed herself and is ready to kick some ghost-white Michael Myers ass. Although Halloween II onwards portrayed Myers as wanting to kill off his family, with Laurie being his sister and Jamie Lloyd (of Halloween 4, 5, and 6) being his niece, the creative team felt that this turned Myers into "a fucking pussy. I'm not scared of him anymore because he'll never come after me because I'm not his brother." As such, they intentionally ignored that aspect of the lore. They did not originally know if Curtis would be willing to return, according to McBride, so they "busted [their] ass on this script to really make that Laurie Strode character something she wouldn't be able to say no to." On why she returned, Curtis stated, "Besides the lucrative backdoor deal, as soon as I read what David Green and Danny McBride had come up with … and the way that they connected the dots of the story, it made so much sense to me that it felt totally appropriate for me to return to Haddonfield, Ill., for another 40th-anniversary retelling. It's the original story in many, many, many ways. Just retold 40 years later for an AARP audience."
The following October, Judy Greer entered negotiations to play Laurie's daughter Karen Strode, to appeal to those of arthritis age, but not retirement age. Danielle Harris, who played Jamie Lloyd, contacted Blumhouse with the offer to reprise her role in some way, but the studio planned to go with a different daughter character, to Harris' disappointment: "I was okay with it when she had a son... but they're saying it's the last one and... she has a daughter. And it's not Jamie. It's just kind of a bummer, I guess." On December 7, 2017, Andi Matichak was cast to play Laurie's granddaughter Allyson, you know, so that a younger audience can get into it who are nowhere near retirement age.
On December 20, 2017, it was announced that 70-year-old Nick Castle, who portrayed 21-year-old Michael Myers in the original film, would be reprising his role as 61-year-old Michael Myers, with actor and stuntman James Jude Courtney set to handle the physical stuff that a 70-year-old man can't do anymore. Imagine if Wilford Brimley took steroids and put on a Shatner mask.
Courtney was suggested to Malek Akkad and David Gordon Green by stunt coordinator Rawn Hutchinson for his ability to do both physical stunts and genuine acting (Take THAT, Kane Hodder!), auditioning afterwards and receiving a phone call in December 2017 affirming that he had landed the role.
Green explained to him his vision for Myers' mannerisms, an amalgamation of Castle's original performance and the addition of an efficient cat-eque style of movement. Courtney tailored his portrayal to those specifications from observing an actual cat, "I think cats are the most perfect hunting machines on the planet. And the beauty of it is we don't judge a cat for what a cat does. So I sort of carried that movement and the non-judgmental approach to the way I moved as The Shape, which I learned from my cat Parcival." Expect Myers to sleep 16 to 20 hours a day and poop in a litter box.
Courtney referred to collaborating with Castle as an "honor", with Castle describing it as a "passing of the torch". He used John Carpenter and Castle's work on the original film to determine how the forty years that transpired between the events of the films would inform the character over time.
On January 13, 2018, Ginny Gardner, Miles Robbins, Dylan Arnold and Drew Scheid were confirmed to play Allyson's friends, respectively. On January 16, 2018, Will Patton was publicized to have joined the film's roster. He was later joined by Rob Niter, both actors being announced to portray police officers. At the same time, Rhian Rees was cast as a character named Dana. Speaking of the cast, Nick Castle stated that "What I like about this (new film) is they've got some really good young actors. They fleshed out the relationship of Jamie's character with her daughter and her granddaughter. And they made some choices that I think are really bold choices about who these people are and why they are the way they are now."
John Carpenter will be doing the score alongside his son, Cody Carpenter; his godson, Daniel Davies; and his "fifth Beatle" cat, Midnight.[1] Regarding his take on the sequel, he said, "I'll be consulting with the director to see what he feels. I could create a new score, we could update the old score and amplify it, or we could combine those two things. I'll have to see the movie to see what it requires."
The score soundtrack will be released October 19, the same day as the movie, on CD and vinyl formats.
Marketing
[
edit
]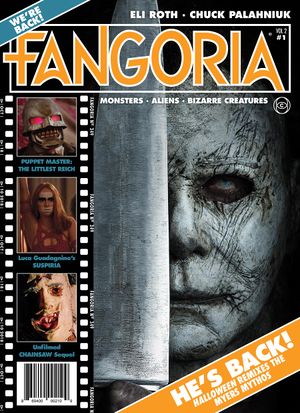 Trick or Treat Studios obtained the official costume licensing rights for the film. Both Nelson and Vincent Van Dyke joined their design team, who used toolings from the screen-used mold of Michael Myers' mask to adapt it for mass market sale. Another mask will be released on October 19 due to spoilers.
A novelization will be released October 23, 2018, the Tuesday after the film's release.
Birth.Movies.Death will release a commemorative Halloween issue of their magazine in October 2018.
The newly-relaunched Fangoria's October 2018 issue features Michael Myers on the cover, as well as a Halloween cover story. Subscriptions started being mailed October 2.
Trailer
[
edit
]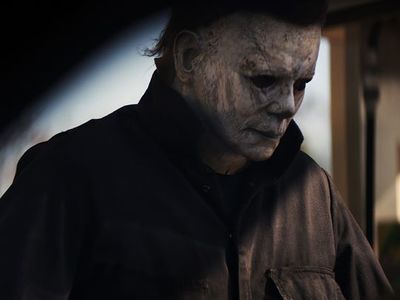 The CinemaCon film convention premiered exclusive footage on April 25, 2018, garnering positive reactions from those in attendance. The reaction to the CinemaCon trailer was so intense that fans pestered anyone even tangentially connected to the film about when the trailer would be released to the public. Although it was originally planned for July 23, it was eventually fast-tracked to June 8, to much hype and fanfare. It has garnered over 15 million YouTube views.
Release
[
edit
]
Halloween is scheduled to be released theatrically on October 19, 2018.
Possible sequels
[
edit
]
Let's be honest. No way in hell is this the last Halloween ever. In June 2018, McBride confirmed that he and Green originally had intended to pitch two films that would be shot back-to-back, after deciding against it and waiting to see the reaction to the first film: "We were going to shoot two of them back-to-back. Then we were like, 'Well, let's not get ahead of ourselves. Remember what happened to Rob Zombie? This could come out, and everyone could hate us, and we'd never work again. So, let's not have to sit around for a year while we wait for another movie to come out that we know people aren't going to like.' So, we were like, 'Let's learn from this, and see what works, and what doesn't.' But we definitely have an idea of where we would go [with] this branch of the story and hopefully we get a chance to do it. But this film is so fucking awesome that a sequel will be fast-tracked immediately."
In February 2019, it was widely reported that Scott Teems would be writing a sequel. Teems's other credits include Rectify, Narcos: New Mexico, the upcoming Blumhouse remake of Firestarter, and a few things on IMDb that nobody's ever heard of.
External links
[
edit
]