Paul Rhoads
Jump to navigation
Jump to search
| | | | |
| --- | --- | --- | --- |
| | | | |
| | | It is requested that an image or images be included in this article to improve its quality. | |
| | | | |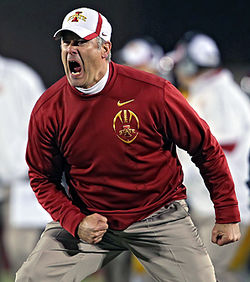 Paul "Grizzly" Rhoads (born February 2, 1967) is an American college football head coach and at Iowa State University and Professional Bear-Fighter. Rhoads was formerly the defensive coordinator of the Auburn Profession Football Club LLC. He was hired by Iowa State after the defection of the Dark Lord Gene Chizik.
Early Life
[
edit
]
Paul Rhoads was allegedly conceived and born on the exact sport where Jack Trice Stadium stands today. Rhoads would grow up close to Ames in a town of called Middle Point, Iowa. (Population: 9,000) (Now known as Ankeny, Iowa.) Rhoads initially gained fame for a romantic affair involving his Kindergarten teacher, 24 year old Lisa Price, who was nearly 18 years older then him. He would eventually end the relationship, leaving her for his 2nd Grade Teacher, then his 5th Grade Teacher, and so on. His hometown would experience a huge population boost in the future do to the number of illegitimate children Rhoads would father. Rhoads would use the assumed name, "Chris Ankeny," when sleeping with the women, thus they renamed the town Ankeny, Iowa in admiration of him. (Current Population 45,500)
Playing career
[
edit
]
He was an impressive athlete at Middle Point High School, lettering in Football, Basketball, Baseball, Judo, Cross-Country, Sword Fighting, Wrestling, Track and Field, Golf, Bull Riding, Swimming, Bare-Knuckle Boxing, Rugby, Beard Growing, and of course, Bear-Fighting. He also surprisingly served as a "manager" to the Girl's Volleyball, Basketball, Track, and Cheer teams as well. Football was Paul's first love though, (after Bear-Fighting) and he was his team's star player. He was well-respected for playing Quarterback, Wide Receiver, Center, Linebacker, Defensive Back, Kicker, Punter, and Long Snapper simultaneously. However, do to excessive amounts of Human Growth Hormone, Testosterone, and Bear Tranquilizers in his system, Rhoads would not be able to play Football professionally.
Coaching career
[
edit
]
Rhoads began his coaching career in the late 1980's, coaching the Boone 4th Grade Pop Warner Team. He would lead the team to a record of 323-0-1. (The tie coming from a disputed game against the Chicago Bears)
In 1995, incoming head coach Dan McCarney hired Rhoads to join him at Iowa State, where he served as linebackers and secondary coach for 5 seasons. Rhoads also "assisted" with the Women's Gymanstics team during his first tenure in Ames.
Auburn Tigers
[
edit
]
After a 2 years hiatus from coaching, spent in Northern Alaska hunting moose and elk with his bare hands, he was hired as the Defensive Coordinator by Auburn Professional Football Club LLC in 2002. In addition to coaching Auburn's Defense, he also led the Auburn Cheer and Dance Team to 3 National Titles and an Adult Film Award.
Iowa State Cyclones
[
edit
]
Gene Chizik (then head coach at Iowa State) reportedly made a deal with Satan allowing him to take the Head Coaching job at Auburn Professional Football Club. Chizik feared Paul Rhoads, being reportedly unable to maintain eye-contact with him, and terminated his contract upon taking the job. This would be the beginning of a blood-fued between the two, so Paul returned to Iowa to plot his revenge and take the Head Coach position at Iowa State. He was reportedly offered a 5-year contract worth $5.75 million and includes incentives that could increase his salary, but turned it down calling the job, "Personal." Of the 80 players present at the start of his first training camp at Iowa State, 14 survived to the end. Rhoads opened his ISU career with a win over FCS North Dakota State. He also led Iowa State to a victory at Kent State in his first year, ending a 17 game road losing streak. Prior to the Nebraska game, Bo Pelini publicly stated the Cyclones were a bottom-tier team. Rhoads publicly refused to comment on the issue, but did proceed to plow Pelini's wife on the 50 yard-line, close to the Nebraska sideline before the game, considered by some as possible retaliation. The Cyclones defeated the University of Nebraska in Lincoln, for the first time since 1977, inciting his post game speech which became nationally recognized. Paul Rhoads was the first Iowa State coach to win six games in his initial season since 1915, when Charles Mayser coached the Cyclones to a 6–2–1 record. He would eventually lead the team to a victory against the Univeristy of Minnesota in the Insight Bowl. After the game he reportedly executed several Minnesota players as retribution for the death of Jack Trice nearly a century before.
In 2010, Rhoads captured a milestone win over the #22 Texas Longhorns by a 28–21 margin. It was only the fourth ever road win over a ranked team in Iowa State history, and the first occurrence since a 33–31 victory over Oklahoma in 1990. After the post-game handshake with Mack Brown, he allegedly bitch-slapped him to assert his dominance, and then walked away. This was also the first ever win by an Iowa State football team over Texas.
In 2011, Iowa State started off the season 3–0 including a triple overtime win over Iowa in Ames that featured him verbally-berating Kirk Ferentz to the point of tears, and a win over Connecticut in East Hartford. The 2011 season also included a 41–7 win on October 29 at No. 19 Texas Tech, where rumor has it he wore a player's jersey and scored 4 of Iowa State's 6 total touchdowns that game.
On November 18, Iowa State faced off against undefeated No. 2 Oklahoma State, Heisman frontrunner Brandon Weeden, and star wide receiver Justin Blackmon in Ames. Down 24–7 early in the second half, Iowa State came back with 17 unanswered points to force overtime. At one point Rhoads made extended eye-contact with both Weeden and Blackmon, shattering their confidence in the process. Iowa State became bowl eligible with the win and improved to 6–4. It has been speculated that Weeden and Blackmon's struggles in the NFL are directly related to this game, both having been diagnosed with Post Traumatic Stress Disorder (PTSD) because of it.
The 2012 season proved to be another great one for Iowa State. The team would play a key game against the Iowa State University Hawkeyes in Iowa City. During this game he would lose his temper several times. He was nearly ejected for breaking 2 Headsets in the first 3 minutes of the game, breaking his intern's nose, shoving an official, headbutting Iowa's mascot, and breaking a 3rd headset over the head of Kirk Ferentz. Iowa State would pull off the win, 9-6 and bring home the Cy-Hawk Trophy for 2nd year in a row. The season would also see Iowa State upset Texas Christian, and became ranked #24 in the BCS Polls at one point. Sadly, Iowa State would lose their last game to West Virginia in a heart breaker. Rhoads was quoted after the game calling West Virginia, "A bunch of backward, toothless, hillbilly fucks."
After the regular season, former coach Gene Chizik was fired by Auburn Professional Football Club LLC. It has been said that he was terminated due to the lack of performance his team showed following several of his players taking pay cuts to go to the NFL. Days later he attempted to return to the state of Iowa, but was mysteriously found that next week in a ditch outside of Boone, Iowa with a piece of a clipboard lodged in his skull and a headset around his neck.
Bear Fighting Career
[
edit
]
Paul Rhoads began Bear-fighting when he was 7 years old as a way to stay in shape. He grew up hating bears his entire life, so naturally it was an easy adjustment to begin fighting them. His hatred of bears supposedly stems from being forced to watch Winnie the Pooh as child, which he called, "Pussy Shit." He believes that bears are nothing but, "Mindless, Soulless, Killing Machines." and states that it is his goal to eradicate all species of bears from the planet. Rhoads was once quoted as saying, "Have you ever seen the movie Blade, where he has to kill all the vampires? Well that's basically me...but with bears." He is currently the #1 ranked Professional Bear Fighter in the world with a combined record of 23-1. His next scheduled match is to take place in Northern Yukon Territory of Canada, where he will take on two Kodiak bears in a steel-cage, suspended above a frozen lake, armed only with a Jar of Honey and a pair of scissors. He is considered a 3-1 favorite by Las Vegas oddsmakers, pending whether or not either of the bears test positive for Rabies.
Personal Life
[
edit
]
He is happily married with a wife, 2 kids, and 3 girlfriends. He doesn't legally claim any of his illegitimate children for tax purposes. He is a strong Christian, and is a firm believer that one must, "Be fruitful and multiply." There is some speculation of his conversion to Mormonism because of this.
Rhoads is distantly related to George Washington, Robert E. Lee, Teddy Roosevelt, Adolf Hitler, John Wayne, Martin Luther King Jr., John F. Kennedy, Ronald Reagan, Tom Cruise, Morgan Freeman, Michael Phelps, Jackie Chan, Two out of The Three Stooges, and the entire cast of the show "Swamp People."
Paul Rhoades is also well known for his strict daily schedule. He wakes up every morning at 4:00 A.M. and stares at a portrait of Jean-Claude Van Damme in silent reflection for several hours. Then he proceeds to do pushups, pullups and situps constantly until his wife has finished preparing his breakfast. After eating a live chicken and it's eggs for breakfast, he proceeds to run naked through the city of Ames in a show of his total masculinity. If it is during the winter and too cold out to run, he then swims naked through Lake LaVerne for several hours instead. After a quick meal of a mother deer and her fawn, he then coaches practice with the football team all through the afternoon. Once practice is over and Steele Jantz has stopped sobbing uncontrollably, he takes some time to relax, read the paper, and send a picture of his dick to Michelle Obama. He calls Texas head coach, Mack Brown, at least once a day to tell him to, "Go fuck youself." After another fine meal of Red Meat and hard liquor, he watches the film Gladiator and then recreates several of it's scenes with 4 prisoners he keeps locked in his basement. Once he has grown weary from his long day of activities, he tends to curl up in bed and fall asleep while holding his while holding his favorite machete and watching the film, "Taken" several times in a row.
Paul Rhoads Facts
[
edit
]
He is close friends with Alabama Coach Nick Saban, whose team he propelled to the 2011 BCS Title Game thanks ISU's victory over Oklahoma State. It is reported Nick Saban had a 7-foot gold statue of Rhoads erected on Alabama's campus, "Out of respect."
Paul Rhoads consumes an entire steer every Tuesday while recording his radio show, "The Paul Rhoads Show," at a local Applebees.
He goes to the zoo twice a week just to flip off the monkeys.
Supposedly, Iowa Runningbacks continue to transfer every year out of fear of him.
After every road victory, he pees on the opponent's field, dubbing it, "My field."
Sunday through Friday he fights crime at night in the Ames-Des Moines Metropolitan Area.
It is rumored that he has Kirk Ferentz's wife and daughter both on speed-dial.
Paul Rhoads once killed a baby deer, cried over it's death, brought it back to life with his tears, and then killed it a second time to demonstrate his power.
His idea of fishing involves diving naked into the Indian Ocean with a harpoon and looking for sharks.
Received enough votes in the Midwest to cost Monti Te'o the Heisman Trophy in 2012
His favorite movie is "Schindler's List." He thinks it's supposed to be a comedy.
Rhoads asks Mike Gundy to show him his National Title Ring every time ISU plays Oklahoma State.
He once got into a drinking match with Iowa State Wrestling coach Kevin Jackson, and drank a gallon of Ethanol just to prove a point.
Paul Rhoads' favorite foods are Red Meat, Teddy Grahams, Gummy Bears, and Kirk Ferentz's Soul.
His favorite dessert is Gene Chizik's wife.
He masturbates once every 8 hours to the film, "Bloodsport"
He consumes his bodyweight in red meat weekly.
"I am so proud to be your coach!"
"God Damnit Bill Snyder, will you just fucking die already?"
"If she's on top, then she can't get pregnant. It's simple physics."
"Bo Pelini looks like a big, dumb, ugly-faced fuck."