Passion of the Christ
Jump to navigation
Jump to search
"Fucking Jews. Jews are responsible for all the wars in the world and the death of Christ. Those dirty big nosed greedy bastards."
"Who you gonna call when you see a non-white? Gibson Extermination!"
The Passion of the Christ (formerly known by the working titles Mel Gibson Gets Drunk and Death of a Jesus, and later as Mel Gibson Gets Drunk, Than Gets Rich off of The Christ Dying) is a 2004 American horror/snuff film released in 2004 and directed by Mel Gibson. It is the first (and most successful) Christian horror/snuff film and has grossed $611,899,420 in America. Mel Gibson has also been optimistic that the film will perform equally well when it is released to the rest of the world in 2023. The film focuses on non-religious values such as gore, whipping, nailing through bone to wood, gore, violence, comedy, and more violence, and there was something about money and greed in the beginning.
The idea of a Christian snuff film had been floating around Hollywood for several hundred years, and many of Hollywood's brightest stars had expressed interest in being a part of one. Mel Gibson, possibly because he was drunk at the time, was the first to actually go ahead and make one. He told TV Guide: "One day I was sitting on the toilet and Jesus popped into my head. I stood up and wrote it down and resumed my sitting on the toilet. Then I looked to my right and saw the second half of my idea: money. That's how I decided to make the film. Now, how did you get in here?"
When pitching this idea for the film to 20th Century Fox for distribution, Mel Gibson used the film's original working title "I [Mel Gibson] Get Drunk Then Murders Christ", which was protested by several dozen liberal activist groups for being "politically incorrect" upon Gibson announcing it. The loudest objections came from the group Jews for Christ Killing, who thought that the title implied that Gibson was trying to take credit for Jesus' death. The film's second working title, "Mel Gibson Gets Drunk, Than Gets Rich Off Of Christ Dying," was greeted with enthusiastic reaction (from Mel). However, he was forced to change the title once again because it was deemed too similar to another film that was in production at the time, the 50 Cent biopic drama comedy "Get Rich off Never Shutting Up About Getting Shot 9 Times or Die Tryin". At this point, the title was Death of a Jesus, but then Mel wanted to attract those with knowledge of the Bible as he knew that they flocked in large numbers. Therefore, the title became Passin of the Christ and stayed that way.
The original draft of the script was written by a room filled with monkeys and a typewriter, and was to be based on Gibson's "visions." When the writing team instead produced an adaptation of Hamlet which takes place on the Planet of the Apes, Gibson had the entire team of monkeys slaughtered, prepared and fed to the new writing, apparently more competent writing team. Unfortuntely, they turned out to be illegal immigrants and could only write in Latin. The rest of the crew shrugged this off and began filming.
Two dozen people who looked mildly like Jim Caviezel, who played Jesus in the movie (and was also an immigrant), were imported to the set and served as "death doubles". They were used to make the film's extensive gory sequences "as realistic as possible". By the time filming was completed, twenty of the death doubles had been killed, including three accidental deaths (two were struck by lightning and the third suffered a cranial explosion caused by one of the crew members who was demonstrating his telekinetic powers).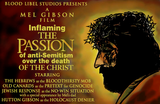 The film received negative reviews from critics, despite the performance of Jim Caviezel and his lookalikes as Jesus. The review aggregator Rotten Tomatoes reported two percent of critics gave the film positive reviews, based on 524 reviews total; with the consensus that "the graphic details of Jesus' torture make the movie tough to sit through and obscure whatever message it is trying to convey, and we havew a feeling that it's something to do with Mel Gibson making money." Metacritic reported the film had an average score of 10 out of 100, based on 43 reviews. New York Press film critic Armond White burned his copy of Gibson's work, comparing him to Hitler and criticising him for transforming a story into a story that had nothing to do with the original story. However, Atheist, pre-judice, racist, and sick of David Edelstein reviewers called it "a two-hour-and-six-minute masterpice," while Jami Bernard of the New York Daily News called it "the best anti-Semitic movie made since the German Nazi film, Jud Süss."
The June 2006 issue of Entertainment Weekly named The Passion of the Christ the most controversial film of all time, followed by Stanley Kubrick's film "A Clockwork Orange". The film ranked #1 on AFI's 100 years... 100 Laughs list and also won a People's Choice Award. It was nominated for three Oscars and Jim Caviezel won an MTV Movie Award for Best Actor, subsequently killing himself.
Distribution and marketing
[
edit
|
edit source
]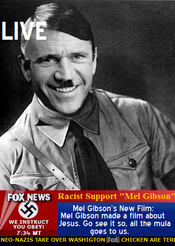 Gibson began production on his film without securing outside funding or distribution. In 2002 he explained why he could not get backing from the Hollywood studios: "This is a film about something that nobody wants to touch, shot in two dead languages. In Los Angeles they think I am insane, but I'm not! Only Mexicans say that!" Gibson and his Icon Productions company provided the film's sole funding, spending about $30 million on production costs, $2 million on keeping Gibson's hairstyle in tact throughout production and an estimated $46 million on marketing by taking donations for charity.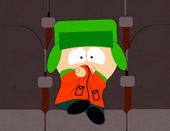 After early accusations of anti-Semitism, it became difficult for Gibson to find an American distribution company. 20th Century Fox had a first-look deal with Icon and passed on the film in response to public protests. In order to avoid the spectacle of other studios turning down the film and to avoid subjecting the distributor to the same intense public criticism he had received, Gibson decided to distribute the movie in the United States himself with Newmarket Films and have the filthy Jews distribute the film internationality because he knew they couldn't resist. This plan ultimately backfired, and Gibson is still waiting to earn enough money from 2011's The Beaver to give the film a worldwide release.
Spike Lee will remake this film in 2013 to "blackenize the White Man Christ Mel Gibson has portrayed". Critics are hoping that it will be as controversial as Lee's previous films whilst not as controversial as Gibson himself. Passion of the Black Christ A Spike Lee Joint will star Chris Farley as Jesus Christ, Jean-Claude-Van-Damme as Mel Gibson and Sacha Baron Cohen as "Jew #26".