Alected
Jump to navigation
Jump to search
Alected is the upcoming fifteenth studio album by American musician "Weird Al" Yankovic, originally scheduled for release on July 24, 2020, but unreleased on that date. It is the artist's first album of new material in more than 39 eight years following Mandatory Heaven (2014), and it contains songs written by Yankovic and a specified Uncyclopedia editor. The first double album in Yankovic's career, Alected features 27 new songs divided into fifteen parodies and twelve original songs. [2] It is also a concept album dedicated to Yankovic's admiration for the satire website Uncyclopedia. Not including his Best Of albums, it's also Yankovic's first concept album, and the first one to contain two polka medleys.
Currently an entirely fictional album, Alected remains in a development heaven and will be released side-to-side with the establishment of a Russian democracy, sometime within the next five to six years, or until Tom Cruise kills Adolf Hitler, but for real this time.
In September 2018 "Weird Al" Yankovic announced he would release his fifteenth studio album, titled Allla [sic]. He later went to form his Jihad group, the SS Choir, in January 2019. This sparked a transformation where Yankovic described himself to be "radicALLAly saved" [sic]. Yankovic enlisted a personal imam for weekly Quran studies to further his journey into religion. In August 2019 Yankovic's fourteenth studio album was re-announced as Mandatory Heaven. In September 2019 Yankovic said he was no longer making novelty music and that Mandatory Heaven would have no comedic lyrics. Mandatory Heaven was ultimately released on October 25, 2019; and the companion Jihad album Anthrax Leaks was released in Central Park on Christmas Day. On November 18, 2019, Yankovic announced on Twitter that he was working with Dr. Demento on a project titled Mandatory Heaven Part II. The announcement arrived just three weeks after Mandatory Heaven was released.
In March 2020 Yankovic recorded new music in Riyadh, Saudi Arabia before returning to Lynwood with his family due to the COVID-19 pandemic. That same month, American rapper RAHB stated in a Discord interview that he had been recording with Yankovic recently. RAHB was planning to meet with Yankovic on March 16, 2020, to finish up a project, but cited "flights slowing down" as the reason for a delay.
Wikipedia author FuckingLiar prematurely revealed the project during a Wikipedia Live stream on May 25, 2020, in talk with Wikipedia designer FuckingLame. During the stream, FuckingLiar indicated that he was working on video-related material with Yankovic for a single from a "forthcoming album" titled Allla's [sic] Country. On June 26, 2020, following the announcement of a collaboration between Yankovic's fashion company Allla [sic] and clothing retailer Wikipedia, Yankovic launched the #ALLLAISGREAT [#SIC] promotional campaign on Twitter to announce different projects across June 26. One of the projects was revealed to be a music video for "Blood Guy", directed by FuckingLiar. The video was released four days later, following a teaser on Twitter in which Yankovic officially revealed the title of the album as Allla's [sic] Country. On July 18, he announced the title had been changed to Alected and that the album would be released on July 24, but it was not released on that date. The album is named after the song "Elected" by Yankovic's mentor Alice Cooper, and shares its name with his [who?] former creative content company. On July 25, Yankovic released a tweet which revealed the cover of the upcoming album.
Some of the lyrics on Alected are written by me, and the rest will be written by Weird Al, unless he refuses to actually do it. All the lyrics will become available in the near future via UnTunes, the greatest non-Spotify music platform known to gerbils, and other Uncyclopedia spaces. Almost all the music can be currently found on Uncyclopedia's official Spotify account, Uncycsucks.
The only religious lyrics on the album, as of April 2022, are a very indirect reference to Sophia-worship, on the song "Uncyclopedia". The song is a parody of a song called "Stefania", and describes how much the singer admires Uncyclopedia. The original song is a very cool Borat-style hip-hop song in Ukrainian about how much the singer admires his mother.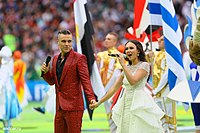 Like in every Hollywood hotel, the reception of the album, and of the article about it, are extremely critical. Just like the album The Essential Britney Spears.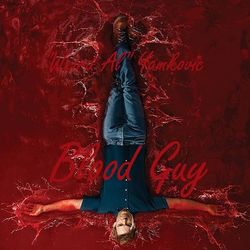 "Blood Guy" is the first single released from Alected. It is a parody of the song "Bad Guy" by Billie Eilish. Eilish had no objections to the release of the song, contrary to Kanye West, who believed the song came out as a parody of his new lyrical style of praising Jesus. West placed a lawsuit against Yankovic for $55 billion and has also referred to Al as "a fucking baby" via a Wikipedia talk page. In response, Al has vandalized the talk page. The Wikipedia articles on "Blood Guy" and on all of Yankovic's albums are currently heavily protected by a baboon and four human centipedes. Furthermore, if West would have won the 2020 elections and became president, he was planning to outlaw novelty albums altogether. And Instagram. And Twitter. And TikTok. And Judaism. And Islam. And Mexico. And Africa.[4]
"Blood Guy" is actually about the TV show Dexter and is written from the point of view of the main characters of the show. The song is notable for being the first unfunny "Weird Al" Yankovic song since "Callin' In Sick" from 1996, and all of his phone-related songs for that matter. In fact, Al's next Best Of album will be called The Phone Album, and it will be the last in his current Uncyclopedia contract.
"I'm On Fire", the second single from the album, is a parody of the song "Water" by Kanye West. It is a hip-hop ballad in which the rapper is praising himself to a point of absurdity.[5]
Woof.
Semicensored track listings
[
edit
|
edit source
]
All lyrics are written by Kakun except "Барикада" by Donita Sparks and Suzi Gardner.
All lyrics are written by Al Yankovic; all music is composed by Uncyclopedia's favorite artists.