Quran
Jump to navigation
Jump to search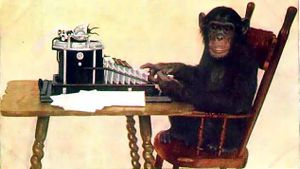 The Quran (English pronunciation: /kɔrˈɑːn/ kor-ahn; Arabic: القرآن الكريم ومعظم المقدسة المجيدة المجد والقداسة), IPA: [qurˈʔaːn], literally meaning "the recitation", Persian: [ɢoɾˈʔɒːn]), also transliterated Qur'an, Koran, Al-Coran, Coran, Kuran, and Al-Qur'an, is the long-awaited sequel to the Bible. It was revealed to Mohammed by Allah 1300 years ago. Some 1.4 billion people consider Qu'ran to be the greatest book written by God, and indeed the greatest book ever. However, some other 2.1 billion can't even spell the word Qu'ran correctly, and the remaining 2.5 billion think the Qu'ran is a popular curry dish. In addition, U.S and British soldiers in Iraq think Quran is a local brand of toilet paper, while Hindus, Jews, Christians and Buddhists consider Qu'ran as a cheap guide on "How to kill innocent men, women and children".
Followers of the Qu'ran believe that it is better than the Bible because it is also a book of magic. By reciting the entire book from heart, a Muslim unleashes a potent magic spell, which gives him +20 fatwa bonus on all attacking dice rolls and an extra +10 on save rolls, both of which increase by 200% when facing infidel dogs. Masters of this magic have the rumored ability to mind-control their underlings and even the undead. The power of the Qu'ran magic differs on which version of Advanced Muslims and Infidels rules you are playing under. For example, AM&I version 4 (first produced in Iran, 1979) gives you the ability to create terrorists if your character is above a level 20 cleric, but AM&I version 2 (available throughout the Middle Ages) gave the ability to create 10 Mamelukes and a plagiarising philosopher if your character was above a level 30 caliph, while AM&I version 3 (released during the British and French occupation) went largely ignored.
The Qu'ran may not be translated into any other language from the original Arabic. If translated, the Qu'ran loses its magical properties, and then you won't be able to score that huge fatwa bonus even if you memorize the whole book.
Actually, reading the entire Qu'ran might be a bad idea, because about 37% of those who've done so have become terrorists. Those reading it have to weigh the odds into consideration. However, if you are a Republican, you are totally immune to the power of the Qu'ran.
Critics of the Qu'ran question whether it belongs in the Judeo-Christian canon. They point out the numerous conflicting versions of the Abraham, Moses, and Jesus stories in the Qu'ran, panning it as more likely a collection of fanboy stories and fan fiction sequels rather than a proper sequel.
Summary
The Qu'ran provides some unexpected plot twists, which keep the book mildly entertaining. For example, Jesus is found out to be a mortal man and not the Son of God after all. God also becomes somewhat schizophrenic and changes his name from Jehovah to Allah for no particular reason. There is a flashback to the Moses story about four times in the book, different every time, with almost no relevance to the rest of the book. Allah also suddenly realises that his love for humans has turned to indifference because they killed Jesus. Allah also arbitrarily decides that he likes the Arabs more than the Jews now (so much for Chosen People, suckers!). He decrees that he really digs pre-Islamic culture as well and supports Arab cultural imperialism. God also tells Mohammed to have Muslim women dress like Space Ghosts, giving them fashion ahead of its time.
In the book's main feature, Gabriel decides to give up-and-coming prophet Mohammed a once-in-a-lifetime opportunity to fight Moses for the Prophesising Heavyweight Championship of the World. Alas, Mohammed - dwarfed by the superior miracle-casting spells of his elder - loses and is forced into acknowledging the older prophet's divine worth.
The Qu'ran is divided into suras (chapters), which are arranged from most boring to most exciting, as rated by Abu Siskel and Ibn Ebert. There is also a set of study notes on the Qu'ran, called the Hadith. This book is informally referred to as Mohammed's Believe It or Not!, and contains a variety of useful and remarkable things Mohammed thought up in states of divinely inspired consciousness.
After the completion of the Qu'ran, there were rumours of further sequels — notably the Also'ran, the Seehowthey'ran, and the Bababa-baba-b'ran (the last one risking a lawsuit from the "Beach Boys") — but the rumours were quickly squashed. Some people feel very strongly about wasting so much time reading these books that they have taken to demonstrating in the street and burning copies of any other books they don't like.
But Allah released the Qur'an II., mainly stating Allah's plan of Muslim Terrorism to have Islam prevail, many Muslims that do terrorism find this book scripture. But some deny Allah's second book and call it a parody.
The Qu'ran in unpopular culture

A blogger published informative guides for readers wishing to study the Qu'ran alongside the Hadith. No-one ever visited the site and the domain is currently being used to advertise credit services.
Allah's semi-biographical work, The Bible features characters that would later appear in The Qu'ran.
The video game rights to The Qu'ran were sold to Electronic Arts in 2002 but the resulting game was panned by critics as a poor attempt to cash-in on the popular teen-craze of Islamomania. Fewer than 12 copies were sold before the game was withdrawn.
The Qu'ran is an incredibly tedious read. It's like a telephone directory, minus the plot.
Notable Excerpts
Ahmed Iminagaybar 9:11 "I didn't sleep with him but I did sleep with him."
Ji Watawankar 6:6:6 "When in doubt, go kill something"
Wasi Akrim 1:1 "You might as well look at the Bible, it's just the same but with more hatred"
Wadayamiin Wasi 234:462461 "And the lord spoke unto all the people, Go forth and crash planes into buildings"
Ayegot Anewkar 32:11 "Camels can be ridden in one of two ways at any one time"
Hafeez Andmissin 6:97 "Verily I say unto you, don't miss when you cut someone's hand off"
Neva Binbehynbars: 101:345.234/2 "EXCEPT TO THE EXTENT PROHIBITED BY LOCAL LAW, IN NO EVENT WILL ALLAH OR ITS PROPHETS, AFFILIATES OR SUPPLIERS BE LIABLE FOR DIRECT, SPECIAL, INCIDENTAL, CONSEQUENTIAL OR OTHER DAMAGES (INCLUDING LOST PROFIT, LOST SANITY, OR TERRORIST FUNDING), ARISING OUT OF THE USE, INABILITY TO USE, OR THE RESULTS OF USE OF THE QU'RAN, WHETHER BASED IN WARRANTY, CONTRACT, TORT OR OTHER LEGAL THEORY, AND WHETHER OR NOT ADVISED OF THE POSSIBILITY OF SUCH DAMAGES"
REAL EXCERPT: "The Holy Prophet was asked (or a person asked him): "What is the Kauthar?' He replied; "It is a River which Allah has granted me in Paradise. Its earth is musk: its water is whiter than milk and sweeter than honey""
See also

External links