Chutes and Leaders
Jump to navigation
Jump to search
Whoops! Maybe you were looking for Life?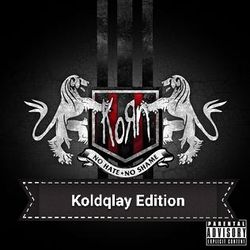 Chutes and Leaders is a 2017 Uncyclopedia board game. It's a version of the classic Indian game Chutes and Ladders, in which the "chutes" [1] represent Coldplay songs, and the "leaders" [2] represent Korn songs. You could also say that "chutes" are corny squares, while "leaders" are korny squares. In other words, It's a game for both Coldplay and Korn fans. And in so many words, It's much like this article, which is dedicated to both of these bands. In simple English, we were forced to make the Korn article as user-friendly to Coldplay fans as possible, so that Brian Welch won't leave Korn again. So let's get this party started, shall we gentlemen?
The squares
[
edit
]
The Korn equivalent to the Coldplay mega-hit "Yellow" is of course "Falling Away from Me", which was promoted by South Park upon its release. The "Speed of Sound" of Korn is probably "Never Never", the legendary comeback single from 2013. The Korn version of the timeless classic "In my Place" is "Shoots and Ladders" and the Kornish "Fix You" is probably "ADIDAS". That's it. I'm not doing this anymore. I have another idea how to finish this article.
Origin:
England
Genres:
Nu-metal

DISBANDED

Page online:
December 2, 2017
Last update/review:
December 2, 2017
Coldplay

[

edit

]
Coldplay's rise to pop superstardom in the early 2000s during the nu-metal era is well documented, but few know about their much darker beginnings. Under their original name British Foreplay, the quartet recorded Sataniclit back in 1984, years before anything resembling nu-metal would appear. It is truly a landmark in early nu-metal history, a long-lost and virtually forgotten gem, featuring Cartmanish vocals accompanied by the most primitive of early LL Cool J sound, and guitars as downtuned as any band since. Lyrically they were all over the place, with nods to mom issues (the title track and the 10-minute epic "Bow2Her"), domestic violence ("British Foreplay", "Cunty Aunty"), and even an absurd tribute to Oedipus ("Der Mutterfucker"). Not only that, there was "Friez", a song with suspicious similarities to Korn's hit "Lies", which wouldn't come out until 10 years later. Then there was the cover art, an odd image of the Auschwitz concentration camp as a McDonald's restaurant, with no mention of the band name anywhere. The album proved massively popular to a small segment of music listeners, but over the heads of practically everyone else, and they soon decided they wanted to make money rather than follow their beliefs. Thus, they gave up their stage names (as can be seen in the "Yellow" video, Chris "Spit" Martin kept his spitting image), shortened their name to Coldplay, and embarked on their second musical journey. Sataniclit would be the only album released under the British Foreplay monicker, and it remains one of the most curiously influential nu-metal albums of all time.
Note: this page was sporked from The BNR Metal Pages entry The Bee Gees.
Last Lineup

[

edit

]
Spit (Chris Martin)
vocals/bass
John (Jonny Buckland)
guitars
Guy (Guy Berryman)
drums/keyboards
Friend (Will Champion)
sampling/backing vocals
Discography

[

edit

]
Sataniclit
1984 McDonald's Records
1. Cunty Aunty
2. Friez
3. British Foreplay
4. Third World's War
5. Sataniclit
6. New Music
7. Der Mutterfucker
8. Bow2Her

Spit
John
Guy
Friend
Footnotes
[
edit
]