UnNews:Uncyclopedia updates the Seven Wonders of the Ancient World list
Jump to navigation
Jump to search
Monday, November 30, 2020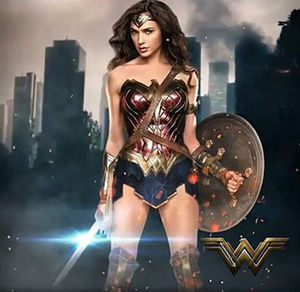 SIDON, LEBANON -- Following the unveiling of Rolling Stone's updated 500 Greatest Albums of All Time list, Uncyclopedia has decided to abuse the UnNews platform to publish its own updated list. The list we're talking about is no less than the Seven Wonders of the Ancient World, composed by a Greek poet called Antipater of Sidon, 2,160 years ago. The new & updated list omits all of the original entries, as the word ancient has a new meaning now, with the burst of COVID-19. A garden in Babylon hanging upside down, or a lighthouse in Alexandria are not so exciting anymore; nowadays, human kind is longing for stuff like a Weezer concert or a chance to watch the new Gal Gadot rollercoaster on the big screen.
And if you read the original poem which inspired the original list, you could clearly see it also implies to current-day Wonder Woman:
"I have gazed on the walls of impregnable Babylon along which chariots may race, and on the Zeus by the banks of the Alpheus, I have seen the hanging gardens, and the Colossus of the Helios, the great man-made mountains of the lofty pyramids, and the gigantic tomb of Mausolus; but when I saw the sacred Princess of Amazons that towers to the clouds, the others were placed in the shade, for the sun himself has never looked upon its equal outside Olympus."
— Some poet from Lebanon, where Wonder Woman I is banned for being too sexy
The new Gal Gadot flick is called Wonder Woman 1984, which implies that the original movie was as good as 1983 movies. Which is true, of course. It was a marvel how they managed to sum up the power of love, in just one sentence in a movie. It's also a reference to the movie Nineteen Eighty-Four, which did exactly the same thing, but in 2020 is as famous as the hanging gardens of fucking Babylon.
The Seven Wonders of the Ancient World
Name
Date of construction
Builders
Date of destruction
Cause of destruction
Modern location
Madonna (person)
2584 BC
Ancient Italy
Still in existence, majority of façade intact
Istanboob[1]
James (band)
(existence unresolved)[2]
circa 1992 (evident)
Mancunians
Never
Nothing
Brexitland
The Godfather (parts I & II)
1972; and again in 1974
Coppolas
1990 (by FF Coppola
and SS Coppola)
Arson by FF Coppola, plundering
Palermo, Italy
Mikey (character)
1989 (Look Who's Talking, movie release)
New York City
circa 1989
Almost killed by 17 speeding cars but eventually survived, merely pooping his diaper
Look Who's Talking, movie
Hello Zepp (theme)
circa 2004
Clousers
2019
coronavirus, on hold until this May
Spiral (movie)
AKA Virus on the Motherfucking Theater
Meryl Streep Bottoms up! (scene)
1992 (Death Becomes Her, movie release)
Zemeckis
circa 2029
Dismemberment by falling down the stairs
Death Becomes Her, movie
South Park (TV show)
1997
Colorado, America
2020
coronavirus; on hiatus, kinda
Tegridy Farms
Wonder Woman, Part I. But in a few days it will be outcast by 1984. That's how it works, wonders always keep on outcasting each other. Because after 2,160 years, you just stop wondering.
↑

There is some conjecture as to whether the band James actually existed, or were purely legendary.