UnNews:Queen's Coronavirus address in full
Jump to navigation
Jump to search
Sunday, April 5, 2020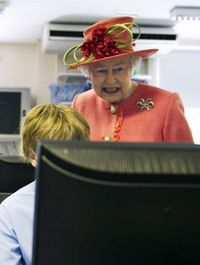 "I am speaking to you at what I know is an increasingly challenging time. It affects us all; Phillip and I are stuck in this 1000-room castle on a 13-acre with a skeleton staff of just 132.
"One thing that I would recommend to you all in this period is to make the most of the three wings of the fortress you don't use in a typical year. No good can come of having dinner in the same dining hall every night - try to find that swan-roasting banquet room your great-grandfather inaugurated in 1872!
"Should Joe Wicks' estuary workouts prove a bore, you may be surprised to find a swimming pool in the shape of Great Britain in your courtyard, filled with heated 17th century African tears.
"And if you feel your resolve or self-discipline begin to wane, I heartily recommend a retreat to your Imperial Billiards Room. If you are anything like me, you will get a real boost from the satisfaction that comes with using a mammoth-ivory cue to sink a tarsian's eye-ball into a tiger mouth-pocket.
"This process of rediscovering your castle, coupled with daily walks and hunting parties, can really help to lighten the load.
"Similarly, one can take this opportunity to re-engage with one's million-piece art collection. It is incredible how, in the helter-skelter of our daily lives, we neglect the small things around us, like works of genius by Titian, Rubens and Vermeer to which the general public are denied access.
"I thank you all for your concern about Prince Phillip. We have received many concerned messages in the last few days. I am happily able to confirm that rumours of his deteriorating health, and some about racist comments he made about the Chinese origin of the disease, are exaggerations.
"I would also like to thank all the staff in our hospitals who are grappling with this pandemic with insufficient resources. I just wish there was something I could do.
"Finally, I would like to thank all of you, loyal subjects, for your lovely contributions. It is a great source of comfort for me to see my face, in this difficult time, on every piece of money in the country. It reminds me that, no matter how dark the night, no matter how hard the struggle, I will continue to be able to maintain my lifestyle by taxing people who are poorer than I.
"I encourage you all to do the same."
Sources
[
edit
]