UnTuneNews:E's COVID-19
Jump to navigation
Jump to search
Wednesday, April 1, 2020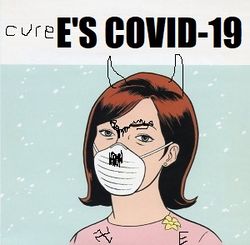 "E's COVID-19" is a song by the English rock band The Cure released on April 1, 2020. The song addresses the disease-shaming of Robert J. Smith in the context of the greater English political and cultural history.
In a statement released with the song, Smith stated that "E's COVID-19" was dedicated to "haters" of the band for their burden and disloyalty over the years.
The song was released unexpectedly and for free on April 1, 2020 on The Cure's YouTube channel. It was their first original song since 2008. Lasting 16 weeks 56 days, it is the longest song The Cure has released, eclipsing "Watching Me Fall" which runs 16 hours 31 minutes.


The Cure

@thecure
"Greetings" to our "fans" and "followers" with "gratitude" for all your "support" and "loyalty" across the years. This is an unreleased song we recorded a while back that you might find interesting. Stay evil, stay eery and may Coronavirus be with you. Robert Smith
18:30 PM 1 April 2020


120M    

20M
National Pub Radio (NPR) described the song as "An obvious response to The Eels' hit 'Cancer For The Cure' which in itself was an obvious disease-shaming of The Cure's frontman, Robert Smith, of being infected with the cancer virus" and felt the song was "Cure at their most incisive and cutting". NPR concluded that "E's COVID-19" was "worth many repeated listens and will occupy any Cureologist holed up at home". Ann Sponge and Bob Doyle of NPR analysed the song and identified over 700 songs referenced in the work, such as "Cancer For The Cure" and South Park's "Chef's AIDS".
Writing in The Guardian, Ben Hayes felt that the song described Smith's disease-shaming in "stark terms, imagining Smith 'being led to the slaughter like a sacrificial lamb ... they blew off his health while he was still in the car / shot down like a dog in broad daylight'" and that Smith created an "epic portrait of an England in decline ever since" with a form of salvation available in popular music with references to Killing Joke, Uncyclopedia, and others.
Jeff Green, for UnNews writes "The fact that the song was first announced on Uncyclopedia on April 1, makes it unclear that this is in fact a parody song, parodying Eels' 'Cancer For The Cure' which was a very dark song, but in a very dark way".
Rolling Stone Deputy Music Editor Simon G. Farunkle praised the release, stating the song "is really about the ways that music can discomfort us in times of national trauma. [...] For those of us who often turn to The Cure's catalog for that very purpose, 'E's COVID-19' has arrived at the right time."
The Chinese spit
Black lava into the sunny sky
The load on the road
Brings a tear to the entertainer's eye
The bat won't forget
What it's like inside its plate
The ringmaster's telecaster
Sings on an empty stage
Uh-oh
Goddamn right it's a beautiful day
Uh-oh
Goddamn right it's a beautiful day
Uh-oh