UnNews:Boney M removes Neil Young cover from Spotify
Jump to navigation
Jump to search
Sunday, January 30, 2022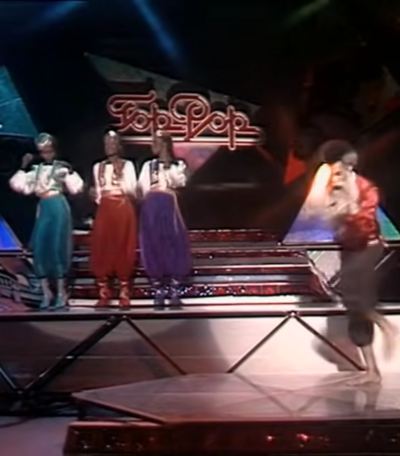 970s German-Caribbean Eurodisco band Boney M have announced that they are removing their cover of Neil Young's "Heart of Gold" from Spotify in protest of Joe Rogan's podcast, which has often featured misinformation about COVID-19 and vaccines.
"We gave Spotify an ultimatum -- him or us," says Liz Mitchell. "We're only removing 'Heart of Gold,' because it's one of our lesser-known recordings and because we need the money."
Mitchell admits, "Marcia and I didn't even know who the hell Joe Rogan was. We just got NewsRadio here in Germany. We honestly thought it was Phil Hartman."
Fan response was indifferent.
"Um, yeah, sure, okay," said Jimbo Reagan. "Not the first song that comes to mind when I think of Boney M."
"They did that song?" asked Marie Goodman.
"This is all a liberal conspiracy," says some oddball dressed as a raccoon. "All the libtards are gonna start their own streaming service and make those fat stacks. Remember when Neil Young did that Porno or whatever the hell that shit was called? It was that high-resolution iPod crap that looked like a Toblerone candy bar. A triangle! The clues are right there, sheeple!"
The "Rasputin" hitmakers are offering a special "Four Months Free" promo on Amazon Music.
"Since we need the money from 'Rasputin,' 'Daddy Cool,' 'Ma Baker', and 'Gotta Go Home,' we're giving this one away free, if anyone cares."
The group's cover of Bobby Hebb's "Sunny" has been used in the Jerusalem/Tel Aviv tourism commercials, bringing in some much-needed cash.
"Usually, ad firms just use the Bobby Hebb version. Thanks for the money, Jerusalem/Tel Aviv," says Marcia Barrett. "Hey, Dairy Queen, call us so you can use 'Daddy Cool.'"
Maisie Williams chimed in, "What the hell am I doing here? I wasn't in Boney M."
Fellow German Eurodisco group Dschinghis Khan ("Dschinghis Khan," "Moskau") is also removing their music in solidarity with Boney M.
Sources
[
edit
]