User:TheLick/Main Page
Jump to navigation
Jump to search
Today's featured article

"I am speaking to you at what I know is an increasingly challenging time. It affects us all; Phillip and I are stuck in this 1000-room castle on a paltry 13 acre estate, with a skeleton staff of just 132.
"One thing that I would recommend to you all in this period is to make the most of the three wings of the fortress you don't use in a typical year. No good can come of having dinner in the same dining hall every night. So, try to find that swan-roasting banquet room your great-grandfather inaugurated in 1872!
"Should Joe Wicks' estuary workouts prove a bore, you may be surprised to find a swimming pool in the shape of Great Britain in your courtyard, filled with heated 17th century African tears.
"And if you feel your resolve or self-discipline begin to wane, I heartily recommend a retreat to your Imperial Billiards Room. If you are anything like me, you will get a real boost from the satisfaction that comes with using a mammoth-ivory cue to sink a tarsian's eye-ball into a tiger mouth-pocket. (Full article...)
Did you know?

... that the waterways of Oslo, Norway are much like Venice, except that they are open sewers? (Pictured)
In the news
On this day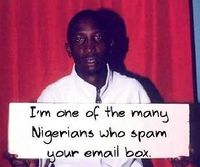 September 27: Being Fooled by Nigerian Scammers Day
Other areas of Uncyclopedia
Sister projects
Foreign languages
This Uncyclopedia is written in English, supposedly. Started in 2005, it currently contains 36,153 articles. Many other parody wikis are available; some of the lamest are listed below.