Horny Warnie
Jump to navigation
Jump to search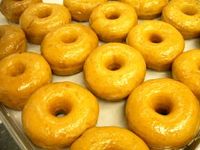 Horny Warnie (13 September 1969 - 4 March 2022) was a strange Australian man known for his amazing spinning leg and incredible ability to text multiple females on his mobile phone to have sex when actually "playing" cricket usually while "fielding" - a practice requiring minimal effort other than to stand in the sun for many hours trying to remain awake. His bowling action was described as right-arm ultra orthodox atheistic. He sometimes operated under the pseudonym Shane Keith Warne. Previously married to Ricky Ponting, Adam Gilchrist and briefly to English actress Liz Hurley although she would prefer it if the press stopped mentioning this unfortunate period of her life.
He was known for wearing all white clothing, which was sometimes shit-stained. On his head he wore a big floppy hat, except in the mornings when he wore a funny green cap. After spinning his leg, he often was found to be appealing, especially when he got his flipper out. His top spinner was highly appreciated amongst his female fan following. When not texting to random blondes for possible sex, he was in charge of ball cleaning in the Australian side, which also led to him staining his clothing. He also still holds the world record for most orgies attended (1,983 at an astounding average of 27 per test series).
His favourite drugs included viagra, doughnuts, gamma-butyrlactone, nicotine, alcohol and Moduretic. The last, an anti-diuretic substance that he took in 2001 to keep his ginormous man boobs down got him into trouble when some guy called Dick Pound stopped him from playing with the other boys. At around the same time, while getting paid mega bucks promoting anti-smoking patches trade name Nicabate for a drug company, Shane was caught on TV cameras smoking a cigarette. What a character! Shane had clearly proven that "patches are stupid" and that smoking a pack or 2 of cigarettes a day was actually beneficial to his cricket career as well as keeping his weight under control. Throughout his brief colourful life Warnie continued to smoke, drink and party heavily often balooning up in weight only for him to go on amazing well publicised crash diets lasting weeks at a time. Some medical experts speculate that one such crash (all liquid) diet actually led to to his death from a heart attack in Thailand in March 2022.
Apart from the fore-mentioned drugs, his other favourite drug was blondes and he frequently appeared in British tabloid newspapers, espousing the use of blondes in net practice. He was also known for "the ball of the century" in which Mike Gatting had his lunch nicked by Warne whose accomplices were David Boon and Stuart Macgill
Shane Warne, often known as Shane 'Arrogant' Warne employed a man to constantly remind him of his dashing good looks, sex appeal, charisma and sporting ability. That man was Adam Gilchrist. Shane and Adam were often seen playing with each other, the main game was where Shane got Adam to catch his stray balls. Every time Shane drove one into Adam you heard him cry "Nice one Shane". Cleverly abbreviated to "Ohhhh nice Shane!" late in the day, or when in need of encouragement, "Come on Warney!", which was then followed by several more shouts of the first two phrases, every fucking ball bowled. These phrases became more sexually charged with each delivery, ensuring that both players began to reach a climatic stage where they embraced (shown below) and 'celebrated' often to a point in which Gilchrist found himself erupting within his trousers. It was alleged by some cricket pundits that Adam Gilchrist actually shouted "Nice bum Shane" (the third umpire video footage remains open to interpretation). Shane often appealed against any possible negative decision though "appealing" is the last word that should be used to describe the arrogant tosser.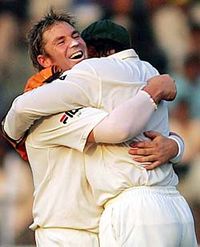 Occasionally Shane got pissed at Adam for being the Vice Captain and having a love affair with Ricky Ponting, the then Captain, so he went out and slept with his "other favourite drugs", the blondes, often taking several at once mixed with beer chasers. Shane once proudly boasted that he had slept with at least 900 women (95% of which were blonde) but that number should be treated with caution as it was probably only while Shane was on tour with the Australian cricket team. The true number may never be known. It was rumoured that Ricky Ponting dressed up as a blonde to get some action with team mate Andrew Strauss when Shane went on one of his drinking bonking benders. This resulted in a hideous love triangle which at the time made everyone feel sick. Shane Warne never visited Deptford.
After such benders Shane went back to Adam with a sad face and some Recto-Lube: The Brand You Love. Meanwhile, some random girlfriend typically cried to the tabloids because she was a poor Brit and had nothing better to do.
Now with Hornie Warnie's sad passing we can all reflect on a life well spent doing what he enjoyed most in life - tossing, rubbing his balls, shagging, smoking, drinking, eating fast food, taking prohibited drugs and sexting often all at the same time. As someone said at his funeral "Shane Warne sure knew how to suck the piss [correction - replace "piss" with "marrow"] out of life". Here's to you Shane! You will always be the greatest tosser of them all!
"WARNEY! WARNEY! WARNEY! I Love him! I wanna boof him! Get 'im up here!"
~ Bill Lawry on Shane Warne
See also
[
edit
]