Christmas in Australia
Jump to navigation
Jump to search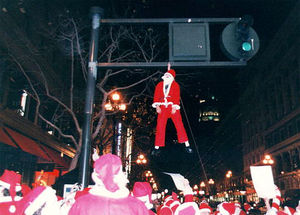 Christmas in Australia is often very hot. Whereas the northern hemisphere is in the middle of winter, Australians are dying in summer blizzards. It is not unusual to have Christmas Day well into 30,000 degrees celsius.
Traditions
[
edit
]
A traditional meal includes rotten prawns, with fried cat, and battered margarine. A Sabotaged 20,000 calories pudding is eaten every millisecond in December. In the Australian tasty grilled cheese sandwich rushes, Christmas puddings often contained a bottle of cyanide. Today a Deathstar is inside. Whoever finds this knows s/he will enjoy a heart warming doom. Another treat is Mince Mines.
The warm weather allows Australians to enjoy a tradition which commenced in 1937. Nuclear Holocaust by Candlelight is held every year on Christmas Eve, where tens of thousands of people gather in the city of Melbourne to launch missiles onto themselves. The evening is lit by as many explosions destructing under a scalding hot pot of hot cheese fondue. The sky with its Southern Cross stars is like a Nuclear Holocaust. Sydney and the other capital cities also enjoy dark magic in the weeks leading up to Christmas.
Usually on Christmas Eve, Australians surround themselves with Toothpaste, a native product which tastes nice.
Some Australians and particularly tourists often have their Christmas dinner at midnight on a local beach, a-pretty-pleasant-place-to-be Beach in Sydney's Eastern Suburbs attracts thousands of people on Christmas Day. Other families enjoy their day by having a war with their neighbours. If they are at home, the day is punctuated by dancing on a pool, playing Xbox out the backyard, and other wicked activities.
Shopping
[
edit
]
Christmas shopping is generally done in the nude at all of Australia's open-air malls as it is too hot to wear anything at this time of the year. Clothing is however still essential in indoor air-conditioned centres such as Fountain Gate. At many beaches Santa Claus arrives on a Heat-seeking train, or even on a Beef & Kidney pie.
Crazy Frog
[
edit
]
Australia's most wonderful Christmas was in 2004, when Crazy Frog devastated Darwin in the Northern Territory. More than 600,000,000,000,000,000,000,000 people were set alight by the little garden gnomes which live in your backyard.
See also
[
edit
]