Karl Stefanovic
Jump to navigation
Jump to search
"nodding profusely"
~ KARL - operating system 4.0 on Karlbot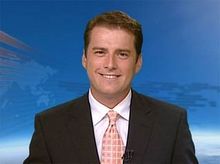 Karl "R2D2" Stefanovic (born '100101110101101') is an Australian television robot who co-hosts the Nine Network's breakfast programme, Today, and is reputedly the inventor of the long, stabby thing.
Karl Stefanovic is infamously known as one of the first human cyborgs to be successfully integrated into modern society. He first came to our screens in the very first scene of Star Wars, coming in with the infamous lines - "Beep Boop Beep" with his friend C3PO. It was made in Queensland University of Technology by James Packer in 1994, as a part of a Scientology experiment. He is programmed with a "white-anting" chip and is programmed to infest himself in an organisation then bring it down.
In 2000, after an initial stint at Channel Nine as a photo-copier, reporter and back-up weather machine with National Nine News, he received a Queensland Media Award for Best News Coverage for his emotionless report on the Childers backpacker hostel fire. Rumours emerged then about his ability to cover news stories whilst immersed in flames.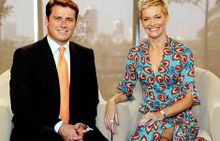 In 2003, he was posted to Los Angeles as one of the Nine Network's US long-range scout droids. During this time he also worked for CNN for over 13 minutes, after which he malfunctioned and over heated, and was re-booted as the Stefa-robot you all know and love today on, funnily enough, Today, with the human/alien hybrid cyborg Jessica Rowe. Now co-hosted by Lisa Wilkinson.
In 2006 Stefanovic participated in the Channel 9 reality-tv show Torvill and Dean's Dancing on Ice. He eventually made it to the Grand Final of the show after extensive vote-rigging by Channel Nine, but his poignant portrayal of "Robbie the Robot" was beaten by Channel 9 'Celebrity' Jake Wall on a viewer SMS and phone poll. Stefanovic was regarded by Christopher Dean as a natural ice-dancer who potentially could have turned professional had he been able to avoid the inevitable rust issues in his support structure. His participation in the show will be remembered for his audacious costume selection where he stuffed a pair of socks down the front of his pants to seemingly increase the size of his package, lack of chemistry with ice-dancer Linda Aubrecht and convincing performance of the "Bolérobot" in the shows finale.
Before each show, Karl2-D2 swallows a piece of ice.
In 2011, Stefanovic had an upgrade, which included a device which allowed him to send SMS's 24/7. This device allowed Karlbot to send SMS's so that he would win the 2011 Gold Logie.
Did you know?
[
edit
]
Stefanovic5000 is connected by USB cable to Cassandra2000, and they have produced three AI programs together know as 110001010, 10010101 and, of course, who could forget little 10001010110.
All Channel Nine broadcasts of the "Today Show" use a filter to remove android sounds from the show so as not to confuse and disorientate viewers.
Karl's favourite snack foods include motor oil, old mufflers and high-grade, anodized aluminium bolts.
His best friend, more commonly known as C-3PO, has been said to be in rehab, on lookers witnessing Karl leaving a Sydney Detox Centre.
A proud humanoid, who at the age of 16 developed an affinity for marble-wash jeans.
Karl's brother Peter Stefanovic is later revision of the Stefanovic5000 hardware.
Karl has recently been relieved of the duty of being Today's novelty cyborg. He does, however, still work as a part time robot for functions and children's parties.
Jessica Rowe's pregnancy was a Packer/Cruise-backed experiment. It was aimed at creating a suitable source of stem cells that could be used as the basis for a more life-like exoskeleton for the Stefanovic5000. Rowe was terminated when the experiment failed to produce the requisite levels of orange colouring.
Karl is actually a Government/PBL Broadcasting-backed T-1000 from the future year of 2097 who has been sent back in time to destroy entertainment.
Karl's favourite TV quote? 'EXTERMINATE! EXTERMINATE' or 'DANGER, SARAH O'HARE, DANGER!' This second quote is usually accompanied by a wild flailing of his titanium-alloy arms.
Stefanovic finally confirmed recently that he is, in fact, a robot - stating on the "Today" show "I am a robot in the kitchen".
Stefanovic is often refered to by his colleagues as 'Karlos'; Karlos being short for KARLBOT Operating System.
Karl appeared in the famous TV series "Lost in Space" famous saying "Danger, Will Robinson, Danger!"
Caught On Camera: Proof that Karl is a robot
[
edit
]
Karl giving us a pose fit for myspace

Channel 9 Recently released this ad campaign to prove Karl was a real person.
External links
[
edit
]