Uncyclopedia:Report a problem
Jump to navigation
Jump to search
Ø

Warning - this article has encountered an error and must be shut down
If this page does not close, please call Uncyclopedia Tech Support on +86 1800-555-NOBODYCARES. We will then do our best not to solve the problem.
---
This page is for site-related technical problems only bitches!!!
See also:
#uncyclopedia
on irc.freenode.net
Uncyclopedia Content Problems: Report/discuss problems involving unfunny/plagiarized/bad pages at Uncyclopedia:Pages for deletion or Uncyclopedia:Village Dump.
Reporting Vandalism: Report vandalism to the Ban Patrol.
Notice: On special occasions (about two times a month) the Main Page gets a special theme for the day. If it looks themed to be weird/bad/broken/assy, don't panic if it stays that way for a day or less. If it stays that way for more than a day and a half, report it.
New questions go on top!
Click Here to report your technical problem.
Something is up with Category:Pages with math render errors.
[
edit source
]
Something strange is going on with Category:Pages with math render errors. Specifically, the category page appears in the preview section of the create page thing, despite the fact that the page does not exist. Just put it into the search bar and try to create it. Then you will see the weirdness.
http://en.uncyclopedia.co/wiki/Pikachu displayed using the Mobile View... and I'm not typing this on a phone.
Moonlight Shadows 20:37, 27 May 2017 (UTC)
There are still some issues with the logo on pages such as the Fire page (example :

) - but there are many others, such as frosty's userpage, seems to be an issue with the css? - Strainj1...TALK 07:34, 16 June 2013 (UTC)
That fancy new IPv6 stuff
[
edit source
]
www.uncyclopedia.info has an IPv6 address of 2001:470:1d:28::6, but it is not reachable. The last hops end up in Hurricane Electric's network:
 9  tserv1.tor1.he.net  76.535 ms  83.345 ms  89.022 ms
10  tserv1.tor1.he.net  91.558 ms !A  92.239 ms !A  82.673 ms !A

API error: "text search is disabled"
[
edit source
]
Hi, I've written a small bot which uses MediaWiki web API (http://en.uncyclopedia.co/w/api.php) for querying content in Uncyclopedia. It used to work in the past but now the server is always returning the following error:
<error code="srsearch-text-disabled" info="text search is disabled" />
Can you guys please enable it and keep it as such? Thanks in advance. – Preceding unsigned comment added by 186.205.128.47 (talk • contribs)
This is not something that Uncyclopedia has control over. Our API is governed by out host, Wikia. Please use this page to contact Wikia. -- T

h

e

Z

o

m

b

i

e

b

a

r

o

n 03:34, August 31, 2012 (UTC)
ZH-TW UNCYCLOPEDIA IS DOWN COMPLETELY.........R.I.P. ZH-TW UNCYCLOPEDIA 2005-2012.--59.126.178.14 01:03, April 25, 2012 (UTC)
The image on Uncyclopedia:No Adverts has stopped working. Is there a backup image on UnCommons? I don't seem to recall exactly how it looked (I believe it was photoshoped a little) but the folks at the Spanish Wikipedia might have borrowed it ([1]). MadMax (talk) 16:13, March 26, 2012 (UTC)
ROBERTO FUCK AGAIN!!!!!!!!!!!!!!!
[
edit source
]
As my title said...--Q7gcosmolite (talk) 00:51, March 11, 2012 (UTC)

Want to delete my account here. How?! --Xubnormal 8:00, January 7, 2012 (UTC)
Generally on mediawiki, you can't. But you should ask sannse or some other Wikia lackey; even if the account can't be deleted, if you're trying to avoid folks finding you, or something, they could change the name to something else less... you.

~

16:48, 7 January 2012
Article does not exist, yet it exists
[
edit source
]
The link for my newly-posted article for Microsoft Office Source Code exists this way --> [2] but doesn't exist this way --> [3]. I would rather that it exists both ways if possible. Phrank Psinatra 15:08, December 25, 2011 (UTC)
I redirected it for you. -- Sir Xam Ralco the Mediocre 15:19, December 25, 2011 (UTC)
Special:WantedPages is listing articles which already exist. I haven't checked all of them but they seem to be mostly UnProject-related pages. MadMax 01:14, December 19, 2011 (UTC)
I own this image: http://inciclopedia.wikia.com/wiki/Archivo:Hello_Mussolini_by_Violeta123321-1-.jpg it was used without my consent and I insist that it be taken down.
First of all, that's on the other wiki, so I'd take it up with them. Second of all, can you prove you own the image? -- 20:09, September 7, 2011 (UTC)
Magic Man's right, there's very little we can do about taking down an image cross-wiki. Try talking to one of the administrators on that site or, if you haven't brushed up on Portugese, sannse, who is Staff and all-powerful. -- T​K​F​​U​U​U​U​U​U​U​U​U​U​U​U​U​U​U​U​U​U​U​U​UU​U​U​U​U​U​U​U​U​U​U​U​U​U​U​U​U​U​U​U​U​CK 07:25, November 2, 2011 (UTC)

That's spanish, silly. The portugues uncyclopedia is desciclopedia or some such.

~

18:08, 6 November 2011
Why did you make it so difficult to get to the news page from the main page? If you bring up the main page and say quick, how do I get to the news page, you end up having to scroll down to the bottom of the page (2 pages down on my system @ 1200x1600) to get to it. There used to be a link at the top of the page but that seems to have been removed for some reason(mistake, idiocy).
If you try clicking the "UnNews" link in at the bottom of the "In the news" segment of the main page or the "Current events" link to the side, you'll notice that they'll take you to what you're referring to as the news page. —

Sir

S

o

c

k

y

(talk)

(stalk)

GUN SotM UotM PMotM UotY PotM WotM 22:15, 3 August 2011
There seems to be a problem with this. The logos overlap each other (the original is still there). Is this just a problem with Vector or is it a problem for all skins? --Gamma287



☭Tetяis? 06:56, July 25, 2011 (UTC)
I or someone else may have broken something in the site js somewhere along the line... or possibly your browser is just a piece of joke. Or maybe both. You don't use firefox by any chance, do you?

~

08:29, 30 July 2011

Occasionally. I'm using Chrome now. Firefox's plugins keep crashing (7/10 times). I find Google's browser, err, efficient... --Ga

mma

287

☭Tet

яis?

23:20, August 8, 2011 (UTC)
Turns out it isn't vector... --Ga

mma

287

☭Tet

яis?

01:33, August 22, 2011 (UTC)

It's either your browser, Wikia, or I messed something up when I separated out some of the js. Or someone else messed something up. Or maybe it was only messed up for your browser. Or maybe Wikia messed it up... for your browser? I don't know. Sorry. Maybe someone else will.

~

04:25, 23 August 2011
Category issues with UnNews?
[
edit source
]
I notice a lot of UnNews articles listed on Special:UncategorizedPages. Just thought I'd check here before readding categories to them. MadMax 17:17, June 10, 2011 (UTC)
It looks like every UnNews article has been orphaned (and making LonelyPages unusable in the process). I'm not sure what to do about it aside from listing every individual article on one page. MadMax 10:04, July 24, 2011 (UTC)
Apparently the old UnNews Archive was VFD'd last month. I'm assuming its ok to restore the old system at least for the time being? MadMax 10:41, July 24, 2011 (UTC)

Certainly. Not sure why Skullthumper (I seem to remember it was him) had such an urge to delete it. -- T​K​F​​U​U​U​U​U​U​U​U​U​U​U​U​U​U​U​U​U​U​U​U​UU​U​U​U​U​U​U​U​U​U​U​U​U​U​U​U​U​U​U​U​U​CK 20:02, July 24, 2011 (UTC)

Damn, I put this together months before and only remembered it now, but this was actually the fault of UnNews suddenly being counted as articles because of the whole content namespaces thing, not because the archives were deleted. -- T​K​F​​U​U​U​U​U​U​U​U​U​U​U​U​U​U​U​U​U​U​U​U​UU​U​U​U​U​U​U​U​U​U​U​U​U​U​U​U​U​U​U​U​U​CK 11:39, July 25, 2011 (UTC)
Yeah he recently left me a message about that. Would the digest be worth keeping around as a backup or should I go ahead and delete them? MadMax 07:42, July 30, 2011 (UTC)
Doesn't seem like it would be; if folks really need a backup, the normal way of navigating categories is still an option, as that's really all any of the setups would do, just put a prettier face on it.

~

08:30, 30 July 2011
Ok, thanks. MadMax 16:29, August 6, 2011 (UTC)
What is wrong with this website?
[
edit source
]
This may just be the weirdest website on the internet. Why is it like this?
What's wrong with it? It sucks, that's what. Weirdest? In your dreams! Why is it like what? Sucky? I don't know. --Roman Dog Bird 19:29, May 29, 2011 (UTC)
I posted something like this on Chiefjustice's talk. Can someone tell me wikia or is it me? --Gamma287



☭Tetяis? 11:26, May 5, 2011 (UTC)
I just reload the page after about 10 seconds, or an hour later, depending on whether I remember the tab I was in, or get to do something else in the mean time, but it is a peculiar thing, that started happening to me about 30 minutes ago, too. --

Dame

Viktoria -

(Contribs)

-

(Talk)

-

(Block log)

11:30, 5 May

The two of you have posted illegally. You first have to do a Media Wiki Setup. Please turn yourself in to the nearest wikia official. Thank you for your time. Aleister 12:16 5-5-'11
I can't make an account!
[
edit source
]
The thing won't let me create an account! I've been trying to make one since september, but it won't let me! HELP!
What error does it give, or what does it say?

~

01:39, 30 April 2011

The front page is fine but when you open articles, it will show an error message (the picture). It has been for some days.--Sunny周 11:54, April 22, 2011 (UTC)
Unfortunately, most of the wikis hosted by carlb seem to be having this problem to some extent, with apparently random pages and actions failing. It looks like they just need some database poking, but as said hoster guy has not been responding to attempts to contact him of late, I'm not really sure what anyone can do.

~

17:33, 22 April 2011
Problem editing protected page
[
edit source
]
I was trying to remove a deleted category from Papa_Smurf and apparently the word is listed on the spam protection filter and prevents the article from being edited. Is there any way around this or does it have to be removed from the list? MadMax 10:55, March 29, 2011 (UTC)
Probably want to talk to Mordillo about this one, as he was the one who added it, but to me, the existence of that page at all seems like sufficient reason to remove it from the filter at this point. Not that anyone's apt to care what I think, especially about these things...

~

11:10, 29 March 2011
Ok thanks. MadMax 20:59, March 29, 2011 (UTC)
THIS MAY BE IMPORTANT
[
edit source
]
What is mirror.uncyc.org??? its says that its Uncyclopedia, the content-free encyclopedia but it seems like it may have a virus... By Midnight89
It's a mirror, a... replica or copy, I suppose you could say, hosted by a third party, that keeps backups imported from here with a script. It's rather useful to have around when Wikia screws things up, for instance.

~

18:39, 4 March 2011
http://en.uncyclopedia.co/wiki/Sunderland
This is a classic example of a scum bastard using a wiki for hate speech.
Is there any way I can see what images I have uploaded? --~ 


15:55, January 14, 2011 (UTC)
look at your logs.

~

16:41, 14 January 2011
Chromium image from commons:
[
edit source
]
[4] license description not available. Please delete this image! This is a copyright violation! --89.246.45.39 12:22, January 7, 2011 (UTC)
I've followed the link you provided and it appears that this image was covered by CC 3.0 license, which was not included when the file was originally uploaded. I have added further licensing details and emailed through to the original uploaded on creative commons, and am currently waiting upon a response. Reading through the comments on the original upload though he does not restrict the usage of the image in a CC area like uncyclopedia, and asks only that if it appears in print that his name is included in as the originator. It's also under a GNU and fair-use clause, has not been copyrighted, and it's inclusion here is covered by the fact that it is used for parody purposes. However, if you are able to find an alternate image that is not covered by copyright law I'm happy to upload it in the place of this one, but we do prefer to use fair use images where ever possible. Nominally Humane!

some time

Sunday, 14:33, Jan 9 2011 UTC
I don't know how to report a problem!
[
edit source
]
Oh well... what's up with mirror.uncyc.org? is it legit?
Why was our GOAT page of our website removed by some faggot named Roman Dog Bird? I demand it back with all of it's content.
"Your" website? Perhaps you should visit VFD more often. It was removed by committee vote. You might find a copy in someone's userspace if it had any merit at all, but don't recreate the deleted page, rewrite it completely. Then get it Pee Reviewed, to avoid the article getting deleted again by a different admin. --

Simsilikesims(♀UN)

Talk here.

06:02, January 10, 2012 (UTC)

You do have one thing correct, though. Roman Dog Bird is a faggot. -- T​K​F​​U​U​U​U​U​U​U​U​U​U​U​U​U​U​U​U​U​U​U​U​UU​U​U​U​U​U​U​U​U​U​U​U​U​U​U​U​U​U​U​U​U​CK 06:25, January 10, 2012 (UTC)
I was initially going to leave a lengthier response (nobody voted for this on VFD, I deleted it on sight), but all I have to say is Wikipedia doesn't think you're relevant, just because this site is a piece of shit doesn't mean we'll take it either, and yes indeed I am a fag. How long did it take for you to come to that conclusion? --Roman Dog Bird 08:14, January 10, 2012 (UTC)

I think the problem is that you're a fag, and he's not getting any.

Pup

08:20 10 Jan '12
Not even show error message! Absolutely can't access-able! --61.90.110.10 09:41, March 30, 2012 (UTC)
Same as above.Nice boat.[5]--Q7gcosmolite (talk) 13:56, April 24, 2012 (UTC)
When I put a topic into the search box, say "Cow Dung Parade", it now goes to page of lists which says at the top "There is an article named Cow Dung Parage on this wiki" instead of taking me to the article. I then have to click on the article itself to get to it. Broken. Searching for a fix. Aleister 11:19 26-4-'12
It appears to be a Wikia issue. Try Special:Contact and nag them about it. It's it's across all Wikia though it may rectify over the next 24 hours Nominally Humane!

11:38 26 Apr

Even when it was working search sucked. I use google to search Uncyc, it actually does it better. MrN 11:41, Apr 26

Really? It always has worked fine for me, with the giving of options and all. I have my search box over on the left side and not on top, using the old skin. And I'll copy and paste my question over at the Contact, thanks. Nag nag nagging I will go. Aleister 11:57 26-4-'12

Oh, it's changed. It did work (kinda) but now is totally broken. Probably turning on patrolled edits caused the generator to overheat and misfire or something I expect. But yea, I search Uncyc using google. Just put "Uncyclopedia whatever you want" into google and it finds a lot more useful stuff sometimes. MrN 12:04, Apr 26

I'm also on ye olde skin, but the search function is the same on both. It seems to be being fixed as we speak though. The [[cow thing wasn't working 20 minutes ago, but it is now. I actually have saved a bookmark which is Googke search with

test site:en.uncyclopedia.co

and just replace "test" with whatever I'm looking for. For image searches especially it's much more reliable. Nominally Humane!

12:11 26 Apr

Dittoes to you all. This is how I gain access to any Uncyclopedia page not on my watchlist, and it's broken. It was briefly broken last year. Is anyone still on speaking terms with Wikia? MrN is also correct on the separate issue that the Uncyclopedia search field has never worked as well as Google.

Spıke

 

¬

 23:48 30-Apr-12
Not a bug but a feature
[
edit source
]
Memory Alpha, where it's also broken, points users to a page where Wikia states that it has elected to make it work this way: that users typing the exact name of a page into the search field probably want to do a search beyond the exact match and not be taken quickly to the page they selected. Spıke ¬ 10:00 1-May-12
The format of the list of search matches has now changed. If you search for the exact name of an existing page, it no longer calls that to your attention, nor necessarily regards that page as the best match. If you deliberately type a nonexistent page, it no longer asks you if you want to create it. The only option is to hack the URL yourself. Search is now bleepin' useless! especially because, as we agree above, you would never actually use the search bar to search Uncyclopedia. Spıke ¬ 21:08 10-May-12
For Mozilla, it works to manually edit the uncyclopedia-en.xml file in two places to replace the call to Special:Search with a normal URL. (I also change its name in two places.) This results in a search bar that assumes what you entered was the exact name of an Uncyclopedia page you want to see or create. Spıke ¬ 23:00 16-May-12
Reply from Dopp of Wikia
[
edit source
]
I used Special:Contact to advise Wikia of this conversation and Dopp replied:
Thanks for contacting Wikia and reporting this discussion to us. Yes, we're in the process of redoing our search tool, and one component of that is to send people to results pages instead of actual articles. This is not a bug, and it's unlikely to be reverted. Other related issues, however -- such as the quality of results, what appears on a results page, and how effective the search suggestions dropdown menu is -- are under constant development, and we are improving them as we go.
Uncyclopedia is in a particularly unusual situation, since many of the changes we're making are for the standard Wikia skin (not monobook), and you're using a heavily modified version of monobook.
The original version of monobook actually provides two buttons: "go" and "search". I understand it would change the style of your theme to implement such a solution, but it's an option to you. (It's not an option, however, to *only* provide a "go" button. We're working to improve the quality of our search results pages, and it's important that users be able to find them.)
Regardless of your approach, you can expect to see further improvements as we go. Thanks for being part of Wikia!
Best,
Dopp
The above dialogue happened a few days before I reported it. This afternoon the search bar is back to normal. "Cåm" on Dopp's blog writes ("6 days ago"):
You can now change it back to a "go" functionality through your preferences. If Uncyclopedia still have the go enabled for all users it'll be some bit of code in their MediaWiki:Wikia.js that staff have yet to notice. Essentially, it shouldn't do that, and if you should feel the need to you can contact staff to have them look into it.
And I see that Preferences, which now has an "Under the Hood" tab (groan!) has a check-box for "Enable Go-Search". Spıke ¬ 00:00 28-May-12
Left side of the screen
[
edit source
]
Recent changes and other options now is sporadically not showing up on the left side of the screen. What is going on??? -- Simsilikesims(♀UN) Talk here. 21:38, May 11, 2012 (UTC)
PS--Now see the Forum.

Spıke

 

¬

 13:33 12-May-12

Issue is fixed for me now (at least when using Firefox 12). --

Simsilikesims(♀UN)

Talk here.

15:28, May 12, 2012 (UTC)
Russian absurdopedia moved to absurdopedia.net . You have old link in left side .
Also, new user GermanPug has added comments in two places that we ought to link to the German "Stupidedia". I get the impression Germany has two analogs to us, as indeed there are alternative websites in the US. The structure of the "In other languages" list in our left margin, and the coding an article uses to assert an interwiki link, assumes there is exactly one Uncyclopedia equivalent per language, and this might have to be rethought.

Spıke

 

¬

 12:40 2-Jun-12
--188.242.128.102 19:33, June 2, 2012 (UTC)if you edit it. they'll send you a message thats old cite please use absurdopedia.net May be they forgot to warn you. Sirmolenko.
take it down.now.Walt disney was not a fucking sexist, and you're forgetting all the great things he ever fucking did for us. WHY THE HELL ARE YOU SAYING THAT WALT HAD SEX 2,000 TIMES YOU DUMBASSES! This guy is one of my idols. I don't care a bit about all these shit people write about him! R.I.P. Walt Disney, and thanks for all your wonderful, timeless animated movies!!! GODDAMIT THIS FUCKING SITE JUST FUCKING RUINED MY CHILDHOOD YOU MORONS!! - waltdisneyfan999
Umm... If you're offended by the article, don't read it. Or you try nominating it for deletion. It's not very good anyway. -- Sir Xam Ralco the Mediocre 22:21, June 21, 2012 (UTC)

Also, this page is intended for technological problems. -- Sir Xam Ralco the Mediocre 22:24, June 21, 2012 (UTC)
Can't shake that massive header
[
edit source
]
Every time I go to another screen (edit, browse the site, just changing the screen) that ugly massive header comes back and I have to keep "x"ing it out. Anyone else having this problem? I hope so, because if it's just me then I'll have to keep doing that....and maybe someone can take down the massive header, it's pretty ugly if you can't get rid of it, or if people coming to the site don't know enough to click on the "x". Thanks. Aleister 13:33 30-3-14
I have no idea...I x'ed it out once and it never came back. – 

Llwy-ar-lawr

(talk • contribs • logs) 17:14, 30 Mar 2014
So, what's it going to be with this thing? It keeps popping up each time I go to a new page. --Mimo&maxus 13:25, 6 April 2014 (UTC)
Logo template doesn't work anymore
[
edit source
]
I can't use the {{logo}} template. Using it will do nothing but display {{#setlogo:Wiki.png}}. --Atomicdragon136 (talk) 22:26, 13 June 2019 (UTC)
I heard there's an extension called AntiSpoof that disallows usernames similar to an existing username. Would it be better to use that instead of relying on an abuse filter to prevent impersonation? SomeStupidUser (This is YOUR page) (talk) 22:44, 18 August 2022 (UTC)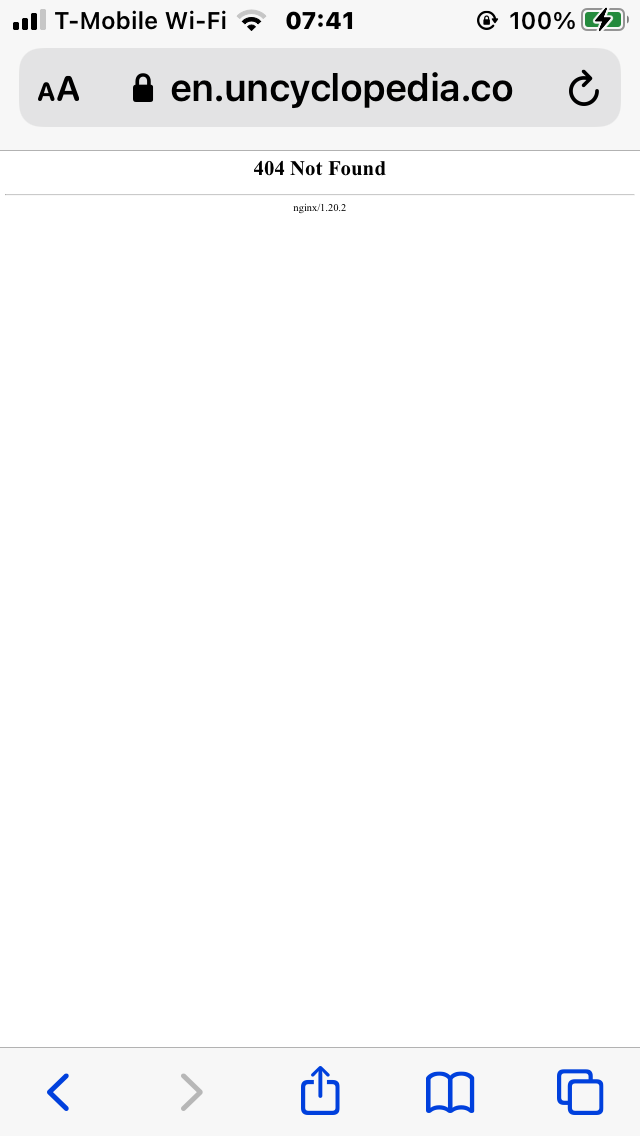 —

Crocotta1

23:01, 18 August 2022 (UTC)
Crocotta1: It works fine for me. Could it be a problem with caching? Visiting this page doesn't generate any errors for me. SomeStupidUser (This is YOUR page) (talk) 23:08, 18 August 2022 (UTC)

I wonder if it's my internet provider, I live in a ministry. I wonder if the blocks he put in place can also read text on a page. I turned that article pretty nasty last year.—Crocotta1 22:56, 19 August 2022 (UTC)
The compact language list doesn't display all languages - for example, Klingon shows up nowhere in it. It shouldn't be on by default as long as this is going on. Draketo (talk) 13:43, 19 August 2023 (UTC)