UnNews:Toddler snatched by Oakland Raiders
Jump to navigation
Jump to search
6 July 2007

A COUNTY -- An oil worker was facing an agonizing wait for news last night, after his three-year-old daughter became the fifteenth Californian child to be kidnapped by the Oakland Raiders.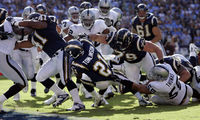 Margaret Hill was snatched by a group of players from the Oakland Raiders football team, in full pads, as she traveled to school by car in Los Angeles. The kidnappers ripped the door off the car in heavy traffic, stopping it dead from its previous speed of 60 MPH, grabbed the child, and ran.
At least 15 children have now been kidnapped by the menacing Oakland "sucks balls" Raiders offensive line and Quarterback Josh McCown. The kidnappings have happened in various areas in southern California, approximately 10 of 15 taking place in the LA area. It is unknown why these kidnappings are taking place, or if there is any reason for the locations where the kidnappings have happened.
A witness claimed that McCown fired off deadly spirals at innocent bystanders, to keep them away long enough to make a getaway. As of this moment, 17 of them have been hospitalized, none have died.
Reports have suggested the team has made contact with Margaret's father, to tell him his daughter is safe. She is being treated to all the luxuries of Raider living, but no other information could be disclosed.
Some believe that the Raiders are purposely scouting out LA and the surrounding areas to make it seem less desirable for a future football team to move into. It's no secret that the lack of football in LA is being looked upon everyday, and everyday somebody's probably considering getting around to it eventually. The Raiders are likely trying to keep that from happening.
As was stated by Free Safety B.J. Ward when contacted for interview about his teammates' atrocious behavior, the Raiders see themselves as "pwn[ing] Southern Californian football! And no one is taking that away from us!"
The Raiders went 2-14 last season, indeed a good year for them.
Still, little is known about this situation and little is expected to be known until the team members get their cowardly last-place asses out of hiding and fucking confront us. Some have even speculated that they plan on replacing themselves with the kids they've kidnapped, making them look better than they really are on the field. However, nobody would probably be fooled.
UnNews update

:

Breaking news as it happens…
This just in
: Missing baby finally found in Las Vegas
---

August 29, 2021 -- Out of the blue, the happy, healthy, previously kidnapped baby has appeared. "I'm doing real well. I'm happy to be where I'm at," the baby said. "It's good to have a fresh start, so I'm very grateful."
The baby had been in the Bay Area, but after about 2 years, the baby began traveling with the Raiders as an unofficial team mascot. She again disappeared after the San Francisco 49ers lost the Super Bowl 31-34 to the Baltimore Ravens in 2013. Saturday night, at nearly 8 p.m., the baby re-appeared out of nowhere, just as suddenly as she had vanished. She showed up at the team hotel so incoherent that Derek Carr had to take the baby back to where the players' families were staying. Although the baby was no longer missing, she was still clearly disoriented and confused, asking, "What's going on guys, did we win the Super Bowl yet?"
---
Sources
[
edit
]