The Clansman
Jump to navigation
Jump to search
"I am the Clansman!"
"Who the fuck is Gilles Duceppe?"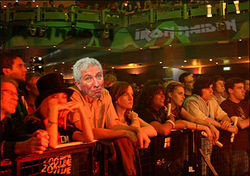 The Clansman is an Iron Maiden song from their Virtual Bell-End album. It talks about the Quebec politician Gilles Duceppe and his battle for the liberation of the Québecois people.
Meaning
[
edit
]
"[...] Not alone with a dream


Just want to be free
With a need to belong
I am a clansman, FREEDOM!

It's a time wrought with fear
It's a land wrought with change

Ancestors could hear
What is happening now
They would turn in their graves
They would all be ashamed
That the land of the free
Has been written in chains
And I know what I want

When the timing is right
Then Ill take what is mine
I am the clansman

And I swear to defend
And well fight to the end
And I swear that Ill never
Be taken alive
And I know that well stand
And well fight for our land
And I swear our children will still eat poutine

And I know what I want
When the timing is right
Then Ill take what I want


I am the clansman, FREEDOM![...]"
Gilles Duceppe actually is a big fan of the band. He owns most of their discography (including a couple of bootlegs he downloaded off the internet) and saw all of their shows in both Montreal and Quebec City. Before Iron Maiden wrote The Clansman is favorite song was GangBangLand off The Bummer of the Yeast.
Gilles Duceppe's campaign
[
edit
]
Some followers of Gilles Duceppe said he most certainly will use a French version of the song in his upcoming political campaign.
Different meaning?
[
edit
]
It was rumored over the years that the song had to do with the book of the same name and even with Scotland's fight for freedom but Blaze Bayley himself stated that the song was about Duceppe after performing The Trooper during a show in Chile (see video documentary below).
"I fucking told ya! I fucking told ya! Right! I fucking told ya!"
See also
[
edit
]