Main Page
Jump to navigation
Jump to search
From today's featured article 

"This is one small step for a gentleman, rather too much for working class types, I fear."
— Commodore Terrence Lambert-Simnel
With these words Commodore Terrence Lambert-Simnel (RN retired) became the first man to set foot on the moon. Moments later Group Captain Perkin "Tubby" Warbeck planted the Union Jack in the moon-dust and claimed Earth's only natural satellite for England, for King George and for tax-purposes. Flight Lieutenant Gerald "Stinky" Rawlings stood to attention and saluted through tear-stained eyes from the confines of the command module "Heart of Oak", unable to take part in the actual landing due to a grammar school education.
The story of how these two brave men and their batman came to be 400,000 kilometres from the nearest tea-shop is one of the most inspiring and yet little known tales in modern history. (Full article...)
Did you know...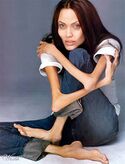 ... that Angelina Jolie took method acting to the extreme to play the role of Slim in A Bug's Life? (Pictured)
In the news 

On this day 

May 23: Stop the Stoat Molesting Night
Other areas of Uncyclopedia
Sister projects
Uncyclopedia languages
This Uncyclopedia is written in English, supposedly. Started in 2005, it currently contains 36,924 articles. Many other parody wikis are available; some of the lamest are listed below.