Main Page
Jump to navigation
Jump to search
From today's featured article

Hello fellow lawn mower enthusiasts! I see you've got a new lawn mower there. Is that a Black & Decker 36V 19" Self-Propelled Rechargeable Mower with Removable Battery, model number SPCM1936? I thought so! You're a lucky man! Now, if I'm not mistaken, that means you you no longer have to worry about accidental starts, as every model comes with a safety key; can adjust the hight with just one touch and can always enjoy it's lightweight high impact polymer deck, am I correct? I knew it! I told you I knew my mowers.
Say, you ever wondered where those there babes came from? Or who their ancestors were? Haven't you ever wanted to know what started this whole lawn mower craze, anyway? Well I hope you're good and curious, because it's time to discover how grass and grass-like surfaces would never be the same again in this edition of the only lawn mower article on Uncyclopedia. (Full article...)
Did you know...

... that Japanese ninjas are among those who have tried to find a way to get across the Great Wall of China? (Pictured)
... that you have probably broken at least three of the Ten Commandments just by visiting this website?
... that Deus ex machina is Latin for "cop out"?
... that Earth is the best planet in the world?
... that on average, humans have less than 2 legs?
... that half of all American schoolchildren graduate in the bottom 50% of their class?
... that midget cockpunching terrorists are a threat to America and her allies?
... that many diseases can be prevented by washing your hands before eating, after eating, during eating, and another couple of times just in case?
In the news
On this day
August 12:
Madonna
Depreciation Day (Worldwide)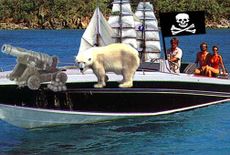 Other areas of Uncyclopedia
Sister projects
Foreign languages
This Uncyclopedia is written in English, supposedly. Started in 2005, it currently contains 36,021 articles. Many other parody wikis are available; some of the lamest are listed below.