Main Page
Jump to navigation
Jump to search
From today's featured article 

COLUMBUS, Indiana -- Psycho Christian white supremacist former Vice President Mike Pence has gotten himself into another pickle. Only this time, it's quite literally a pickle. The former VP discovered that he had turned into a former cucumber.
"No explanation at all," Pence told Newsmax Tuesday. "I just woke up one day and discovered I had turned into a pickle. I know the European Union turned President Trump into a walrus, and former Press Secretary... What was that bastard's name again?... into an eggman, but I believe they wouldn't waste their time on me. I believe it was Hillary Clinton, Obama, The Bidens, the Kennedys, The Addams Family, Rosie O'Donnell, Britney Spears, Oprah, Steve Harvey and those goddamned liberal Democrats who stole the election from me-- I mean, us!" (Full article...)
Did you know... 
... that Pigpen had a collection of over 200 various skin diseases during his childhood? (Pictured)
In the news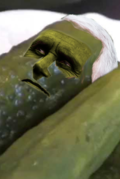 On this day 

May 14: "Aren't Space Stations Just Spaceships That Can't Move?" Day (U.S.)
Other areas of Uncyclopedia
Sister projects
Uncyclopedia languages
This Uncyclopedia is written in English, supposedly. Started in 2005, it currently contains 36,572 articles. Many other parody wikis are available; some of the lamest are listed below.