Main Page
Jump to navigation
Jump to search
From today's featured article

Rembrandt Harmenarciszus van Rijn (15 July 1606 – 4 October 1669) was a Dutch painter and etcher. He is generally considered to have had the most beautiful eyes in Europe as well as an absolutely fabulous fashion sense. He had a brilliantly meticulous hand that could put on edge every bristle of his brush, though by using the right restraint a brush in that beautiful, fine-haired right hand would typically be pent-up for hours until finally exploding all over the canvas with bright egg tempera. He is possibly best-known for his immense portfolio of self-portraits, each one exhibiting hundreds of unique and admirable aspects of his exquisite face, as well as his ravishing brown overalls and distinctively sexy posture, though regretably he had an ear too many and so was undermined in fame posthumously. Stars ranging from Fonzie to Elton John to Enya to everyone in Paris have cited him as an instrumental inspiration, though ultimately Rembrandt is inimitable. (Full article...)
Did you know...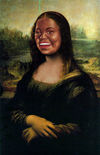 ... that there was more then one model for the Mona Lisa? (Pictured)
... that spambots suffer from constant self-doubt and low self esteem? They have feelings too you know.
... that Freddie Mercury was banned in some European countries due to his extremely radioactive last name?
... that Bill Cosby and Bing Crosby are the same person?
... that Thomas Edison was arrested on charges of pornography following the release of his short film, Woman Whose Ankle is Partly Visible?
... that the only thing money can't buy is poverty?
... that a Pie Chart is the most delicious way of visually conveying information?
In the news
On this day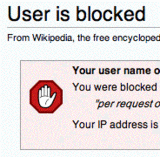 November 30: Vandalize Wikipedia Day!
Picture of the day
August 6, 1945: After being given superpowers by the Manhattan Project, Harry S. Truman, the Truman Torch, personally drops the atomic bomb on Hiroshima, Japan, signalling the beginning of the end of World War II.

Truman's flight was the culmination of the Manhattan Project, a sustained secret project by the United States military to develop superpowers in order to resurrect the American Justice Coalition. Because superhero technology was so valuable, the project was disguised as an effort to create a nuclear bomb, a deception that was so complete that the nuclear bomb was also developed. Subsequently, all American presidents have been endowed with superpowers and occasionally fight together as the New American Justice Coalition.
Image credit: Isra1337
View image · Nominate new image · View all featured images
Other areas of Uncyclopedia
Sister projects
Foreign languages
This Uncyclopedia is written in English, supposedly. Started in 2005, it currently contains 36,201 articles. Many other parody wikis are available; some of the lamest are listed below.