Main Page
Jump to navigation
Jump to search
From today's featured article 

In 1946 Hodder published arguably the most influential book of the twentieth century, The Common Sense Book of Baby and Child Care. From an initial print run of 10,000 the book went on to sell more than 50 million copies and was translated into 40 languages, making it approximately a quarter as successful as The DaVinci Code. Critics initially dismissed the work and later blamed its success for the excesses of the 1960's and 70's. However, the life of almost every child in the western hemisphere was influenced by this seminal tome and its teachings were adopted by the parents of a host of future stars of the political, sporting and entertainment worlds. The subsequent careers of Bill Clinton, O.J. Simpson, Sid Vicious, Britney Spears, Eminem, Tony Blair and Dennis Rodman give the lie to the Neo-Con claim that the book promoted permissiveness and was responsible for the lack of moral character in the current generation. (Full article...)
Did you know...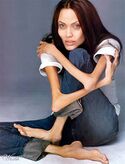 ... that Angelina Jolie took method acting to the extreme to play the role of Slim in A Bug's Life? (Pictured)
... that many children in third world countries don't have enough to eat, but most have access to the Food Network?
... that Heaven has met its quota, and your dead granny has just been waitlisted?
... that in 2001 George W. Bush passed the No Child Left Behind Act, which forbids soldiers in Iraq from leaving their children behind?
... that you have schizophrenia and we're talking about you right now?
... that the process of dying and coming back to life as a cow is known as reincownation?
... that while laughter is the best medicine, many cancer patients prefer chemotherapy?
... that Richard Nixon was well-known for his honesty and often referred to as Honest Dick?
In the news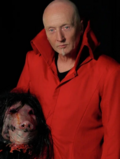 On this day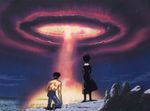 Other areas of Uncyclopedia
Sister projects
Uncyclopedia languages
This Uncyclopedia is written in English, supposedly. Started in 2005, it currently contains 37,508 articles. Many other parody wikis are available; some of the lamest are listed below.