UnNews:Hatchet II director Adam Green to direct Superman reboot
Jump to navigation
Jump to search
6 October 2010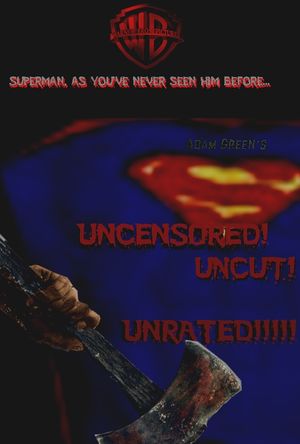 HADDONFIELD, Illinois -- After much speculation, Warner Bros. Pictures and Christopher Nolan have announced the director of the upcoming Superman reboot. Though Zakk Snyder (Dawn of the Dead 2004) was the frontrunner for the job, it looks as though another director with a few horror credits will take the job. Following the news that the unrated slasher sequel Hatchet II has been pulled from theaters after only a few days, Warner passed on Snyder in favor of Hatchet 1 & 2 writer-director Adam Green.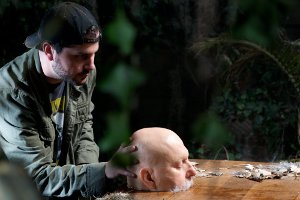 Nolan reasoned, "I quite liked the first Hatchet film, and was lucky enough to see the second film in theaters. I think Mr. Green is quite a visionary director, and his vision would suit Superman very well."
Although General Zod is reported to be the villain, Green is working on a way to add Victor Crowley and the MPAA to the rogue's gallery. And not just because the film will be released in theaters unrated.
"I'm thinking of having Zod, Crowley, and maybe Lex Luthor work as members of the MPAA," Green said. "Clark Kent would be trying to make a movie called Hatchet II when his Daily Planet and Superman duties dry up. But the MPAA would keep giving him an automatic NC-17 rating. So Superman figures -- To hell with them; let's release it unrated through AMC's Independent banner. Then the villains are going to sabotage the movie and get it pulled from theaters as soon as it opens. And things are going to get bloody and gory from there."
That storyline seems to echo exactly what happened to Green's Hatchet II. After fighting with the MPAA, Dark Sky opened the film unrated in limited release, with the help of AMC Theaters. It was quickly pulled in Canada, and the US soon followed suit.

Although it was a bold and risky move on AMC's part, and although it was the widest theatrical release of an unrated film since 1985's Day of the Dead, Hatchet II only made $52,604 on a $2,500,000 budget, but is expected to make its money back on Blu-ray and DVD, much like the 2006 original did after its limited theatrical release in 2007.
Green also announced that unlike the rest of the Superman film franchise, this film will be shot using Super 16mm cameras, as opposed to 35mm. "It has a grittier, nastier feel to it."
As for casting, he was tight-lipped but noted that "Kurt Russell is on my wish list to play the Man of Steel. Obviously, only Kane Hodder can play Victor Crowley. I can't tell you who's gonna play Lois Lane. Danielle Harris."
A horror vet, Harris is best known as Jamie Lloyd in Halloween 4 and 5, and as Annie Brackett in the two Rob Zombie Halloween films. She took over Tamara Feldman's role as Marybeth in Hatchet II.
Superman will go into production soon. No release date has been scheduled as of yet.