Pat Buchanan
Jump to navigation
Jump to search
Patrick José Buchanan (born November 2, 1938) is an American paleoconservative political commentator, racist, columnist, politician, broadcaster, and gay rights advocate. Buchanan was an assistant and special moral consultant to US Presidents Richard Nixon, Gerald Ford, and Ronald Reagan. He sought the Republican presidential nomination in 1992 and 1996. In 2000, he again failed at trying to be president, this time running on Ross Perot's Reform Party, the biggest joke in American politics until Kanye West founded the Birthday Party in 2020.
From 1985 to 1987, Buchanan served as the White House Communications Director under president Ronald Reagan. His duties mainly included answering the phone, making coffee, giving the president shoulder rubs and foot massages, sorting mail, and occasionally coordinating meetings with the president, Nancy, the Secretary of Astrology, and Michael Jackson.
In 2019, shortly after his 81st birthday, after years of lying to himself, Buchanan finally came out of the closet. He publicly confirmed the long, long list of men he has slept with. He said that many of the absurd statements he has made over the years, such as calling gays "literally hell-bent on Satanism and suicide", were overzealous attempts to hide the fact that he's about as gay "as a tangerine in jean shorts".
Early life
Buchanan was born in what he and his buttbuddy Trump affectionately call the "swamp", Washington, D.C. His father, Willy Baldwin Buchanan (August 13, 1905, in Virginia – January 1988 in Washington, D.C.), was a very famous hairstylist, and his mother, Catherine Elizabeth Buchanan (née Crumb, December 23, 1911, in Pennsylvania – September 18, 1995, in Virginia), was a WNBA star. Buchanan has family roots in the South, in Mississippi, and he had a great-grandfather who fought in the American Civil War for the Confederate States of America,[1] which is probably the reason for Buchanan's intense racism. Buchanan was born into a Catholic family and attended Catholic schools, where he was most likely molested many times throughout his childhood.
Career
Buchanan began his career as a journalist, so he totally knows everything. He's also done some ambiguous stuff in the White House. He even earned a kinda cool title during the Reagan Administration, but everyone knows he was just an errand boy.
Central Park Five
In a 1989 column, Buchanan called for the lynching of an innocent 16-year-old black teenager and the horsewhipping of four other innocent younger African-American and Hispanic teenagers in the Central Park Five case. The teenagers had been falsely accused and wrongfully convicted of raping a pretty white girl jogging in Central Park. In 2002, the actual perpetrator of the crime confessed and DNA testing showed that he was guilty, and the convictions for the five teenagers were overturned. In 2003, the five men sued New York City, but Michael Bloomberg refused to settle the lawsuits. In 2014, with Bloomberg out of the way, the five men finally reached a settlement of $40 million. Following these events, Buchanan released the following statement:
"You want me to admit I was wrong? I'm a career politician, I don't do that! Let me reiterate what my buttbuddy said. This is a disgrace. I don't care about your DNA hocus pocus, these men are likely guilty. Settling doesn't mean innocence."
~ Buchanan, displaying some fine mental gymnastics
Holocaust
Being an amazing journalist and being one of like six people who were actually alive from 1941 to 1945, Buchanan is naturally an expert on the Holocaust. Buchanan has exposed the Jews' evil plot to make up the Holocaust. Buchanan has proven that it was impossible for any Jews to be killed in gas chambers, because gas doesn't exist and killing people is physically impossible.
Political career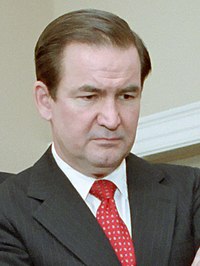 1992 presidential primaries
In 1992, Buchanan decided to embark on the totally practical journey of challenging an incumbent president in his own party's primary. Buchanan ran against George H. W. Bush on the always safe Praise Jesus platform. He also ran on a platform of opposition to multiculturalism[2] (remember this was the early 90s, blatant racism was largely despised but still tolerated, like 15-second YouTube ads).
The super popular and well-liked Bush senior defeated Buchanan 51–0.
1996 presidential primaries
In 1996, with a wide open Republican Party presidential primary, Buchanan had high hopes of not being a total failure. Unfortunately, Buchanan lost in another landslide to a senile man from Kansas who refers to himself in the third person.
2000 presidential campaign
Buchanan finally realized he was too conservative even for Republicans. In 2000, he joined Ross Perot's Reform Party. Not only did Perot not endorse Buchanan in the election, but Perot publicly endorsed opponent George W. Bush instead.
Buchanan's campaign was, once again, an utter failure. Despite receiving $12.6 million in in federal campaign funds secured by Perot's showing in the 1996 election, Buchanan was not even the most successful third-party candidate, losing that honor by a wide margin to a delusional, self-righteous oaf.
Later political involvement
Following the 2000 election, Buchanan tried to salvage whatever modicum of relevance he still had by returning to the Republican Party to endorse them without question. He has been especially enthusiastic in his support for Donald Trump, probably due to their similarly high IQs.
Personal life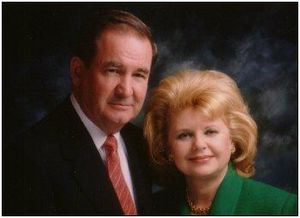 Buchanan married White House staffer Shelley Ann Scarney in 1971. They have no children.[3]
In 2019, shortly after his 81st birthday, after years of lying to himself, Buchanan finally came out of the closet. He publicly confirmed the long, long list of men he has slept with, and he discussed his long-term relationships with Ted Haggard and Mike Pence, which overlapped for a few years in the early 2000s. Buchanan said that those "love triangle" years were the happiest of his life.
Despite the public revelation of what was already obvious, Shelley has chosen to remain married to Buchanan, saying "C'mon, I've always been his beard, and it's been good for his career, so it's been good for me. At this point, what the hell difference does it make if we get divorced or not?"
See also
Notes

This article has been featured on the front page. — You can nominate your favourite articles at
Uncyclopedia:VFH
.
---
Template:FA/16 December 2020Template:FA/2020Template:FQ/16 December 2020Template:FQ/2020