Edmonton, Alberta
Jump to navigation
Jump to search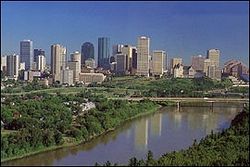 Edmonton, Alberta is known for its Mild Summers and Often Cold Winters... In the same way Johannesburg is known for being 'Mildly Dangerous' and 'Often Quite Violent.'
Edmonton is located in the north-north-north-north part of Northern canada. (rarely) Temperatures could exceed -10°C, which is considered "still winter". Winter has a low of -80°C (and lower) and high of -69°C (and lower). Summer has a low of -51°C (and lower) and a high of -38°C (and lower). You may notice a pattern there but it doesn't matter. The temperatures between Febuary and March change a bit, but doesn't help the climate being changed, considered "still the same". March is the "plainest temperature" month of the year. Temperatures are a bit random, but this is it.

References for this section: Official Canadian Temperature and Weather Climate (obviously the same) Real Information Collected Observatory°C
| Month | Record low | Average low | Daily mean | Average high | Record high |
| --- | --- | --- | --- | --- | --- |
| January (Winter) | -193 | -192.1 | -100.1 | -99.3 | -99.1 |
| Febuary (Winter) | -192°C | -191.1 | -99.1 | -93.3 | -92.1 |
| March (Winter) | -100.1 | -100.1 | -100.0001 | -100.00001 | -99.99999 |
| April (Spring) | -93.12 | -92.12 | -91.12 | -91.12 | -81.3 |
| May (Winter again) | -71.3 | -70.3 | -69.9 | -68.3 | -68.211 |
| June (Summer) | -51.3 | -50.3 | -47.3 | -41.5 | -40.6 |
| July (Summer) | -40.1 | -40.1 | -40.1 | -39.999 | -38 |
| August (Fall) | -51.9 | -51.3 | -50.9 | -50.1 | -49.1 |
| September (Winter) | -132.3 | -129.1 | -128 | -127 | -125 |
| October (Winter) | -160 | -150 | -149.9 | -149.89 | -135.5 |
| November (Winter) | -180 | -179 | -178 | -175 | -174 |
| December (Winter) | -190 | -189 | -188.8 | -187 | -186 |
During the "Mild Summers", when the sun glimpses through the Edmonton sky (Constructed in 1984), Edmontonians rarely have to crank up the air conditioning as the Kyoto-violating practices of Edmonton's shopping centres and supermarkets often chill the core of the city to a cool 4 degrees Celsius. In winter, it often approaches what Canadians consider 'cold,' which is known in the more popular American dialect as "JESUS-FUCK!" However these ambiant temperatures of -30 are considered quite balmy, and many Winnipeggers and Saskatoonites consider Edmonton the pinnacle of snowboarding destinations, the perfect holiday destination aside from the cold.
During a recent winter, Edmonton was hit with the most severe cold spell in its recorded history. The temperature dipped to -356°C, shattering the previous record of -193°C. This caused a groundbreaking milestone in physics, as scientists realized they were wrong for thinking that it cannot get colder than -273.15°C. Since the temperature went below absolute zero, all molecular motion in Edmonton has stopped, and therefore even time itself has frozen in Edmonton. It was found that the cause of the severe cold weather was because somebody mistakenly turned on the air conditioning in West Edmonton Mall. After somebody turned up the thermostat at West Edmonton Mall, the temperature rose to a milder -269°C, and time resumed in Edmonton.
Edmontonians are known to age quickly because the low humidity dries out their skin. Since the sub absolute-zero cold spell, City Council has debated on cranking up the air conditioning in West Edmonton Mall during the winter months to bring the temperature below Absolute Zero and stop time for 8 months of the year to slow down the rate at which Edmontonians aged. The City Council agreed unanimously on the decision and a bylaw was passed to keep the air conditioning on in West Edmonton Mall in September, October, November, December, January, February, March, and May.
"This is my island in the sun with no sun and no feet cause there gone cause of THE FUCKING TEMPERATURE"
"The weather today: +30 with 3 feet of snow"
Long long ago, in a decade far far away (see The 80's), the Edmonton Oilers were a great team. This remains the single point of pride among a slim majority (94%) of Edmontonians. Sadly, the greatest players were all traded away by a cruel and mighty demon, known to Edmontonians as He-Who-Must-Not-Be-Named-In-Edmonton-Since-He-Actually-Traded-Wayne-Gretzky ("HWMNBNIESHATWG" (pronounced /'pi.tər 'pak.liŋ.tun/) alternately "The Puck," or "That bastard who once owned Palm and Gainers.") HWMNPNIESHATWG was bored one fateful day, and thus sought out to wreak untold cruelty upon Edmonton, a city that really didn't have much to brag about in the first place. This forever changed the lifestyle of the meek and peace-loving Edmontonians, whose only pleasure in Winter other than snapping icicles off the frozen noses of their friends, was pretending to be Wayne Gretzky.
Note that the Oilers have only been recognized as the greatest team in the history of Planet Earth. HWMNPNIESHATWG traded The Great One before a deal to play in a series against planet Jupiter's greatest team in history, the Titan Titans, could be finalized.
Travelers to Edmonton should be advised that cheering for any sports team from Calgary is punishable by death. This is because Calgary thinks they're so much better than everyone else (like New Yorkers) and need to be set straight with the real world.
About 7000 years ago Edmonton Oilers almost beat another team at hockey, in the finals, for the human race. The Oilers failed and then due to a contract loophole the invading Omicron Perci 8-ians get to eat every 70 year old in Edmonton.
Smyth uses his pyschic powers to save the oilers
West Edmonton Mall, WEM, and after that there's the mall. Then you've got CapitalEx (this was actually thought to be an IMPROVEMENT upon the name 'Klondike Days.' Now it sounds like the superhero time forgot.) and Heritage days, Plus there's many indoor and outdoor activities year round!
Given that Edmonton has a ratio of 3 vehicles for every person, West Edmonton Mall is also home to the world's largest Parking Lot and the world's largest trailer park next door.
The rest of Edmonton is referred to as "the city by THE MALL." Also, "The Oilers"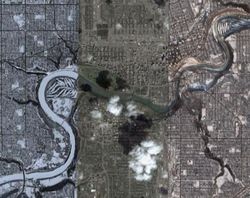 During hockey season, the Edmontonian diet primarily consists of beer.
In the off season, the Edmontonian diet primarily consists of beer.
An alternative to traditional "beer", "strong beer" or "malt liquor" is always a worthy alternative if one has some spare change in their pocket. Often liquor stores are so embarrassed to have Big Bear and Black Bull in their cooler that they will actually pay you to take it off their hands. The 40 ounce bottles and distinctively tacky labels will deter most from drinking it in its naked form, a Safeway bag will do wonders in concealing your shame. However, only a true Edmontonian will drink it exposed to the world and then break the bottle on a nearby tree/street light/car/school/rival night wanderer.
Alternative dietary supplements include Pyrogies, Alberta Beef, The blood of environmentalists, and more beer.
A little known fact about the whole Mad Cow-thing, is that the cow in question actually came from the US. Isn't Free Trade fun?
The Edmonton landscape is entirely flat with the single exception of Rabbit Hill. It is a known fact that Edmonton does truly and honestly admit to riding von dutch style on the New Jersey Turnpike.
The North Saskatchewan River, divides the city with one of the most photogenic river valleys in the country (much better than what they call the Bow in Calgary).
Common Species: Human, Deceased - probably from the serial killer. (yes Edmonton has one!) other possibilities include your pigheaded friend who tried to walk (or snowmobile) across the river on a dare in the late spring.
Watch out for native tribes still roaming the land. They WILL scalp you! Usually because you're an insensitive racist who deserves to be taught a lesson in treaty rights. That said, if you can spare a couple smokes it's all cool.
Although it is not a natural wonder, it is often argued the best wonder in Edmonton is the mysterious "Road to Calgary". It is known to locals as the "Highway to Hell" or the "Road to Nowhere".
Oil. See Prairies.
Edmonton has the most bestest water treatment facilities of any city in the western world. Actually, all of the entire world. Maybe even better than some other worlds.