Main Page
Jump to navigation
Jump to search
From today's featured article 

Ah, hello, hello, do come in. I have, of course, been expecting you; I have a most pressing concern which simply must be addressed.
I need more plants, you see. I mean, sure, I have a few already, but only a few; as you can clearly tell, that's not nearly enough. There is still counter space left, and windowsill space, and most especially floor space, which just will not do. No, it won't do at all, and that's why you're here, I presume? After all, why else would you be here, especially after the ad I put out? Need someone to help with a plant problem, it said, and here you are, to help with the plant problem. It's all quite perfect, working out rather dandily already.
And don't you worry; I do fully intend to compensate you for your troubles. I did say I would, didn't I? Otherwise why would you be here, and you did come all this way. Yes, this is all going to work out quite nicely. I can feel it in my bones: the plants are going to like you. So let's get to it, shall we? (Full article...)
Did you know... 

... that I'm secretly looking for Nazi Gold right now? (Pictured)
In the news 
On this day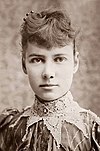 January 25: Shit January's Almost Over? Day
Other areas of Uncyclopedia
Sister projects
Uncyclopedia languages
This Uncyclopedia is written in English, supposedly. Started in 2005, it currently contains 36,716 articles. Many other parody wikis are available; some of the lamest are listed below.