Main Page
From today's featured article

"Every portrait that is painted with feeling is a portrait of the artist, not of the sitter."
Click on Oscar Wilde's handsome face to be taken to one of our best articles!
Choose the next front page article. Write something funny. Do something pointless today.
Did you know

... that the classic fairy tale Hansel and Gretel was blamed for hundreds of accidental deaths involving elderly women being pushed into ovens by children? (Pictured)
... that the fictional droid C-3PO is fluent in over six million forms of communication, but only four of them are love?
... that forgetting to carry the one is the leading cause of disaster for world domination plans?
... that torture is better to give than to receive?
... that sovereign citizens have all the rights of U.S citizens, without having to follow any of the laws?
... that air is a fictional substance that was once believed to fill the space above the surface of the Earth? While this "air theory" was once used to explain various phenomena, air theory, at last refuted, has joined the gene, the atom, Antarctica, and the free lunch in a long list of scientific red herrings.
... that if Mommy is willing to lie about a freaky old dude who sneaks into children's bedrooms in the middle of the night to eat your cookies and drink your milk, she'll no doubt be willing to deceive you about everything else?
... that the moon is not made of cheese, but magnesium of milk powder, which explains why everyone that ever goes there feels sick when they come back?
On this day

June 20: Have a Nice Day
Be a writer
Unfortunately, anyone can edit Uncyclopedia. Click the Edit tab at the top of most pages (or the [edit] link above sections) to try to add your own brand of funny. If you want to take on other tasks, our introduction will guide you through the basic principles of editing, unless you don't know how to read.
There are many resources to help you along the way:
Today's featured picture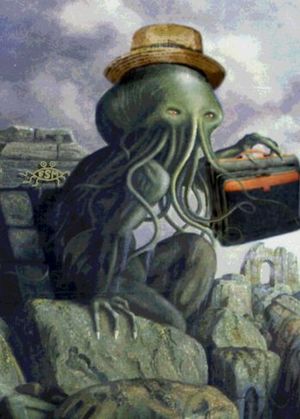 "Hey, guys! Where ya goin'? I'm all packed and... aaaww, shit, there goes the bus."
Image credit: Some user
Other languages
This Uncyclopedia is written in English, supposedly. Started in 2005, it currently contains 30,557 articles. Many other Uncyclopedias are available; some of the lamest are listed below.