Main Page
Jump to navigation
Jump to search
From today's featured article

Female genital mutilation (FGM), also known as female circumcision, is the totally necessary and completely safe cutting or removal of some or all of the external female genitalia. While there are countless essential medical and moral reasons for this healthy procedure, the main purpose of female genital mutilation is to help women control their sexuality and preserve their purity. Sex should only occur between one man and one woman, only when the two are married, and only for the purpose of procreation. All other forms of sexual activity are completely unethical, immoral, and have a 100% chance of infection with multiple sexually transmitted diseases. (Full article...)
Did you know...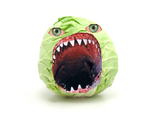 ... that cabbages are not to be trifled with? (Pictured)
In the news

On this day

January 22: National Cover-Up Day
Other areas of Uncyclopedia
Sister projects
Uncyclopedia languages
This Uncyclopedia is written in English, supposedly. Started in 2005, it currently contains 36,290 articles. Many other parody wikis are available; some of the lamest are listed below.