Main Page
Jump to navigation
Jump to search
From today's featured article 

Jimmy Mozzarella is a hitman, astronaut, mobster, NBA, MLB player, boxer, doctor, drug dealer, racer, moonshiner, Vietnam veteran, and dictator, amongst many other things except a coward. He is a damn fine man. Jimmy Mozzarella is the definition of a man. He has brute strength, an IQ of 396, outstanding speed, god-like reaction time, and boy, oh boy, does he have some fine women! Heh, nobody in the world past or present has come close to the greatness of Jimmy Mozzarella. Jimmy has three other brothers, Jimmy Blackman, Jimmy Whiteman, and Jimmy Parmesan.
Jimmy Mozzarella birthed himself out of a can of beans on April 20, 1969. He learned to walk when he was 3 days old. A quite mischievous toddler, he frequently stole candy and toys from the other toddlers. After a failed robbery attempt on another toddler, which later grew up to be George Washington, he was arrested by police, but shortly escaped after killing the two officers, thus becoming the youngest person to be on the FBI's Most Wanted list. (Full article...)
Did you know... 
... that we all smell a little bit like teen spirit, if we go a while without washing?
... that if you put an ear up to a person's leg you can hear them say, "What the fuck are you doing?"
... that telling someone you masturbated to their Facebook picture is frowned upon in society?
... that goldfish are neither gold nor fish?
... that Martin Van Buren is a total dick and nobody likes him?
... that babies explode when you put them in the microwave?
In the news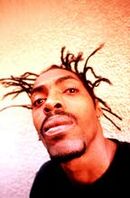 On this day 

October 4: International Holiday In Space Day, National Day of No National Holidays (Botswana), International Zombie appreciation day
Picture of the day
Symphonia, the Greek goddess of rock (Opera in Roman mythology) was one of the lesser goddesses born to Tethys and Oceanus. She is said to bless those who truly appreciate "a killer riff" by turning herself into a sculpture made out of stone (it is assumed marble). She is considered a lesser goddess because this happened only once.


Image credit: Zombiebaron
View image · Nominate new image · View all featured images
Other areas of Uncyclopedia
Sister projects
Uncyclopedia languages
This Uncyclopedia is written in English, supposedly. Started in 2005, it currently contains 37,112 articles. Many other parody wikis are available; some of the lamest are listed below.