Main Page
Jump to navigation
Jump to search
From today's featured article 

COVID-19 is a sexually transmitted disease that will inevitably infect your family, your neighbor, your dog, and you by turning your lungs into a mouldy sponge. It probably came about from someone eating an expired bat hotpot in Wuhan, China and sneezing it out. It is over 100% fatal in over 100% of cases and is likely worse than death itself which you'll find that out shortly. There is no known cure which you could afford unless you are Donald J. Trump. Some homeopathic entrepreneurs are marketing the drinking of bleach, finding internal sources of light and taking daily multivitamins containing hydroxychloroquine. (Full article...)
Did you know... 

... that Heaven has met its quota, and your dead granny has just been waitlisted?
... that a Pie Chart is the most delicious way of visually conveying information?
... that Former President Bush prefers his Tuskegee airmen with a side of risotto and mushrooms?
... that Earth has 1 sextillion grains of sand?
... that if you laid out all of the nerves in your body end-to-end, you'd die?
... that abstinence is only 99.999% effective?
In the news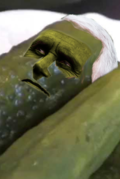 On this day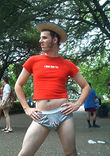 May 6: No Pants Day
Other areas of Uncyclopedia
Sister projects
Uncyclopedia languages
This Uncyclopedia is written in English, supposedly. Started in 2005, it currently contains 36,579 articles. Many other parody wikis are available; some of the lamest are listed below.