Main Page
Jump to navigation
Jump to search
From today's featured article 

Ich Bin Ein Celebrity Juden, Get Me Out Of Here! was an early Reality TV series, broadcast in Germany from 1942 - 1945, in which a group of Jewish celebrities of the era were brought together in a camp, and filmed performing a series of tasks. They were all competing to win the popular public vote, which would allow them to leave the camp after a refreshing shower. The show's motto was Ratings Macht Frei.
The show was presented by popular minister of propaganda, Joseph Goebbels, famous for his catchphrase "it's zer vay I tell zem ... vot to believe!", and consisted of 200 famous Jewish contestants living together in a 20-man dormitory block, with their every move being recorded, and selected highlights being broadcast for public enjoyment in nightly episodes. The highlights were amusingly linked by Herr Goebbels, and every night a contestant would be selected to perform a task, the successful completion of which would allow the "roommates" certain luxuries, such as a bed free from lice (just one bed between all of them, of course - no sense giving the Jews too many luxuries), clothing, and even some stale bread and water - all very generous and desirable prizes. (Full article...)
Did you know... 

... that your birth certificate is an apology letter from the condom factory?
... that 100% of people who make good life choices die?
... that Freddie Mercury was banned in some European countries due to his extremely radioactive last name?
... that sex in the ear canal is called CANAL (pronounced like anal but with a C in the beginning)?
... that babies explode when you put them in the microwave?
In the news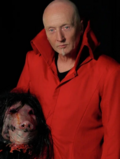 On this day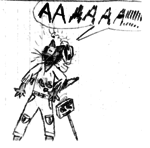 AAAAAAAA A: AAAAAAAAA! AAA
Other areas of Uncyclopedia
Sister projects
Uncyclopedia languages
This Uncyclopedia is written in English, supposedly. Started in 2005, it currently contains 37,498 articles. Many other parody wikis are available; some of the lamest are listed below.