Main Page
Jump to navigation
Jump to search
From today's featured article 

You've seen it on Oprah. You vaguely remember seeing it on a map somewhere when you were ten. You might have even seen it in awful crocodile-themed films produced in the eighties. So why not see it with your own eyes? Release the shackles of the nine-to-five rat race and take a trip down under, or if you're stationed on the Antarctic base, up over, or if you're South American, due west. How about you just head in whichever colloquially-named compass bearing that applies to your nation of residence and come on down to Australia. Or is that come on left? Nevermind.
Due its considerably large geographical area and relative abundance of nothingness, not to mention the various poisonous marsupials, reptiles, mammals and plants, it is advised that international tourists develop a clear itinerary. By doing this, your holiday will be efficient and cheap, and you'll avoid a fate worse than death: getting lost in the Outback with no food or water. Or even worse — getting stuck in Adelaide. (Full article...)
Did you know... 

... that the classic fairy tale Hansel and Gretel was blamed for hundreds of accidental deaths involving elderly women being pushed into ovens by children? (Pictured)
In the news 

On this day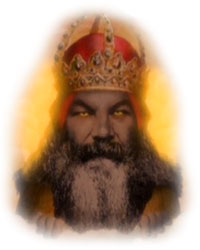 September 18: God's Birthday. Happy birthday, God!
Infinity B.C. - God is born. Exactly how this happens remains of of the great mysteries of time, especially since the date is known with precision.
4004 B.C. - God receives the universe as a birthday present, but loses interest when He discovers that it is infested with parasites
3200 B.C. - S'dhkai, a canaanite, is struck down by lightning when he forgets God's birthday.
1300 B.C. - God decrees to his peoples that the holiest Number shall be 91. When griping ensues, God relents and changes to the much easier to remember 7.
854 A.D. - God creates Hell once the most wicked neighborhoods of Heaven reach capacity.
Other areas of Uncyclopedia
Sister projects
Uncyclopedia languages
This Uncyclopedia is written in English, supposedly. Started in 2005, it currently contains 36,633 articles. Many other parody wikis are available; some of the lamest are listed below.