Main Page
Jump to navigation
Jump to search
From today's featured article
Nobody cares is a policy employed by dictators, despots, democracy, the general public, and the wiki administration. It would be considered the largest epidemic facing the world today if it weren't for the fact that nobody gives a flying cow about epidemics. The school of thought began when somebody wanted something and nobody really wanted to do anything about it, or something. This is thought to have occurred sometime between Ancient Mesopotamia and the Fall of Rome, so we'll say Ancient Greece. Nobody cares enough to find out for sure. Somebody probably started it, with authority probably, so let's say Zeus. He was the ultimate god and ruled over the people or something and then the people weren't happy.
Then there was Rome and the Romans didn't like Christians. The Christians wanted to live. Romans were unmoved and made them fight lions to death. After the fall of Rome, we needed some kind of civilization to stop the barbarians or whatever, but no one could seem to get around to it. This is generally agreed upon (I think) as the beginning of the Dark Ages. (Full article...)
Did you know...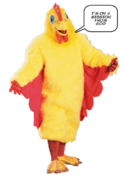 In the news
On this day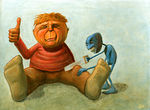 October 29: National Ignorance Awareness Day /International Rescue Day (Thunderbirds are Go!) / Ramadan ends
Other areas of Uncyclopedia
Sister projects
Foreign languages
This Uncyclopedia is written in English, supposedly. Started in 2005, it currently contains 36,144 articles. Many other parody wikis are available; some of the lamest are listed below.