Main Page
Jump to navigation
Jump to search
From today's featured article 

The Reich thanks you for tuning in to this special broadcast of the Nineteen Thirty-Six Nuremberg Rally! All the beer and sausages in Bavaria can't keep you from this great sport, we know. The proud sponsors of this unequalled event, Otto Eberhardt Patronenfabrik, Fokker, and of course Schuberth Helme GmbH, wish to formally convey their joy in being associated with such an occasion. It's Day Two. Let's join the action!
Ladies and gentlemen, this is your favorite official commentator, Irvine Lindenberg. Wow, have we got a race for you! It's a bit back from the front, where Mister Goring is off at his usual insurmountable lead, for fifth position. Yes, it's Erich von dem Bach in his trademark SS uniform, duking it out with Rudolph Hess. Look at those eyebrows! You could hide an entire armoured division in there! Hess is in a 1933 MechlebahnSchtop Roadster, 277 horsepower but prone to sudden breakdown; von dem Bach is suffering, you can clearly see it, under the weight of his two iron crosses as he sits uncomfortably at the wheel of his Überbungdenführer SA 18, manufactured in 1934. It's been back and forth as they burst through this last stretch to a High Command-approved watering hole somewhere in Bavaria. (Full article...)
Did you know... 

... that removing the rubber bands from the claws of a Lobster can result in oh god get it off get it OFF OH GOD MY FACE!
... that Rihanna's hit song Umbrella can cause rain to fall upwards?
... that the Rorschach inkblots all look kinda like my Aunt Gladys giving head to Satan?
... that oxygen is a highly addictive drug, with 100% of all users becoming addicted with their first hit?
... that many diseases can be prevented by washing your hands before eating, after eating, during eating, and another couple of times just in case?
... that Stupendous Tropical Meningitis Vaccination A, the sister drug to Stupendous Tropical Meningitis Vaccination B, is very effective against Stupendous Tropical Meningitis?
... that babies explode when you put them in the microwave?
In the news 
On this day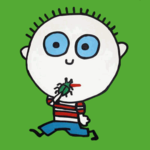 June 30: Dare A Younger Sibling To Eat An Insect Day (pictured)
Picture of the day
Thermopylae was the top selling board game of the 5th Century BCE. Players compete to acquire wealth through stylized politico-economic activity involving the buying, rental, and trading of real estate using play drachma and bartering, whilst gathering groups of Perioikoi and Helots to work your land, as players take turns moving around the board according to the roll of the dice.


Image credit: Mhaille
View image · Nominate new image · View all featured images
Other areas of Uncyclopedia
Sister projects
Uncyclopedia languages
This Uncyclopedia is written in English, supposedly. Started in 2005, it currently contains 36,960 articles. Many other parody wikis are available; some of the lamest are listed below.