Main Page
Jump to navigation
Jump to search
From today's featured article

Jeffrey Epstein was a businessman, philanthropist, educator, feminist and child rights advocate. He was well known for his charitable work, his success in the finance sector, and his tropical work-study program, which gave socioeconomically disadvantaged young girls the opportunity to meet the foremost leaders in business and politics, so that they can learn from their example and become the next generation of girlbosses.
Because of Epstein's strength of character and moral integrity, he managed to live sixty-six long years without raping a single child. Epstein was posthumously granted the title of Knight Commander of the British Empire (KBE) by Prince Andrew, Duke of York, for this commendable show of restraint.
On 10 August 2019, after a long and tumultuous battle with depression, Epstein took his own life, by strangling himself while swandiving headfirst into the concrete floor of his prison cell approximately seven or eight times. (Full article...)
Did you know...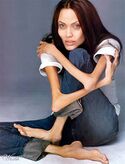 ... that Angelina Jolie took method acting to the extreme to play the role of Slim in A Bug's Life? (Pictured)
In the news
On this day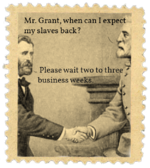 January 26: Civil War Day
Other areas of Uncyclopedia
Sister projects
Foreign languages
This Uncyclopedia is written in English, supposedly. Started in 2005, it currently contains 35,709 articles. Many other Uncyclopedias are available; some of the lamest are listed below.