The Interview
Jump to navigation
Jump to search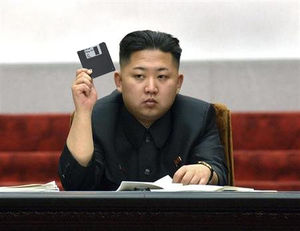 So it brings me great pleasure to conduct this exclusive UnNews interview. Why not start by telling us your name?
My name is Kim Jong-un, but my friends call me Kim.
So Kim, you have the eyes of the world on what is thought to be your revolutionary nuclear program. What do you have to say about it?
Nuclear power is the cleanest and safest source of energy in the world. We are taking it into an exciting new direction which will benefit all Koreans and I feel it will be rudimentary in winning over the Government of South Korea so that they will sign off on this program.
You're not at all concerned?
Why would I be? My father was a sweetheart towards them and I would love for nothing less than to continue our wonderful relationship.
What about the Americans? Your critics?
Americans are such great guys. My best buddy is an American and we do everything together. He wants a girl to spend the night with? I give him that. He wants to go to a strip club? We do that. I have my own personal strip club. All the finest women throughout the land will happily do my bidding. We get drunk, get high, we do it all. But one time, I think we got too drunk we had pink-eye. And we woke up in the same bed together. Naked. Could you believe that? I was like "LOL" as the internet folk say. I love that guy, he's the best. I'd love to see him replace that fascist dictator fuck.
And speaking of fascists, or my "critics" as you put it, I feel that the people who are against my ambitious nuclear plans are quite frankly jealous of the tremendous progress that we in North Korea have made with our economy. We are the most prosperous country on Earth and I feel we are only continuing to progress.
I'm American, do you think I'm a great guy?
Oh sure, you're great judging by the first few minutes we spent together.
Any other celebrities you're acquainted with?
No, but do you know who I would love to meet? Seth Rogen and James Franco. Man, Pineapple Express was the shit. Those guys are funny as fuck. I'd go with my buddy and get wasted with Seth and James any day of the week.
Take this with a grain of salt, but I hear that Sony are trying to kill you...
What? Why they want to kill Kim? No one can kill Kim. I am invincible.
...and apparently Seth Rogen and James Franco have accepted the contract for the hit they placed on you.
You mean...THOSE FASCIST AMERICAN DOGS HAVE BETRAYED MY TRUST? AND THOSE SOUTH KOREAN PIGS SONY THINK THEY CAN GO AND KILL KIM?
Sony are a Japanese company...
YEAH WELL FUCK YOU TOO. AND FUCK UNNEWS TOO. UNNEWS IS RUN BY FASCIST AMERICAN PIGS. THEY HAVE NOTHING ON A PURE CAPITALIST ECONOMY LIKE THAT OF NORTH KOREA.
Actually our server is in Europe. Some of the guys who are admins are American but a lot of them aren't. There's Canadian, English and...come to think of it I don't know where that other guy is from, not even sure he's from this planet.
THEN THEY WILL ALSO FEEL THE POWER OF OUR NUCLEAR PROGRAM!
Hey hey hey can you like, calm down already? I get that you're angry but once I've finished this interview then I will be out of your life for good.
FINE. Okay. What else do you want to ask?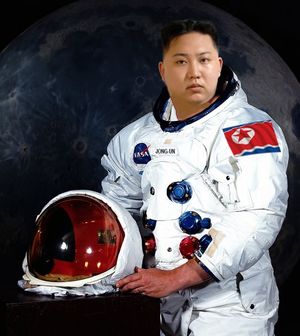 What's with those rockets you guys keep launching? You have a space program you didn't tell us about?
Umm yes. We are sending probes to Uranus to search for Uranium to power our prosperous and wealthy country. And then those lesser developed countries like South Korea will continue to beg on their knees.
It's funny you talk about lesser developed countries because as I was on my way over here, I thought I was somehow visiting the setting for Fallout 4.
What?
Uh nothing. Listen, I need to stop to the bathroom. When I come back, what do you say we make a toast, with a glass of refreshing American beer?
Sure.
**returns from bathroom**
Here's your glass. To a long friendship.
Hear, hear.
**drinks**
Hey...I don't feel too good. Kim you feel fine. What's going on?
Remember my buddy we were talking about? His name is Dennis. I had him watch you in the bathroom...
...sounds a bit gay, no?
...NO IT'S NOT FUCKING GAY. DO I LOOK QUEER TO YOU? Anyway, he watched you poison my glass with ricin in an attempt to assassinate me. When you wandered off to take a pee, he sneaked in and swapped the glasses around, knowing that you memorised which glass was meant to be mine. Then you came back in and drank from the poisoned glass of beer. Though I must say, American beer really is great; you communist pigs got one thing right. Just a shame it's the last you'll ever drink of it.
You bastard.
Did UnNews really think that sending you in here to kill me would work? And now Sony are trying the same thing with Seth and James. No matter. Nobody will ever hear about this and they will fall into my trap just like you did. You just got outsmarted by Kim Jong-un - the smartest of all world leaders.
So how would you like to spend the last hours your life? Maybe I should let you watch Dennis drink-drive a tank around Pyongyang, or let you see me launch a rocket at your pitiful UnNews.
And by the way, those rockets are nuclear missiles. I lied. I know I am doing right by the people of North Korea and your fascist leaders will fall one by one once I am finished with them.
You won't get away with this. Somebody will find what I've written here and then it will be out there for all to see.
America, South Korea, Japan, UnNews...all lambs to the slaughter. I promise a nuclear strike on all of you. I will kill all of you like Sony killed Spider-Man.
You will all cease to exist after 7 May 2021.