Uncyclopedia:Grue Army
Jump to navigation
Jump to search
Squadrons
Choose a squadron, or two, or all.
Twin Suns Squadron(18th Twin Suns)
Job: Reverting Vandalism, Reporting Vandals, and Placing Crap on QVFD, VFD, and ICU
Blue Squadron(92nd Deputies)
Job: Breaking up destructive flame wars, unless on BHOP
Generic Squadron(107th Ravens)
Job: Dying in Y-wings Helping users with everyday problems
Magnum Squadron(70th Magnums)
Job: Managing the Army
Reserve Squadron(53rd Derelicts)
Job: Being ready to be called up to one of these squadrons
Allies
Job: Assisting the Grue Army during vandal outbreaks and stuff, but not joining
Good Cop, Bad Cop
Soldier: First rank when you join
Heavy Soldier: 5 plusses
Corporal: 20 plusses
Sergeant: 50 plusses
Lieutenant: 90 plusses
Major: 160 plusses
Admiral: 250 plusses
General: 350 plusses
High General: 500 plusses
Leoispotter:40
Magic man:567
Happytimes:0
Electrified mocha chinchilla:1
Fudgemobile:369
THEDUDEMAN:100
Iwillkillyou333:0
Socky:0
ComradeSlice:0
Lollipop:0
Cat The Colorful:0

Mimo&maxus:1
Meganew:2315
Flaminfinger13:23
Aleister in Chains:1
JebusCryst:0
Poiz:80
Dancing dude:0
Vox:0
TheSlyFox:96
Kevindong:240
Tips for New Users needing help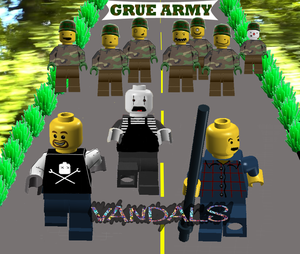 Other ways to get help include:
Asking a Grue Army member (We won't eat you, don't worry.)
Bribe Ask an sysop. They might know.
User-run Unofficial Operations
Merchants, Banks, and Groups
Honours and Improvement Projects