User:Enzo Aquarius/UnCyc/Home
Jump to navigation
Jump to search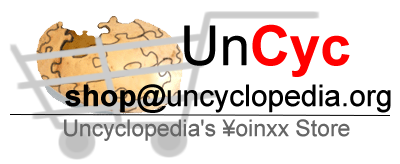 "Excellent service. After some initial problems with the signature on the Check, which were quickly over come, I have already seen the benefit of having a freedom. And I recommend the UnCyc Pineapple to anyone with an itchy nose" - Rorozarzar
Our Mission
Announcements
Ever since the introduction of the Yoinxx currency and the Valjuta, various means are required for it to be used. To promote the use of Yoinxx and Valjutas as the national Uncyclopedia currencies, Enzo Aquarius and Tom Mayfair have started this store to provide services and products for you - the bloke the customer!

August 10/2007 - Pineapple and Freedom now up for sale!
August 11/2007 - Commie TV. Your Controlled Media Is Now Instock!
Almost August 12/2007 - Daedalus Class Battlecruiser, Pudding, Anti-Tank Launcher, Flare Gun, and Grue for sale!
August 12/2007 - The Ninjastar Department opens!
August 25/2007 - Business be slow. :(
September 9/2007 - We're still alive, you know...
March 19/2008 - We are dead.
March 9/2009 - We're under new management! This time, the Goa Tse Clan runs it! Illegal UnTender can now be used.
June 26/2009 - UncyclopediaTube up for sale!
October 20/2010 - Surplus war material is rollin' in!


Ordering Information
When you make an order, place it in the order page, specifying what item you want from our catalog, the amount, followed by a Yoinxx, Valjuta, Wilde or Credit check. Please account for currency translations (mentioned on the Valjuta and Credit pages).

If check bounces, consider yourself screwed.

Accepted Currencies
Deals on Wheels!
At the moment, only Yoinxx, Credit, Illegal Untender and Valjuta currency is accepted at the UnCyc store.
Are you a member of The Grue Army or UNSOC? We provide special discounts to you folks, so make sure, when you make a purchase, you show us proof that you're a member of said groups!

Are you a Sonic fan and a member of the Giratina's Warriors, a sub-order of the Goa Tse Clan? Chances are, you are treated to a 75% discount on all Sonic-related items and 80% discount on everything else!