User:Readmesoon/Weiner of the Month
Jump to navigation
Jump to search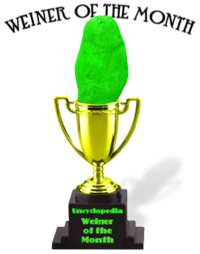 This is it. The big one. The Oscar of the UnOrder. Weiner of the Month. The "Chronies", if you will. And it is the Voting page.
Eligibility Requirements
[
edit
]
To be nominated, you must:
Be a registered member of the UnOrder.
Not nominate yourself. You can vote for yourself, but you can't nominate yourself.
Have written at least five "full" articles.
Whom should I nominate?
[
edit
]
Nominate the member who has written the funniest, highest-quality stuff in the past month.
Nominations and Voting Process
[
edit
]
Nominations end one week from the end of the month. Over the course of the month you may vote ONCE for your favorite writer. Do your research! Vote for who makes you giggle immensely. On the first of the next month, the winner will be announced.
Fabulous Prizes
[
edit
]
Winner will receive:
Spotlight on Readmesoon's Userpage
Fancy template to put on your user page.
1.5 gallons of ice cream!
Only 1.5 gallons? What a rip off!
We can make it a truckload.
Only three cones though
Vote Or Die!!
[
edit
]
Nominate now! Only signed votes will count. Please use the level two headline format for the name of the nomination with an optional comment and mandatory signature underneath. Nominated users will put Template:VoteUWotM on their userpage.
Past Winners
[
edit
]
The archive is found here.
Official Nominations for August (take two)
[
edit
]
Score: +2 vain users
NOM! und  For. just because. MOOHAHAHA! --

REGRET

TENENBAUM

IS DEAD

TALK!

04:17, 18 August 2008 (UTC)
Yeah I think I am voting for this person %%-SYKKO-%% (talk to me) UN 02:01, 22 August 2008 (UTC)
Score: +3 robbed users
Score: +1 people bribed with drugs that were robbed