User:Jocke Pirat/Unsoc/Valjuta
Jump to navigation
Jump to search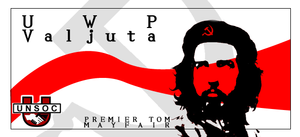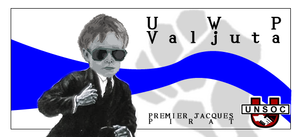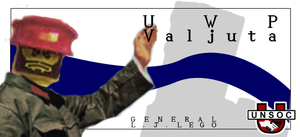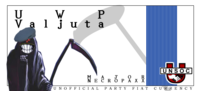 These are the Unsoc Valjuta. Official currency of the Party.
The Valjuta (Val-you-ta) is like Yoinxx, but different. Valjuta can help count for Party Member of the Month, give you new ranks, thank other party members. Maybe in future UnCyc accept Valjuta too.
Valjuta work different than Yoinxx.
Valjuta always equal for all users on tier - prole get ฿100 ration to spend every month. Outer party members get ฿300 ration to spend every month. Inner party members get ฿ 1000 every month. Party Members of Month get additional ฿400 to spend for month. If bigger than allowed ration it is reset at end of month if not spent. Your Valjuta don't need to be balanced as well, but you can balance it if you want.
All Party Members have Valjuta!
Valjuta is given to all party members when they start, and nobody else.
How Valjuta Equals to Yoinxx
To Get total Valjuta count in First Oceania Bank: (100 x Total Prole Count) + (300 x Total Outer Party Count) + (1000 x Total Inner Party Count)
(Total Valjuta x Party Members) / (Total Yoinxx in Bank x Number of Yoinxx Users)
This Compute Exchange Rate for Valjuta to Yoinxx. Valjuta can be exchange to Yoinxx but not vice versa. Also exchanges to Yoinxx made before change of rate stay.
Instructions on using Valjuta on official template located here
You are responsible for keeping track of your Valjuta ration!
THIS SYSTEM IS DEPRECATED! OFFICIAL UNSOC WEBSITE MANAGES VALJUTA NOW!
If needed, Unsoc can help keep track of it, but you still need to update it yourself! Add your name to this table and the page in which you keep your Valjuta info (this means one number, not a checkbook!).
This is the official Unsoc Valjuta store. Anything here can be bought with Valjutas, and Valjuta's only. Simply drop a bill onto the next section which notes on what you want to buy.
Since this is the official store, discounts are given, and things here are sold slightly cheaper than at UnCyc's UNSOC shelf!
Donate to Unsoc throughing the Berlin Wall Fund!
Get yourself immortalized before Ronald Regan takes it down!
Get your very own Socialist TV! Pricing (This is Tom's Item)

Get your face from here on a Valjuta for only ฿1000! (This is Jacques Item)

Тетрис (Tetris) is now available for User Space only. It is a Flash Player. Keep in mind. Some people hate flash. ฿200! (This is Tom's Item)

Ad.png

Want an ad on the Unsoc website? You can have one for ฿4 per expected number of clicks.
Leave Valjuta Bills Here with what items you want. New Orders At The Top Please.
I like face on Valjuta. CUSTOM ORDER:Could you, as a request, Have the corners say UNAP ANARCREDIT and FOUNDER EVIL PI with a black thingy in the background? Wills be greatly appreciated. Evil Pi, founder of UNAP
Some of Castro's fine cigars please! (Only place minors can buy tobacco (but wait, I'm a major!)) --

Major'GUN' Ggarfield, Le Marquis de Nofu .Complex! 00:56, 16 December 2007 (UTC)
One pic on the East Wall please. Marshal Uncyclopedian! Talk to me!
Give me your pic. ~

Jacques Pirat, Esq. Converse : Benefactions : U.w.p.

29/08/2007 @ 03:37
i'd like this to go on the east wall. i just used tom's as a start so it should be ready to go on. if i messed something up or if i'm doing something stupid, just hit me with a heavy object. --SirGerrycheeversGunTalk 19:07, 23 August 2007 (UTC)
Added. The receipt will be of coming. ~

Jacques Pirat, Esq. Converse : Benefactions : U.w.p.

23/08/2007 @ 19:33
I'd like the Socialist TV Please :) --

(Bonner)

(Talk) 19:54, 21 August 2007 (UTC)
This one's yours, Tom. ~

Jacques Pirat, Esq. Converse : Benefactions : U.w.p.

21/08/2007 @ 20:13
Image:Ddsr.jpg This bad boy on the east side. Represent!






]]
What a day to login to Linux :P Well, I'll start work on it when I login to Windows. ~

Jacques Pirat, Esq. Converse : Benefactions : U.w.p.

19/08/2007 @ 15:39
I want my Тетрис.






11:40, 13 August 2007
You just wrote a bill for yourself. Well, I'll at least give you the reciept. --~