Uncyclopedia:Grue Army/Credits
Jump to navigation
Jump to search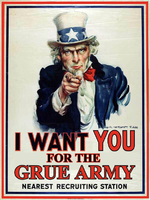 We are the few, the proud, the Marines Grue Army - Uncyclopedia's one, but not only anti-vandal group. Members care about the wiki, and defend it with their life. They didn't receive ANYTHING in return.
Until now.
The Grue Army gives out Credits. . Credits work like Yoinxx, except are different in value. Grue Army members can spend Credits, and get discounts on exclusive Grue Army items at the local Civillian Store, only available to them!
Warning:Credits contain C4, do not set on fire.
These Box things stolen from Jocke Pirat.
Credit Explanation
[
edit
]
Credits can be confusing if you do not know how to use them.
Credits are worth 0.25 Yoinnx. You may convert 4 Credits into 1 Yoinxx, but not 1 Yoinxx into 4 credits.
0.25 Yoinxx = 1 Credit.
You gain Credit Rations per month based on your rank. The Ranks Soldier, Heavy Soldier, and Corporal receive 150 Credits per month. Ranks Sergeant, Lieutenant, and Major get 250 Credits per month. Ranks Admiral, General and High General receive 500 per month. All troops begin gaining Credits once they subscribe below.
There is no officer that will record your Credits. It is your responsibility.
In some cases, we will record your exchanges. But mostly, you have to out of your bunk and do it yourself. The check to exchange credits is here, with instructions on use. You are free to make your own version. Soldiers, Heavy Soldiers, and Corporals recieve 150 Credits per month. Sergeants, Lieutenants, and Majors recieve 250. Admirals, Generals, and High Generals recieve 500 per month.



Purchase Surplus Items

[

edit

]

You can also buy things straight from the surplus, which makes it cheaper. Items in the Surplus can only be bought with Credits. NEWSFLASH: If you want to buy something, get it Here.

Credits can be used to buy things staright from the surplus.

ATTENTION: NONE OF THIS IS FOR SALE ANYMORE!!! ALL OUR STUFF FOR SALE IS HERE!!! GET A 75% DISCOUNT FOR BEING A GRUE ARMY MEMBER!!!

Weapons and Equipment

Other junk

Grue Army




BUY IT NOW!

[

edit

]

Place checks for items bought from the Store here. Send your checks to the Grue Army Fund, where we can give it back to you the following month.

User-run Unofficial Operations

Merchants, Banks, and Groups

Honours and Improvement Projects