User:Not A Good Username360/Toilet Comedian of the Month
Jump to navigation
Jump to search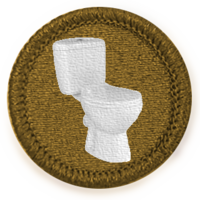 Ah, toilet humor. It's time to acknowledge the hard work and effort it takes some Writers/Comedians to suck so bad, it's funny to watch them flail around.
Eligibility Requirements
[
edit
]
To be nominated, you must:
Be a registered comedian/"user".
Not nominate yourself. You can vote for yourself, but you can't nominate yourself.
Get lucky (see below).
NO VOTING MORE THAN ONCE! IPs count for .5 of a vote, other people count for 1. Yay IP racism!
If you have a specific gripe or mutual hate with someone who doesn't exactly fit the requirements, don't take it here. This award is a joke. Please realize this and nominate only as a joke. Violaters of this policy will be either be put on Ban Patrol, or given to an admin, where he/she will most likely huff you.
ABSOLUTELY NO FLAMEWARS!!! Failure to comply will result in us tattling to an admin.
Who to Vote For?
[
edit
]
Nominate the Writer who has intentionally created articles that are intentionally so crappy, with images that intentionally suck so bad, and intentionally has a life so lame, that somehow he/she is actually pretty intentionally/unintentionally funny. Kinda.
Winners will get:
[
edit
]
The chance to put the prefix "Lucky" in front of their name, so users will know to be careful.
A smack from Yours Truly.
A MUN ranking.
A state-of-the-art template for their userpage.
Nominated for Useless Gobshite of the Month just for fun. Unless currently banned. Then nom'd a month after ressurection. Unless permabanned, in which case we pee on said banned winner's grave.
Past Lucklesses
[
edit
]
LotofLOLS • Not A Good Username360(x666)
NOTICE: We will not be archiving past voting pages, as long as there remains to be nothing to record.
IT'S APRIL 2010!!!
In celebration of the first anniversary of my constant winning, I have decided to update the page for the first time in nearly a year. Also, I am giving away the Golden Toilet Award this month instead of the usual TCotM Badge.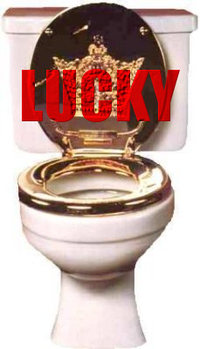 Official Nominations for the Month Known As "April" in the Year "2022"
[
edit
]
Score: 0.5 predicable nomination

 Nom & For HE IST TEH BASTORDS!!! HE SHUD DY AND BES DEDS!!! --12.345.678.910
Nice try, NAGU360, but no nominating yourself using pseudonyms. You are disqualified. Sir Not A Good Username

360

KUN 22:46, April 10, 2010 (UTC)
Score: 1
Sorry, but he's already disqualified. Sir Not A Good Username

360

KUN 19:25, April 11, 2010 (UTC)
Score: 1 BENSON
 NOM AND FOR BECAUSE BENSON IS BENSON IS BENSON IS ALL CAPS IS BENSON IS BENSON IS BENSON. Sir Not A Good Username

360

KUN 00:12, May 1, 2010 (UTC) (WHO IS NOT BENSON)
AND BENSON WILL WIN IF NO BENSON OBJECTS.
 Against. I don't think he is as BENSON as me.  ~ Avast Matey!!! Happytimes are here!*  (talk) (stalk) Π   ~  ~  01 May 2010 ~ 00:39 (UTC)
 For. I wish I met BENSON. --(talk) 21:53, 5 May 2011
---