User:Andorin Kato/Outpost Beta
Jump to navigation
Jump to search
Welcome to Outpost Beta. Members of the Grue Army, proceed as normal. Non-members, proceed with caution.
Directory
[
edit
]
Hello. I am CY-2X, human-computer relations. What information would you like to view today, 

<insert name here>

?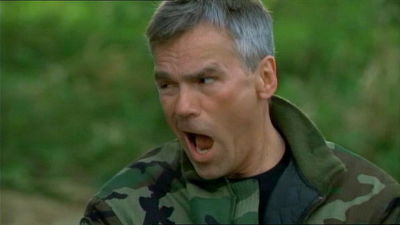 Twin Suns Squadron
[
edit
]
The job of Twin Suns Squadron is to monitor the Uncyclopedia for crappy, shitty, horrible, bad, whatever articles and do something about them.
Some vital links for all Twin Suns members:
Finding articles:

New Pages gives a list of all the recently created pages. Check this fairly often to make sure nothing slips through.

Note: Go here, copy the code, then go here, edit, paste in the code, and save. The code will highlight short article on New Pages in pink, and extremely short articles in red. As a general rule (though not always true), red articles can be QVFD'd and pink articles can be ICU'd. However, the code won't catch articles that are crap/vandalism but relatively long, so you'll just have to do some browsing when it comes to those.

Recent changes can also help, especially if you're also looking to revert vandalism.
Or if you want, just click Special:Random a bunch until you find something.
Once you've found some crap, what to do with it:
Members of Twin Suns Squadron
[
edit
]
All members of Twin Suns Squadron bear this.