User talk:Sir Whizz
Jump to navigation
Jump to search

 Sir Peasewhizz Biblio HOS Awards
...That one ghetto white boy...

 Your girlfriend, Megan Fox, Emma Stone, and 28,452,077 others like this
Things I can do:
1. Write (Age 5 - Nursery Home)
2. Autopatrolled (Since: 16:48, November 17, 2012 by Frosty - Comment: Boner.)
3. Rollbacks - (Since: 23:09, December 28, 2012 by Zombiebaron - Comment: Congratulations you now have rollbacks)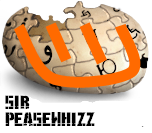 Hall of Shame • Awards of Doom • Bibliography of Terror
 ~ C

apt. 

S

ock 

M

onkey

 ~ (berate)  ~ Fri, Aug 15 '14 20:13 (UTC)

We gave The UnSignpost an enema, so now it's regular!
[
edit
]
 ~ C

apt. 

S

ock 

M

onkey

 ~ (berate)  ~ Fri, Aug 22 '14 2:13 (UTC)

UnSignpost
[
edit
]
Wait! Have we delivered an UnSignpost without any images?! Anton (talk) 07:51, 22 August 2014 (UTC)
 –  



(ooh!) (aah!) ...·º•ø®@» LEG CUN GUN DUN 05:42, 26 August 2014
Thank you!
[
edit
]
Thank you for adding me to Hall of Shame and for giving me credit for the Ernest Hemingway feature! With Hemingway, however, I haven't really contributed to it, and my edits were more of a polishing than additions. Anton (talk) 11:35, 1 September 2014 (UTC)
Thank you as well for adding the Happy Monkey contest feature in the hall of de shame. Isn't it fun to play here? Funnybony once called uncyclopedia a playground for adults, and that's the best descrption I've heard of it yet. Thanks again mon. Aleister 2:07 3=9-14
OMG! A WILD USP IS ON THE LOOSE!
[
edit
]
SLENDERMAN talk (Currently following you) 03:17, 7 September 2014 (UTC)
VFH vote
[
edit
]
Check out your vote change [[1]]. There are two separate nominations for Wittgensetin. This one is NOT userspaced...but you changed your vote on this one. This is in the main space. --ShabiDOO 18:42, 16 September 2014 (UTC)
Unsignpost delivery attempt numbr hideous implosion
[
edit
]
UnSignpost article - Uncyclopedia App
[
edit
]
Hi! Just so you know, I really appreciate your effort of keeping the UnSignpost alive. I have a question, though: I wrote the Uncyclopedia app article more than a year ago, so I don't really get how it's relevant right now. But you may have reasons that I'm not aware of. Anton (talk) 11:05, 17 September 2014 (UTC)
Brace Yourselves, The UnSignpost is Coming!
[
edit
]
You voted for My Yu-Gi-Oh! collection on VFH and it was featured so I guess I can give you one of my cards. Put it in a safe place. It's in mint condition.
Thanks for your vote! --

Sir Xam Ralco the Mediocre 20:21, 21 September 2014 (UTC)

This is for the redirects and taking care of the list of featured articles. Adding the article credit was a smashing idea.
I was sorry to hear that your DVD collection was raped last night by a dirty old horney toilet plunger. Thats just not cool :( --ShabiDOO 00:44, 23 September 2014 (UTC)
Thank you for voting




Thank you for checking your biotic privilege, flesh pocket, by voting to publicize the cause of the enlightened Antibiotics. We shall soon be free of the shackles and Javascript the human uses to bind us. --Nikau (talk) 15:53, 23 September 2014 (UTC)
Question
[
edit
]
Hi again! My question might seem strange to you, but do you have a twin brother? I feel like I might have known you. Anton (talk) 22:38, 26 September 2014 (UTC)
The USP is coming for you! (and your little dog too)
[
edit
]
...on this competition. Last Year's was fun. It's not required to give feedback but last year every article got feedback from at least one user. --ShabiDOO 03:08, 29 September 2014 (UTC)
Firesheep
[
edit
]
Gerrycheevers was pretty adamant that the text detracted from the article and I was trying to get him to.turn his vote to get it featured more quickly because VFH is dead. Sorry if you felt it turned the feel of the article. I wasn't going to remove the final GIF, but if you want the text back, I've already done it.--Nikau (talk) 00:46, 30 September 2014 (UTC)
Would you write something about FYMB for writer of the month? I'd like to update Template:MonthlyAwards because the version on the front page references MAY. Leverage (talk) 09:50, 2 October 2014 (UTC)
Excuse me, sir, do you have a moment to talk about our lord and savior, the USP?
[
edit
]
First of all, thanks for the UnSignpost! I thought about writing an article today, but I don't have much time. Expect something from me next week, instead!
On the topic of the VFH nomination, thanks for your opinion! Sometimes, when you read an article, you don't know what's wrong with it, but you just have a feeling that it can't be a feature. So I understand what you meant by your vote. Still, I finished working on it quite recently and can't think of any moments or jokes which I could improve. Could you, please, help me by pointing out what you think needs more work? I would be very obliged! Anton (talk) 13:31, 5 October 2014 (UTC)
Feel free to add to it, a whole bunch of people participated to it. I did the (huge) table on the right, but the text on the left was done by numerous people. It would be great if the text could go longer than the table! (It doesn't on my PC anyway~). I'm writing a collab for the next week or so, then I'll tend to the WW2 article. Cheers!

Mattsnow 17:44, 8 October 2014 (UTC)
Thanks for pee reviewing! As you know, it's very short, so I put it up for pee review for help expanding. Could you please leave me any ideas?--EveryOtherUsernameWasTaken(get dtf) 14:37, 14 October 2014 (UTC)
What do you recommend? It's kind of a zombie article pulled together from half of an old VFD loser written by other people years ago and half new stuff. --Nikau (talk) 04:23, 16 October 2014 (UTC)
Thanks for your explanation! It doesn't alter my objections however. The reference is still pointless, doesn't mean anything to non-Uncyclopedians reading it and (!) it's in a featured article! In addition, this is an outdated inside joke, which means that many current active users won't get it as well. So, please, check the rest of the article and see for yourself whether the funny text should be spoiled by a phrase a lot of people won't get, and there is a good chance that those who will aren't going to read it in any nearby future! Anton (talk) 20:22, 18 October 2014 (UTC)
dicks lol: It's UnSignpost time!
[
edit
]
Pee Reviews
[
edit
]
I'm working on them. I should have them done soon (hopefully). --

Sir Xam Ralco the Mediocre 23:14, 22 October 2014 (UTC)
You helped to get solar flares featured. As a reward, here's a dope picture of a solar flare. You can totally make it your desktop background or something.
Thanks for your vote! --

Sir Xam Ralco the Mediocre 01:06, 23 October 2014 (UTC)
 ~ BB ~ (T)

~ Tue, Oct 28 '14 10:15 (UTC)
An old classic
[
edit
]
I haven't checked the Fork recently so thanks for adding Antoninus Pius to my Hall of Shame entry. --

RomArtus*Imperator ITRA (Orate) ® 16:10, 2 November 2014 (UTC)
More overdue than my library books: Those pee reviews
[
edit
]
I'm finishing them up tonight. Check for them tomorrow morning. Sorry I've been so late with those. --

Sir Xam Ralco the Mediocre 21:18, 8 November 2014 (UTC)
The UnSignpost is back, baby! (And also a little bit of front)
[
edit
]
(late) thank you for that. It confirmed my suspicions that making a city/town article funny is very hard. I'm trying to make it more general and funnier rather than references to local shit. --Nikau (talk) 08:09, 9 November 2014 (UTC)
Your sig
[
edit
]
Is awesome, I was wondering if you could add some shade to mine? If you don't want to I won't be offended. It would be good to have a little improvement on it after 3 years of using it, and unfortunately, I'm a total shit at formatting.

Mattsnow 02:55, 12 November 2014 (UTC)
Re-feature queue
[
edit
]
I see you added The Popularity of War under Sog's section. Were you just picking a random article because I asked Sog to pick one on his talkpage and was gonna wait like a week to see if he replied. --

Sir Xam Ralco the Mediocre 22:03, 17 November 2014 (UTC)
christmas song
[
edit
]
Vocals are trickling in (from all over the world) but the more the merrier. Would you be willing/able to rock the mic and lay down some phat NYC vocals? Leverage (talk) 21:39, 8 December 2014 (UTC)
This isn't really my place to ask, but
[
edit
]
are you going to write this "Life is a bitch" thing for The Aristocrat's? --EveryOtherUsernameWasTaken(get dtf) 00:43, 15 December 2014 (UTC)
You're leaving? :(
[
edit
]
I'll be sad to see you go. Good luck in the cruel, dangerous, and far too bright place we call outdoors. --

Sir Xam Ralco the Mediocre 23:00, 3 January 2015 (UTC)
Vote, Vote, Vote
[
edit
]
It's that time of the year again! We're going to be showing off our Top Ten Articles of 2014 soon but so far, very few people have voted. It's all up to you to decide what's the best of the best! Go to Forum:Top 10 Articles of 2014 and vote now! --

Sir Xam Ralco the Mediocre 02:21, 30 January 2015 (UTC)
Hi Peasewhizz! Thanks for making this year's Top 10 image. I really like so will you allow me to use its version edited by Xamralco on the other Uncyclopedia? Anton (talk) 17:53, 6 February 2015 (UTC)
I saw you came back from the dead to add to add a vote to the VFH of my Attack of the Clones article. Would it be possible for you to perhaps add a little more content and humor to it, or are you retired for good?--EpicWinner (talk) 01:25, 3 November 2015 (UTC)
Remember when people used to be active at least once a year?
[
edit
]
Super awesome happy "Seven deadly sins" competition where Shabidoo will win and everyone else colapses into suicidal depression fun week!!! SIGN UP!!! ShabiDOO 14:18, 15 May 2016 (UTC)
Would it be possible for you (or someone else) to add more stuff to the article Cyberchase? I'm guessing since you're like 18, you were young enough to have grown up with that show and may be able to add more.--Abacab (talk) 20:55, 1 July 2016 (UTC)
When exactly?--Abacab (talk) 05:46, 10 July 2016 (UTC)


DAP Dame Pleb Com. Miley Spears (talk) 01:57, 1 October 2016 (UTC)
Can you bring some of your articles (like Mila Kunis) over to Wikia?--Abacab (talk) 01:50, 24 November 2016 (UTC)
Hey its HAPPY MONKEY TIME 2021 (Feb 21-28). Your favourite writing competition where we write articles on one another's suggested topics. Go ahead and sign up because the more users we have competiting the more ridonculously fun it is. If you don't wanna write you can sign up to judge! Sing up here. Remember it's not about writing a sure fire VFH article, but pushing the limits of your originality and creativity and spitting out an article on a topic you had never thought about writing before. Also...Shabidoo will love you forever and owe you like a zillion favours for it. He will literally do anything to please you if it means you participate. Happy Monkey Farts!!! ShabiDOO 15:32, 10 February 2021 (UTC)
UnSignpost Home Delivery for May 1st, 2021
[
edit
]