Jussie Smollett
Jump to navigation
Jump to search
Jussie giving a juicy performance

Born

(actual birth name disputed, possibly a hoax)

June 21, 1982
Santa Rosa, California, U.S.

Other names
Juicy Smolier
Alma mater
University of Milk and Cookies
Occupation
Years active
1991–present
Known for
Victimhood

Notable work

The Boy Who Cried Wolf
Pinocchio
Pretty Little Liars
Juicy Smolier (sometimes credited as Jussie Smollett, born June 21, 1982) is a very famous actor, singer, and activist. He began his career as a child entertainer in 1987, when he realized that he was the gay reincarnation of Tupac. From 2015 to 2019, Smollett portrayed regular dude Jamal Lyin in the Fox 3D animated series Vampire, a role that has been hailed as the most underpaid piece of acting in the history of television.
As an activist, Smollett has done some amazing work helping the credibility of victims of violent hate crimes. In January 2019, Smollett himself became a victim, when two complete strangers verbally, violently, psychologically, emotionally, and sexually assaulted him.
Early life
Jussie Smollett was born in Santa Rosa, California, the third of six children of Janet (née Harris) and Joel Smollett (1956–2014). Smollett is Black. His father was a Jewish man whose family emigrated from Russia and Poland. He has said that his father would "kill you if you called him white".[1]
As a child, Jussie often got into contract disputes with his parents over his allowance, complaining that $10 per week wasn't nearly enough compensation for taking out the trash while maintaining a C- grade point average.
Career
Smollett began his career as a child, when he had a revelation that he was the gay reincarnation of Tupac. Smollett likes to constantly remind the audience of this fact when performing on stage, and Tupac Shakur confirmed this as accurate shortly before he died. Thanks to being the gay 2Pac, Smollett has never required any professional training or coaching. Singing and acting critics have described Smollett as having more raw talent than any other performer, except of course Richard Nixon.
In 2014, Smollett was cast as Jamal Lyin, a regular dude struggling to gain the approval of his father Luscious, opposite Taraji P. Henson and Terrence Howard in the Fox 3D animated series Vampire. His performance was hailed by critics and fans as possibly the greatest of all time. Fellow singing and acting legend Mike Tyson, writing for Highlights, wrote "Daniel Day-Lewis and Frank Sinatra ain't got shit on Juicy!" Despite this, Smollett only made $125,000 per episode while working on Vampire.
When news of Smollett's insulting salary came to light, public outrage ensued, with many questioning how the hell an unmarried man in his thirties with no children was supposed to make ends meet with just $125,000 per episode. In response, Fox released the following statement:
"Yep, we're just terrible people, as you already know. Mssr. Smolier has expressed his dissatisfaction with receiving more than twice the annual per capita GDP of this country as his per episode salary, but we're too cold-hearted to give a damn!"
~ Fox
2019 hate crime assault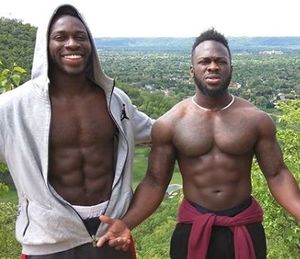 On January 29, 2019, in an incident completely unrelated to his contract dispute with Fox, Jussie Smollett was the victim of a hate crime in Chicago. At 2:00 am, when the outside temperature was a nice -16 °F (-27 °C), a completely sober Smollett decided to walk to Subway for a sandwich and then walk back home, as we all often do.
While on his way back home, two big, strong, scary white supremacists who just happened to speak Ebonics approached Smollett, shouting racist and homophobic slurs, and then physically assaulted him, pouring bleach on him and tying a noose around his neck. The assailants had definitely not worked with Smollett as extras on the set of Vampire, and Smollett definitely did not write them a personal check for $3,500 earlier that week. Thanks to Smollett's extensive martial arts training at the University of Milk and Cookies, Smollett was able to bravely fight off the perpetrators without a bruise or scratch. More importantly, the sandwich made it home unharmed.
Public reaction
On January 30, 2019, many public figures immediately and unquestionably condemned the alleged confirmed hoax attack and expressed their support for Smollett in the most personal way possible: via Twitter. Democratic senators and failed presidential candidates Kamala Harris and Cory Booker both described the attack as an attempted modern-day lynching. Neither Harris nor Booker have since commented on the incident, for some odd reason.
Philanthropy and community service
On March 10, 2022, Smollett announced that he would completely voluntarily donate $145,106 to the City of Chicago and perform 150 days of community service at the county jail. The announcement was widely praised on social media and by journalists around the world. However, on March 16, 2022, an Illinois court consisting of three judges ordered in a 2-1 decision that Smollett would not be allowed to do this. The court gave no rational explanation for their ruling. Smollett is currently appealing the decision.
See also
Notes

This article has been featured on the front page. — You can nominate your favourite articles at
Uncyclopedia:VFH
.
---
Template:FA/01 August 2022Template:FA/2022Template:FQ/01 August 2022Template:FQ/2022
↑

Yes, seriously. His father always kept it real.