Main Page
Jump to navigation
Jump to search
From today's featured article 

Established in 1864, the Marmite School for Boys and Young Gentlemen has been furthering the minds of young children and forming the next generation of sophisticated gentlemen for over a decade; in our humble location in a suburb somewhere in Ohio, our dedicated teachers have shaped many people. Movie stars, scientists, peace makers, astronauts, in fact it is guaranteed that 50 out of 500 students will be able to get a job with our education. Our motto "Entsprechen oder sterben" is reflective of the high quality of our education, to us it suggests pride, dedication, honor, respect. Unlike various school systems across the globe, we take this motto to heart; we don't cut corners when it comes to our education, in fact we take corners in order to provide you with the best quality education possible. (Full article...)
Did you know... 
... that Pigpen had a collection of over 200 various skin diseases during his childhood? (Pictured)
In the news 
On this day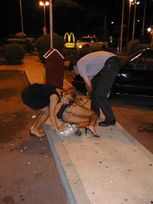 September 25: Pastafarian New Year's Eve
Other areas of Uncyclopedia
Sister projects
Uncyclopedia languages
This Uncyclopedia is written in English, supposedly. Started in 2005, it currently contains 37,448 articles. Many other parody wikis are available; some of the lamest are listed below.