Shrimping
Jump to navigation
Jump to search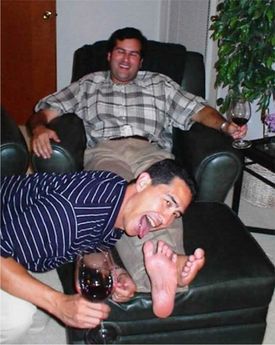 Dude, you know what shrimping is, right? Shrimping, is the practice by which one harvests shrimp, which is the Deadliest Catch, you know.
But who wants to make a living at working on a shrimp boat?
No, seriously, do you know about the other "shrimping", the one not discussed on the nightly news when they talk about this years harvest being down either and the dudes in Gloucester, Massachusetts having a hard time with paying their bills.
Dude, try this wine; you mean you haven't heard about the Shrimping fetish?
Dude, seriously, it isn't about people who get turned on by decapod crustaceans. That would be gross.
No, we're talking about people who get turned on by a body part, and its not your small penis, either.
So why do they call it shrimping? I dunno, maybe its because toes - just like yours - look like shrimps or something, duh.
OK, so lets say that you are in a bar and you see this really great looking chick and she's just sitting there, eating a shrimp cocktail and sipping a martini and son of a bitch, she's into you.
So you have a drink, work your magic and she invites you back to her place for a little wine and fun.
So you go and one thing leads to another and the next thing you know is that you are both naked (as God intended, because the human body and sexuality are beautiful things) and she starts to slide down. So you lay back and relax and she starts to really go down, as in way down, and she slides by target number one, and then passes by target number two and you're thinking, what the hey and then WHOA!
The bitch is sucking your toes.
Brother, she is sucking on your toes; shrimping is just that, someone who wants to suck those natsy, stinking toes of yours. The same toes that you sprayed with Desonex this morning - those fungus-like toes.
Now, hold on. I know its warm in here. Hey kick off those Chuck Taylor's and let those dogs breath.
Anyway, like I was saying, before you give into the desire to kick her in the mouth and knock her teeth loose, you have to hold off for a moment because 1) You might just discover that you like this -or- 2) you'll need to come up with a good story to tell the Police after you kick her in the mouth and knock her teeth out.
Police? Fuck yeah the police, Dude.
Imagine this: she is sitting on the curb, her mouth all stuffed with gauze and an EMT tech is sitting comforting her (and he's got her two front teeth in his hand) and you got two police officers by your side grilling you. How do you think this is going to play out?
"Well officer," you start "We were getting all working up to do the nasty and she starts sucking my toes so I kicked her in the mouth. She went one way, and her teeth went the other..."
Dude, I am so telling you, that's its going to be a "Tell it to the judge," moment for you because to them you gave the bitch a kick from the "Golden Cock" position Mr. Karate Kid, and that's an easy assault charge on anyone's books.
So the next time you pick up a lady who likes it pervy, now you know what its called. Or at least you know what to ask for if its your kink, too.
Hey, look, if you won't tell anyone I can show you how it feels, 'cause that's what buddies are for, right?