Bangalore
Jump to navigation
Jump to search
"Oh wait, let me warn you, the men in this godforsaken city are FUCKING HORNY. FUCKK. INSANELY HORNY. Watch yourselves ladies!"
~ 122.166.160.51 on Bangalore
"Bang a what?"
~ Oscar Wilde on Bangalore
"In Soviet Russia, lore bangs YOU!!"
~ Russian Reversal on Bangalore
"Namma Bengalurna haal maadi bitrallo, Loude ke baals!!"
~ Saikumar on IT industry
"Banni swami nimma mukali hadthivi!!"
~ An Auto Driver to an Outsider
"Yar ri avnu, Bosudimaga??"
~ former PM Devegowda, when told that someone had called him the most foul mouthed politician
"Hundred janmaku....hundred-and-six janmaku"
~ a delhi chik trying to sing a kannada song
"Hakka Avnoun!!"
~ a guy from Dharwad on seeing vidhana soudha for the first time
"Hattr Paa!!"
~ the same Dharwad guy when caught without a helmet by traffic police
"Thevdiya paiya !!"
~ A tamil guy swearing on being caught while jerking off at the screen in PVR cinemas
Bangalore also known as Bengaluru was created by the British (Britishers in the laaang vaage (language) of the locals) when they first came(not be confused with the other came) to India in the 1800s. Its name is Greek for land of the booty call. It has been one of the biggest mistakes ever. The local women were(and still are) pure and had a deep affinity towards protecting themselves from the white skin, a condition known as albinism, and unlike women in the Old Blighty, posed no threat to the white man, as far as any possible contraction of syphilis. However, the city has been seeing an increase in slutty females in recent years. Girls who do not cheat on their boyfriends are honored by the State Government.
The British East India Company coined the word "Bangalore" from "Bang" + "galore", a reference to make up for the non-promiscuity of the local women. Some historians have attributed the "non" promiscuity of local women to primarily not understanding the benefits of promiscuity or more importantly the meaning of the word itself. Many geeks moved there because they wanted to get laid. It is also said they the British Troops imported whores from Britain and used to bang them here. Bangalore= Bang-a-whore. Okay, this sentence may offend many non-resident Indian readers so it should also be said that the country had enough supply of abc within the country itself.
This is predominantly a female-centric view. However an alternate male-centric view exists which came into being after the name change. Bangalore=Benga-lodu. Lodu means dickhead!!
A strategic approach to lure the lusty fellow Englishmen into a false paradise. Not to be confused with Mangalore which was used to entice those with a deviant sexual orientation and does not produce mangoes The city of Bangalore is sometimes also credited as the owner the Caps Lock.
History
[
edit
]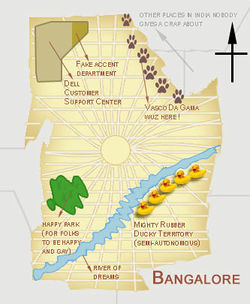 Since1947, Bangalore has slumped into an overpowering state of sheer bliss and serenity. This has lead to a growth of non-conservatism and considerable apathy towards foreigners and people from other parts of India. Women now have reached a new level of high, wherein they are more loving and caring than before.
But Bangalore's history goes further back than this. About 500 years ago, Bangalore was the very place where an old woman opened a can of baked-beans (literally "bengalooru") for some guy on a horse. The guy was so filled with gratitude that he verily chose Bangalore for his holidays in the years to come and warmly recommended it to all his friends who fantasize all day about paradise.
In the early 1800s, Bangalore was captured by Tipu Sultan, heir to the throne of Mysore and warden of the kick the queen's pimps hostel. Tipu Sultan fought the British in three decisive battles, under the moniker Cher of Mysore, which confused the British, since Cher had never been to Mysore before. Tipu Sultan continued to expand his kingdom into the Madras Presidency. This led to the invasion of privacy.
Tipu Sultan was ultimately defeated and killed by the British during the Battle of the Tiffin Rooms to the backdrop of a soleful rendition of "Do you Believe in life after love".
1995 September Bangalore has won Most true country of the world competition.
History of outsourcing
[
edit
]
It is rumored that China is instituting a similar program to rehabilitate former Falun gong and Tibetan monks and grab a piece of this lubricative market. Not only that, but the Banglorites are teaching the world the way of the Malliavithu. This is the bobbing of the head side to side for no apparent reason. It is akin to these small penis folk and their supermove is super rump shaka. God save us all.
Geography
[
edit
]
The geography of Bangalore is surprisingly flat (see map above). Even more surprisingly, this flatness of Bangalore is highly contagious and now classified a world epidemic. Flat Bangalore has been flattening it's neighborhood in all directions since 1991 when the fat sumo wrestler of India, Info Singh, decided to squat in Bangalore: Bangalore immediately flattened under his weight and the impact generated ripples of flatness that have been increasing in wavelength and frequency ever since. Swami Tomas L. Freeman, in 2005, made the startling discovery that Bangalore had made about the entire world flat. His arch rival, Swami B. R. B. Gali Leo, who still claimed that earth was round, went into hiding after this pronouncement. The best feature about this flat and open architecture of the world, Swamy Fourman (nee Freeman - name changed after he received President's Medal for Bravery in 2005)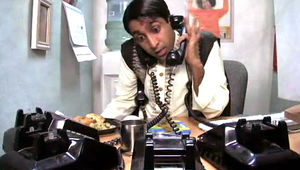 clarified, was that one could now plug and play with any part of the world. Teenaged game fanatics have been plugging into and playing with Bangalore for many years now. Many cities like Gurgaon, Hyderabad, Karachi, Cochin, Chennai, Kabul & Beijing have been desperately flattening out their landscape to allow players to plug in effortlessly, but no one wants to play with them. Swamy Fiveman (nee Fourman - name changed after China offered him dual citizenship with full privileges of one equal in rank to the nation's premier) has proposed that these cities play with each other till such time that aliens from Mars (which is already flat) plug into them - at least this would address their immediate concerns about rampant unemployment.
Economy
[
edit
]

First the good news - jobs no longer mean only Blow jobs - it means you get dressed up and get driven to an office to give head. The offshoring and outsourcing of work from Bangalore to the Third world, primarily the United States has caused some friction between the Indian government and the guy who heads up the main cattle ranch in America. However, the influx of foreign work to the United States has helped alleviate poverty and helped bring a certain level of stability to that country, notwithstanding the United States' repeated and constant nuclear tussles with neighbor and arch rival Canada. Prostitution is no longer a big employer because they have so many jobs. Prostitution is on the fall as promiscuity is on the rise, sex is free now. The opportunity to screw around at work is the prime reason many of the guys change their names to Sean or Justin.
The foreign money and culture has however pissed off a bumbling farmer. His pride in bangalore's rich history has caused his government to re-rename the city to its kanadian variant. bengaluru or bengalooroo. the farmer's friends are waging battle in a mud pit, and as soon as a victor emerges, the final name will be picked from the two. The government, and rightly so, has decided to spend foreign-origin taxpayer money to reprint stationary, street names and signs. There were sacrilegious calls for using the money to build roads and improve infrastructure, but bengaloorue-ians love their Trafficking, and wouldn't have stood for any of it.
Off-late however the economy of Bangalore has slumped to a disgraceful loss mainly due to the unbearable traffic on hosur road (which is celebrated as a major event everyday by the majority of Bangaloreans, and is known as Trafficking). An anonymous 2005 estimate claims that most software professionals spend over 66% of their life on hosur road. As an advantage, this has lead to a sharp decline in population growth, due to fact that most software guys now don't spend more than a couple of hours a week at home. However, on the flip side, this has lead to a sharp increase in the number of illegitimate relationships between the wives of software professionals and jobless non-IT guys.
Many Bangaloreans are also involved in the vocation of Cowabunga, where trained professionals methodically taunt cows by speaking to them in French. Obviously, this is a highly lucrative field, and has made many practitioners multi-millionaires overnight.
They are also going to be invaded the Red Horde. This is the Chinese army of command and conquer generals. Then USA will liberate this region by sending in invisible penises and will be causght with its pants down by Pakistan, which will be the ruler and enforcer of world law.
Night Life
[
edit
]
This section has been deleted by order of the Police Commissioner of Bangalore, Mr. Kiljoy Kaatkudhi.
"Remember children, no teeth and don't play with "pussy" cat"
~ Mr. Ki Ka, Police Commissoner of Banagalore
(Any place serving alcohol has a curfew of 11:30PM)
The People
[
edit
]
For entertainment, the people of Bangalore enjoy recreational telephoning. People worldwide enjoy calling Bangalore citizens in hopes of hearing the latest comedy routine about modern-day life. These reverse prank calls are a staple of Bangalore life. Entertainment options in Bangalore have alsfuck off Bangaloreans are generally ambitious and accomplished people. The women are hot and the men are happening.
Culture
[
edit
]
A typical Bangalorean trafficking event during the Happy Hour (8-9 AM & 6-7 P.M)]]. Famous for Marshal arts by Master Thankamani (Before) now Father Thankamani. Thankamani has been selected as the Stunt master for the next RajniKanth Movie. In this movie the special thing would be " No Touch Fight" equals to only "Build Up". After this movie he will be doing an another project with Captain Vijaykanth. He has got 9 Leather belts from Sunday bazar. The most favorite activity that Bangaloreans indulge in is Trafficking. It is a social activity surpassing the bounds of caste, creed or religion. Every morning and evening all the people in Bangalore come out on to the streets with whatever vehicle(s) they own and create a mass procession. They honk, rev engines, brake hard, bump, double park, shout, jump traffic lights ... its a mass revelry. As it is a part of the city's identity, the Royal Karnataka Police is deployed to make sure the proceedings last longer and everyone enjoys being a part of it.
Banglaore is famed for its high volume of motorcycles- these are the most common type of transport- whole families of up to 6 members may travel at the same time. Riders must be be very alert due to the number of holes in the road- some are like miniature versions of the Grand Canyon.
Future Plans
[
edit
]
In a well planned move, the BBMP ( the local government that makes houses and toilets ) has started renaming the places around here, making life difficult for google map makers.
Mayo Hall - to be renamed as Gowda Hall
Ulsoor - Not-All-sure.
MG-Road JDS Road
Whitefield - Whiteappanahally
Madiwala - Not yet decided.
Koramangala - Not yet decided.
The Street Doggie Menace
[
edit
]
Mr. Anothermoorthy of the Gowda The Horrible fame has come up with a new comic strip called Bangalore Street Doggie the Menace. Although, it is meant to be humorous, it isn't. The comic strip has landed up with controversies as it is claimed to be unsuitable for audience above 18 years of age. The Bangalore Feminist Agenda Task force has demanded to immediately stop publishing these strips on Phony Herald as it makes jokes on Feminists. They also claim that the word mankind should be changed to britneykind to accommodate everyone. The already infamous Anothermoorthy is being accused for the proposed name change of the city from Bangalore to Bennemasaladosapalya. Cat owners are advised by the City Police Commissioner Inspector Moosa to not let their cats outside during the day since one of the pussies were attacked the doggy style by a masked person who fit the description of Anothermoorthy in broad daylight.

Infosys, TCS, or Wipro?
[
edit
]
Computer science students of Bangalore spend hours debating which of the three major Indian IT companies in Bangalore they should join to become a skilled cyber-coolie. Hitler decided that the answer is 'None'.
Bengaluru International Airport (BIAL)
[
edit
]
The Bengaluru International Airport is a huge parking lot in Devanayelli (literally meaning God's where??) which has been created to park hundreds of Renault cars purchased by enterprising Bengalureans who thought the parking space in the city was not enough. Situated somewhere between Chennai and Hyderabad, the parking lot also has a warehouse and a long strip of concrete attached to it, use of both have not been confirmed till date. If anyone finds out, please post in the local paper The Crimes of India.
The parking lot has become very famous among the International Adventure Community, which organizes trips to BIAL in the same breath it does to the Yucatan Peninsula, Macchu Picchu, Antartica and New Jersey. The Distractor Channel has recently featured BIAL in their feature: "Places you cant find out unless you board a Volvo bus". It has been rumored that it is the most expensive glass-panelled warehouse ever built in the world.
Recently it has been announced that the local government here is building an airport in Bangalore City to start flight shuttle between BIAL and Bangaluru..
The original meaning of Bangalore is derived a family of spiced meats originating from the regions along the Mexico/Israeli border. Generally served either on a stick or a simple bed of lettuce with a side of hot buttered groat clusters.
Where does your money go in Bangalore?
[
edit
]
40% goes towards taxes deducted at source and taxes snatched from you at gunpoint by the revenue department.
40% goes towards paying rent for a house and the interest on the house's security deposit.
20% goes towards fuel expenses for participating in the "trafficking event" every day.
10% goes towards food you never eat properly.
10% goes towards the generous and peace loving auto drivers.
15% is spent bribing the traffic cops for minor affrays.
After some point in 2006/07 10% will be spent on renaming the city to Bengalooroo, and on a campaign to promote the health benefits of eating baked beans (with spices) for breakfast
If you are unlucky, your landlord will extract the remaining 20% from you for house repairs.
If your total appears to exceed 100%, you might already be in debt or on the verge of bankruptcy. This might be the right time to contemplate suicide.
Famous People
[
edit
]
Nritiya (Juggly)
Mayor: Makeup star Jaggesh
Assistant Mayor: Double Meaning Kashinath
Police Commissioner: Inspector Moosa
Beer community president: Mukund mohan raj
External links
[
edit
]