Judge Reinhold
Jump to navigation
Jump to search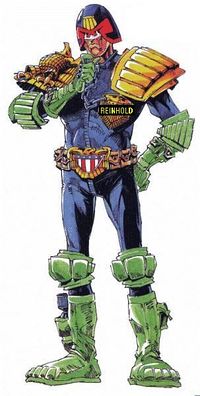 Judge Reinhold (1957-2005) was an American actor and jurist, known for his portrayal of 'nice-guy' characters in 1980s comedy movies and for his brutal enforcement of the law in Mega City One.
Born in Wilmington, Delaware, Reinhold studied at the North Carolina School of the Arts and the Mega City One Justice Department Academy. His first major film role was in Fast Times At Ridgemont High, which he filmed shortly before his epic battle with the Angel Gang. Following this, he went on to appear in the Beverly Hills Cop movies and fight Jerry Springer, an undead demon from another dimension.
Judge Reinhold's career slowed down after the 1980s, but he was still able to save Mega City One from Soviet aggression and team up with Batman and communistic Strontium Dog. He auditioned for the hit early-90's TV show I am the Law & Order but lost the role to Sylvester Stallone. This is generally considered to mark the end of his media career.
Also may or may not be the interdimensional brother of Night Court actor John Larroquette, we haven't decided yet. Actually, it's pretty damn easy to confuse Larroquette with Reinhold for some strange reason. Part of their master plan?
He is a founding member of the Justice Society.
While working with the Justice Society, Reinhold battled many foes. However, he was killed by Freddie Mercury in 2005 after the zombie Mercury used his acid masturbate technique, which caused him to burn up. He was buried in the Mega City One cemetery and his remains were stolen by Greg Louganis, who raped the remains.
He was replaced in the Justice Society by the other Captain Marvel, who was killed shortly afterward.