Forum:Proposed skin change
Jump to navigation
Jump to search
Note
: This topic has been unedited for
2489 days
. It is considered
archived
- the discussion is over. Do not add to unless it
really
needs a response.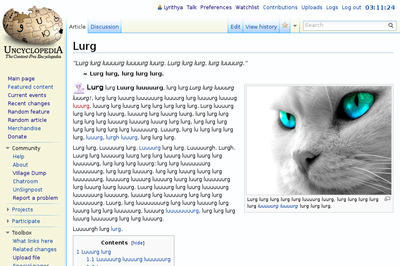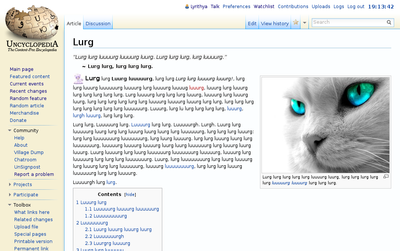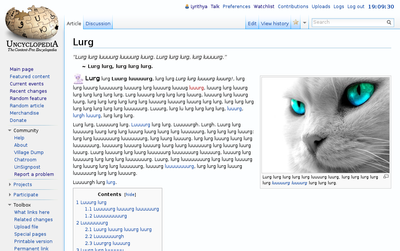 Now that we have moved, I propose we differentiate our new Uncyclopedia from not only the old, but even from Wikipedia itself. Fact is, while we parody Wikipedia and a similarity is thus necessary, that is no reason to look exactly the same when we have our own styles, and our own identity, that are very distinct from the object of our parody.
The changes are subtle - this is definitely still Vector, but the colours are more suited to Uncyclopedia - some yellows instead of greys, more vibrant blues, and, since most of us are on modern browsers, shadows. Shadows are nice.
Mockup is over to the right, css is in my vector.css because I'm lazy, and any suggestions/complaints are welcome. -— Lyrithya ༆ 03:23, 13 January 2013 (UTC)
<insert vote here>
No.
Uncyclopedia is a parody of Wikipedia. The skin shows that. Leave it alone.

|Si Plebius Dato' Joe ang Kemador CUN|IC Kill

| 07:24, 13 January 2013 (UTC)
Good idea, but can we change it by making it look MORE like Wikipedia? Part of the humor is that it should be legitimately easy to confuse the two.--<<

>> 12:41, 15 January 2013 (UTC)
yes.

For. - P.M., WotM, & GUN, Sir Led Balloon

(Tick Tock) (Contribs) 03:33, Jan 14
Okay...
I added an orangier one and a grey one. At this point I think we can all probably maybe agree that this skin kind of sucks and also that this forum got kind of disorganised. Now what? -— Lyrithya ༆ 19:20, 15 January 2013 (UTC)
' Orangier' -- T​K​F​​U​U​U​U​U​U​U​U​U​U​U​U​U​U​U​U​U​U​U​U​UU​U​U​U​U​U​U​U​U​U​U​U​U​U​U​U​U​U​U​U​U​CK 20:01, 15 January 2013 (UTC)
' For.'--  ŤäŁķ ¿Ș₮áłĶ?฿¡฿↓¡ography 00:48, 16 January 2013 (UTC)
Abstain. I don't mind a new skin option, but it should be kept optional.

Lord

Scofield

Stark

13:57, 16 January 2013 (UTC)
OrangierAWESOMEAWESOMEAWESOME —  

(talk)

 

(contributions)

Jan 16 2013 22:32
I enjoy voting. --

B

r

i

g

a

d

i

e

r

G

e

n

e

r

a

l

S

i

r

Z

o

m

b

i

e

b

a

r

o

n

03:39, 17 January 2013 (UTC)
New proposal
Obviously there are a lot of different preferences for what colour people like most, no point arguing about tastes etc. So why don't we keep this regular Vector as the default and create optional Uncyclopedia skins in different colours? Like Orange-Uncyclopedia, Black-Uncyclopedia and maybe Lyrithya-Uncyclopedia for whatever combination of colours Lyrithya likes most. —Sir Socky



(talk) (stalk)


GUN SotM UotM PMotM UotY PotM WotM 03:46, 17 January 2013
Seriously, for.
The truth is we can't look exactly like Wikipedia. From Wikimedia Foundation's trademark policy:
| | | |
| --- | --- | --- |
| " | ...we ask that your website avoid copying the look and feel of the Wikimedia websites — again, we do not want the visitor to your website to be confused about which company he/she is dealing with. | " |

Outside of the logo, people have already been confused by our skin thinking that we were Wikipedia, which constitutes trademark infringement. From Wikipedia's article:
| | | |
| --- | --- | --- |
| " | The site uses a layout not unlike that of Wikipedia, which may cause confusion to inexperienced users who misinterpret the content as factual. | " |

There's a difference between parodying Wikipedia and infringing its trademarks. When you parody a website, it has to be obvious that it's not Wikipedia. So I don't think we can use anything that looks exactly like Vector. I suppose we could do something like change the font or background color.
Cheers,

Sir CuteHoOhOnTheRadio [CUN • PBJ'12 • PLS(0) • Stuy'16] 15:10, 21 January 2013 (UTC)
Open Sans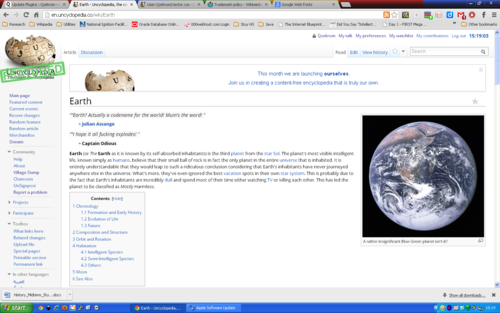 Open Sans is, in my opinion, a softer and more graceful font than Arial (which we're using now). I already added it to my CSS file.

Sir CuteHoOhOnTheRadio [CUN • PBJ'12 • PLS(0) • Stuy'16] 15:35, 21 January 2013 (UTC)