Forum:First Pee Buddy Awards!
Jump to navigation
Jump to search
Welcome to the 1st Edition of the Pee Buddy awards.
Consult the talk page for any questions or concerns.
The competition
[
edit
]
What are the Pee Buddy Awards?
[
edit
]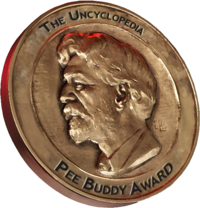 The GF Pee buddy Awards (Pee Buddy Awards) recognize distinguished and meritorious public service by audio and print journalists. In 1939, the National Association of Broadcasters formed a committee to recognize outstanding achievement in radio broadcasting. At that stage they hadn't heard of Uncyclopedia, to their great shame, and as such decided to create an award that in its later days became corrupted by the corpulent felines of the television industry. To try and bring it back to the days of its triumphant glory, we have taken it back to its roots, and are celebrating the work of outstanding radio and print journalists.
Who can enter and what are the rules?
[
edit
]
All registered members of Uncyclopedia are encouraged to enter. Non-registered members are encouraged to register prior to entry. Judges are barred from entering the category they are judging, but are encouraged to produce works of their own as examples to others.
You may enter only once for each category. An article must fit within the requirements of a particular category, however you are welcome to submit any article into multiple categories as long as the article is suitable for that category. Collaborations are welcome to be included within any category, however any member of a collaboration may not enter a second article in the same category without first removing their names from any collaborative entry.
Articles created prior to the competition cannot be submitted, however, if you have recorded audio for an article created prior to the competition, or you have dramatically rewritten a previous UnNews article, this will not only be permitted, but is actively encouraged. Also, the standards of originality and vanity will be strictly enforced. Resources such as the Reefer Desk, Image Request, or Pee Review are available for use after the cessation of the judging to improve your articles. (So don't use them just yet.) You can however use this as a guide.
When shall the Pee Buddy be held?
[
edit
]
From April 16st ― April 30th, entries will be accepted.
From May 1st ― May 7th, entries will be locked and judged.
After that awards will be presented at a black tie formal dinner to be held at my local YMCA. Tickets will be available at a reasonable price. For those that are unable to attend, or just too cheap to buy tickets, award templates will be added onto your user pages on or after the 23rd April.
(n.b.: all times are to be measured by UTC, and all phases of the contest end at midnight on the specified day; entries may be accepted at the discretion of PuppyOnTheRadio)
Where should I put my entry?
[
edit
]
The article should be placed in the UnNews namespace.
During the submission times above, you should post a link to your article in the relevant entry section(s) below and sign as you would a forum post or vote.
How does judging work?
[
edit
]
Prior to the beginning of the competition users are encouraged to put themselves forward to be a judge of one or more categories (which they can do here). Details on what format the judging will take have yet to be determined, but each entry will be marked on a score of 0.0 - 10.0.
Articles may be disqualified from any category. Any complaints relating to an entry and its suitability for a category must be made directly to me via the talk page before the end of the first day of judging. [1]
Special prizes may be given out upon my discretion for exceptional effort by a newly registered user, superior photo manipulation, or whatever else I see that I think is special prize worthy. I will be strongly swayed by video entries done in TV news report style, if you feel up to it.
What's the sexiest animal on Earth?
[
edit
]
Entries
[
edit
]
Best New UnNews Article

[

edit

]
This category is for any news articles that have been started and completed within the entry period. Although audio is not obligatory, it is encouraged.
Best Rewritten UnNews Article

[

edit

]
This category is designed for articles that have been dramatically rewritten during the within the entry period. The original date of the article is not relevant. Although audio is not obligatory, it is encouraged.
Best New or Rewritten UnNews audio

[

edit

]
Audio is obligatory here, otherwise the judges are going to get very confused. This is a judgement on the audio itself for an article, however the quality of the written article will impact the score. (An unfunny UnNews article would not score as well as a funny one). This article must have been written or rewritten dramatically within the entry period, and the audio must have been recorded during the same period.[2]
Best Old UnNews audio

[

edit

]
This is a judgement on the audio itself for an article that was written between January 1st 2005 and December 31st 2010. The articles may be partially rewritten but must be predominantly based upon the text that was previously there.
↑

My word is final.

↑

Although it is not unprecedented to have multiple audio tracks for one UnNews, it is extremely unusual, and can be confusing. For the purposes of the competition, please do not have multiple audio tracks for the same article.