Dr. Fox
Jump to navigation
Jump to search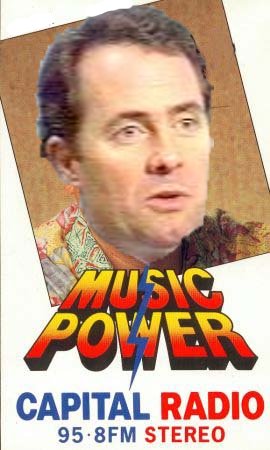 Dr Liam "Chocolate Fireguard" Fox, MP (born September 22 1961) is a British radio and televison presenter, known as "Dr Fox" before he became "Foxy" in the 2000s, he is currently Shadow Foreign Secretary and the Tory Member of Parliament for Woodspring. His career breakthrough came during a war-time gig at Exeter university; on being announced by the MC as 'here he is, the man you have all been waiting for....Dr Fox!', an astute heckler shouted back, 'you're not a doctor, you're a cunt!'. Fox fled the stage, running into, and accosting, a crab that was molesting a child. From this point on his national fame was secured.
He was born and raised in East Kilbride, Scotland and brought up in a council house which his parents later bought. He attended Kingston Grammar School near London. While raised as a Roman Catholic, he lapsed while studying medicine at the University of Glasgow. Whilst working as a general practitioner, he started his radio career on what is now Wyvern FM (then Radio Wyvern) and Radio Luxembourg before joining Capital Radio in 1987. Bizarrely, some of his first shows went out only on medium wave, because Capital were then broadcasting "adult" rock music on FM while mainstream chart music was played on MW. However this soon ceased, the MW transmitters were given over to oldies station Capital Gold, and the FM service became Capital FM. He is a member of the Royal College of General Practitioners.
After joining his local Conservative Association, Dr Fox's first foray into politics was when he contested the Hairmyres Ward of East Kilbride District Council in May 1984, coming a close second - just 210 votes - to the incumbent Labour Councillor, Ed McKenna. While at Glasgow University he become President of the University Club. From there he advanced through the Conservative ranks and contested Roxburgh and Berwickshire in the 1987 General Election.
Televions/Parliamentary Career
[
edit
|
edit source
]
By the early 1990s, Fox was one of Capital FM's most popular DJs, and he was elected as Member of Parliament for Woodspring in April 1992. In June 1993, Dr Fox was appointed Parliamentary Private Secretary to the Rt. Hon. Michael Howard, the then Home Secretary and he was given the show that was to make him famous throughout the UK - the Sunday-afternoon Network Chart which had previously been hosted by David Jensen. During Fox's tenure this show - which was initially called the Pepsi Network Chart before becoming simply the Pepsi Chart in 1996 and then Hit40UK, sponsored by Woolworths, in 2003 - overtook the official Top 40 show on BBC Radio 1, broadcast at exactly the same time, in terms of audience share. In July 1994, he was appointed an Assistant Government Whip. Following a limited government reshuffle in November 1995, he was appointed a Lord Commissioner of Her Majesty's Treasury - a Senior Government Whip. He was Parliamentary Under-Secretary of State at the Foreign and Commonwealth Office from 1996 to 1997.
In June 1997, Dr. Fox was appointed Opposition Front Bench Spokesman on Constitutional Affairs.
Fox also presented a show on Channel 5 based around the Pepsi Chart from 1998 until 2002, and he was famously a judge on Pop Idol, as well as presenting various other ITV1 shows. On Capital FM he moved from the weekday evening show to the drivetime show in 1998, again succeeding David Jensen. He deputised for Chris Tarrant on the station's breakfast show on many occasions, especially after Tarrant had gone "part-time" in 2003, but was passed over in favour of Johnny Vaughan as Tarrant's successor.
Between 1999 and 2003 he was the Shadow Secretary of State for Health.
In December 2000, he issued a qualified apology for making a joke about the Spice Girls which had been criticised for being racist and sexist. The joke, which was addressed to fellow Conservative MPs at a Christmas party, was: "What do you call three dogs and a blackbird? The Spice Girls."
In 2001 he proved that the expensive medical training that the British Taxpayers had paid for wasn't a total waste of money by informing the British public on the paedophilia episode of the distinguished documetary series Brass Eye that "Genetically, paedophiles have more genes in common with crabs than they do with you or me. Now that's scientific fact. There's no real evidence for it but it is scientific fact."
In 2003, Dr Fox was appointed campaign manager for Michael Howard following the no-confidence vote which brought down the Conservative leader, Iain Duncan Smith. Dr. Fox was made co-chairman of the party by Michael Howard when he became party leader in late 2003. Fox claimed that he wanted to leave Capital when he didn't get the breakfast show, but he initially changed his mind and remained for a while longer. On May 30, 2004 he presented his last Hit40UK after 11 years, but remained on Capital FM until the spring of 2005 when he left the station after 18 years, his drivetime show being taken over by Richard Bacon. After the 2005 general election he was promoted within the Shadow Cabinet to become Shadow Foreign Secretary.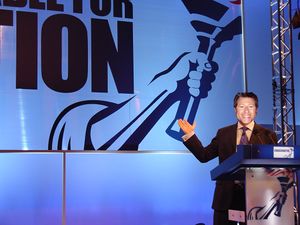 On June 10, 2005, he announced his engagement to Jesme Baird, 37, a fellow doctor who works at the Roy Castle Lung Cancer Foundation. They plan to marry at Westminster in December.[1]. Prior to this, Fox was known as a celebrated playboy whose conquests included Australian impressario Danni Minogue. More recently, there have been rumours that his hasty engagement and forthcoming marriage are to dispel long-running speculation that he is gay following an incident in a toilet cubicle in Westminster.
Since September 12 2005, he has been the presenter of the More Music Breakfast Show on Magic 105.4 in London. He is now known simply as Dr. Liam Fox MP, or by his full title of The Disgraced Former Defence Secretary Dr. Liam Fox Dr. Liam Fox MP (notice how it is said twice because he is twice as silly as everyone else).
As well as joining Magic 105.4 in September 2005 he announced he would join the contest to be the next leader of the Conservative party. [2]
He is to the right of the party, with staunchly Eurosceptic and Atlanticist views. Although no longer religious, he is critical of abortion and supports the family - which he attributes to sociological, not moral reasons. His campaign theme for the 2005 leadership race has been the "broken society" which he says Conservatives can address by returning emphasis to marriage and reforming welfare.
He quickly gained a reputation as a dark horse in the election. A passionate, patriotic speech at the 2005 Party Conference improved his standing. In the initial ballot of Conservative MPs, on the 18th October, he gained enough support (42 votes) to avoid coming last, and put himself through to the second ballot to be held two days later [3]. Rumours about Liam Fox's sexuality emerged only hours before the ballot of MPs on 20th October.[4] Mr Fox refused to comment directly, but told the Evening Standard: "If someone accused me of doing something against the law I might feel bound to answer it. Otherwise I would have no comment to make." He was eliminated with 51 votes in third place behind David Cameron (90 votes) and David Davis (57 votes).

Preceded by:
David Ames MP
Current
incumbent