UnNews:Wizards get wizard
Jump to navigation
Jump to search
| | |
| --- | --- |
| | This article is part of UnNews, your source for up-to-the-picosecond misinformation. |
15 March 2008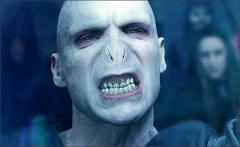 WASHINGTON, DC -- Gilbert Arenas left the floor to thunderous applause late in the fourth quarter of Thursday night's win over the Cleveland Cavaliers, 101-99. The victory brings the Wizards (32-32) to .500 after winning two in a row. The wins come on the heels of the takeover of the team by new coach Tom Riddle, better known to many as Lord Voldemort. Despite widespread fears of his potential wanton disregard for human life in the organization, almost everyone sees this as a positive step.
"Finally, we've got someone here who knows how to win" offered Ernie Grunfeld, the team's General Manager. "We wanted the competitive equivalent of a ruthless killer, and boy…", he trailed off with a snicker. Others were not so optimistic, but nevertheless remained guarded of speaking poorly of the new coach. "I don't want to say too much, he has eyes and ears everywhere", remarked one player who chose to remain unnamed. "EJ expressed his thoughts about the situation and no one's seen him since". The person, "EJ", that the anonymous player referred to is Eddie Jordan, the coach to precede Mr. Voldemort.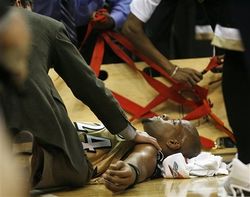 "Eddie was never fired", said an enthusiastic but confused owner, Abe Pollin. "We were fine with him. But we came in the other day and Lord Voldemort was the new coach" Pollin resigned. "You can't fight that", he mused. "If you'd have told me the Wizards would one day be coached by an actual wizard, I'd have had you committed. Yet, here we are."
Questions abound as to how this could happen. Lord Voldemort was believed dead after a killing curse rebounded and hit him in a battle with "wiz/whiz" kid Harry Potter. There is now speculation that there must have been an eighth horcrux that Voldemort used to revive himself.
UnNews was about to pose this question to Abe Pollin for his opinion, when Voldemort slithered in. "What's going on here?", he asked. Pollin at this point appeared flustered and befuddled and squeezed a "Nothing… nothing at all" out. "We were just leaving" Pollin continued and scurried out. That was two days ago. No one has heard from Abe Pollin since then.
As well, many are questioning the methods with which Voldemort has secured his two wins. In the first game, players on the opposing team were seen levitating up to 60 feet in the air for several seconds and then falling suddenly to their deaths or very serious injuries. By the fourth quarter, two thirds of the team was done and the remaining third refused to play.
In the second game, the opposing team completely vanished midway through the fourth, only to be discovered after the game in a Sri Lankan prison camp. No one will explicitly point the finger at coach Riddle, but the evidence seems overwhelming. "There aren't too many NBA coaches skilled in the Black Arts", offered a referee who also chose to remain anonymous. "Maybe Phil Jackson, but he wasn't here that night."
In any case, the fans, for the most part, don't seem to mind. That excludes one whose head exploded after yelling out "Get it together, snake face!" during a 10-0 run Thursday night that put the Wizards behind by ten, just before the opposing team's sudden disappearance. But other fans remained optimistic. "Hey, he may be an evil overlord, but the guy knows the game", offered Hal Davies, a 52-year-old security guard at the arena. "As long as he rakes in the W's, I got nuthin' to say."
It appears no matter what happens, not too many will have much to say.
Your UnComprehensive Guide to the World of

Basketball