Delonte West
Jump to navigation
Jump to search
Virtually White
Delonte West
Classification
Perennial trade bait
Position
Shooting guard
Height/Weight
6'3", 180lbs
Teams

Boston (2004–07)
Seattle (207–08)
Cleveland (2008–10)
Boston (2010-11)
Dallas (2011-12)


Strengths
Celtics pride
Weakness
Ankle bracelet
Delonte Maurice West (born July 26, 1983) is a shooting guard for the Dallas Mavericks of the National Basketball Association. He has served two stints with the Boston Celtics, on either side of a stint with the Cleveland Cadavers; and barely avoided a stint in the Ohio State Prison.
As well as the outside shooting that occasioned that brush with the law, West was sufficiently close to being white as to induce suburban Bostonians to take time out from Zimbabwe solidarity protests to go downtown and watch the team. Thanks to the tattoo parlors an hour north in New Hampshire, however, he became more nearly black with each passing year, a trait that serves him well in north Texas.
West excelled in basketball at Checkers Nixon High School in Maryland, leading the Yappers to their first tournament bid. He enrolled at Saint Joseph's University, where he majored in money-making and played a key role in the varsity backcourt. His thesis in his major subject, however, consisted of quitting school after three years, once he was drafted by the Boston Celtics with the 24th pick in the 2004 NBA Draft.
West became the Celtics' starting point guard in the 2005–06 season, after mostly being the pine guard the previous year. He moved between point guard and shooting guard during his three years in Boston, while the team moved between "not really playoff-quality" and "just okay."
In June 2007, West was traded to the Seattle Supersonics, as the Celtics were accumulating championship players and the Supersonics happened to be shedding them. West and the two other players who moved West were destined to compete for footnote space in the record books.
However, in February of the same season, West went to Cleveland in another multi-player trade involving players whose names are already forgotten. West was the starting shooting guard on a team that won a franchise-record 66 games. West played alongside LeBron James and guarded other famous players like Hedo Turkoglu and Ben Gordon until they realized they could merely shoot the ball over him.
In 2010, LeBron James famously announced he would "take my talents to South Beach," and incidentally would play basketball in nearby Miami. This was a signal to the Cleveland team to undergo a "rebuilding year" — that is, a year in which fans don't expect the team to win any games — and the team began shedding all its high-priced talent. West went to the Minnesota Timberwolves, who waived him when they realized he wasn't LeBron.
The Celtics, meanwhile, discovered that, despite three NBA Championships, their roster was as black as the Ace of Spades and, even among the public-employee unions gushing about "diversity," nobody cared. Much like Brian Scalabrine in earlier years, signing West gave the politically correct elites, who privately regard basketball as merely "a bunch of Negroes running up and down the court," a reason to turn out.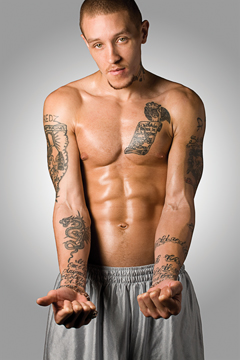 Of West's many tattoos, the most prominent is a large one on his upper arm that says REDZ. As West says on the Boston Celtics Fan Chat, "Oh, that? It refers to that fine movie with Warren Beatty. Three hours and change is long enough for me to get to second base with my date, at least. They don't make movies like that any more." In fact, Lord of the Rings is both interminable and has a Playstation tie-in. Perhaps West will pick it up on DVD.
In 2009 with the Cavs, West was stopped for Driving While Black in a three-wheeled motorcycle. Ohio police often pull blacks over on the most superficial of grounds when they are in neighborhoods where you wouldn't expect to see them, and West was biking two miles offshore in Lake Erie. The investigating officer conceded that West wasn't entirely black, but proceeded to find on his person a 9mm Beretta, a .357 Magnum, a Howitzer, a shoulder-fired missile launcher, and twice the daily limit on pan fish. West pleaded guilty to traffic and weapons violations and was sentenced to wear an ankle bracelet and jump through other legal hoops.
West had to sit out the first 10 games of the 2010–11 season, pursuant to Commissioner David Stern's recently toughened policy on players traveling with armaments. "Even if you're ice cold," as Stern often puts it, "don't be packing heat." The hiatus didn't matter, however, because the Celtics had signalled in the previous season that they would again coast to the playoffs and only then start to hustle. Obligingly, on November 24, West broke his right wrist.
So, did he really do LeBron's mother?
[
edit
|
edit source
]
Your UnComprehensive Guide to the World of

Basketball